A sentimental journey over 'The Bridges of Madison County' at Philadelphia Theatre Company
A photographer, a housewife and a show that doesn't know when to stop.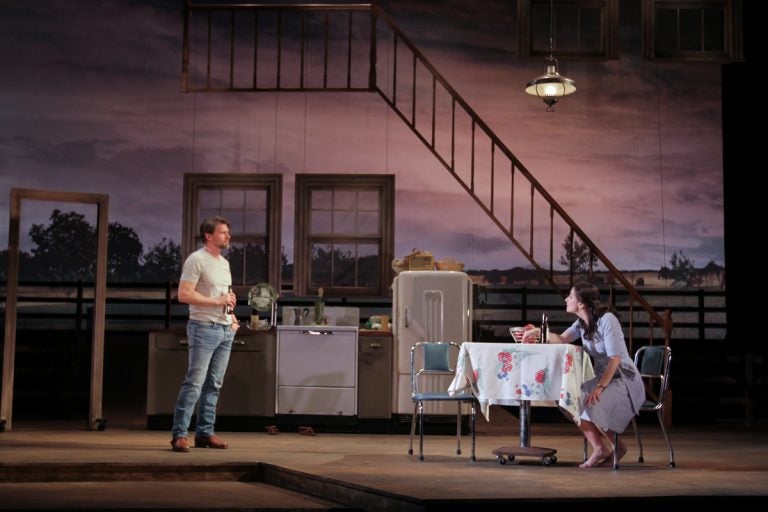 If you feel bloated after seeing "The Bridges of Madison County" don't blame Philadelphia Theatre Company — its production is well performed, thoughtfully designed and packs more punch than the version that lasted three months on Broadway. Any discomfort comes from the musical itself, which ends long before it's actually over, pulls at your heartstrings long after they're effectively plucked, and stuns you with so much swelling music you may want to run for the Dramamine.
The music and lyrics are by Jason Robert Brown ("Parade," "The Last Five Years"), who won Tony Awards for the score and for its rousing orchestration, performed masterly at Philadelphia Theatre Company by a seven-piece ensemble with Amanda Morton conducting. Honored as that score might be, it goes on at length and tests an audience's good will. I left wanting less.
In case you're not one of the 60 million or so people who bought and read the 1992 novel by Robert James Waller, or saw the movie with Clint Eastwood and Meryl Streep, "The Bridges of Madison County" is set in 1965 Iowa, where that particular county is known for its covered bridges. The story involves a handsome loner named Robert Kincaid who travels the world to take pictures for National Geographic, and Francesa, the housewife he meets by chance on an assignment to shoot pictures of those bridges. She's an Italian native who was swept away by a GI at the end of World War II and now lives with him and their two children on their Iowa farm. "To me," her husband sings, "she's still like something from a dream and to her I'm like the guy who keeps the lights turned on."
That about sums it up – she's love-starved and trapped on the quiet Iowan plains in a robotic existence of laundry, cooking, getting the kids off to school, keeping her husband's schedule running smoothly. So when her husband (Scott Guthrie) and two teenage children (Georgiana Summers and Kevin John Murray) take off to Indiana to enter a promising steer in the 4-H national finals, mom stays home to keep things percolating.
In almost no time, they're boiling over. When the lost Robert Kincaid – lost here means more than he needs a map – turns up in Francesca's driveway to ask for directions to a bridge he can't find, she jumps in his truck and directs him there. It's the beginning of a friendship that by the end of the first act is getting hot. By the end of the second act, the musical has become a wildly sentimental ode to angst.
Not that this melodious look at adultery doesn't have sweet moments or meaningful songs. Jason Robert Brown knows how to write a line that endearingly captures the moment: "All my life I've been falling, I've been falling into you" is one of them, sung by Kincaid as he swoons over Francesca. But the lines that instantly define "The Bridges of Madison County" are by Marsha Norman, who wrote the musical's dialogue. They are cunningly simple: "Are you thirsty?" asks Kincaid after their first visit to the bridge he's photographing. "So thirsty," she replies.
This teensy exchange, like the story, comes across fluidly under Mark Martino's direction. And although I couldn't sense a natural chemistry between Gregg Goodbrod as Kincaid and the busy locally-based Sarah Gliko as Francesca, the two actors clearly convey the entanglement of their characters, in spoken word and in song. The cast also includes Barbara McCulloh and Greg Wood as Francesca's neighbors and Rachel Camp in three roles.
The set by Paul Tate dePoo III is a knockout. The entire back wall of the stage is covered in a canvas with farm scene that lets us look down the flatlands. When the theater's air-flow made it flutter slightly in the second half it began to look like a storm was on the horizon – an inadvertent effect, I'll bet. Francesca's house is a clever collection of pieces that come down from the stage rafters, as does the bridge that figures highly in the story. As musical productions go, this one comes off as rich and skillfully assembled. As musicals go, "The Bridges of Madison County" comes off as one that needs a heavy edit. When you begin drowning in the crescendos, no lifeguard can rescue you.
A previous post of this review incorrectly named the author of the book "The Bridges of Madison County."
—
"The Bridges of Madison County," produced by Philadelphia Theatre Company, runs through March 3 at the Suzanne Roberts Theatre, Broad and Lombard Streets. 215-985-0420 or philadelphiatheatrecompany.org.
WHYY is your source for fact-based, in-depth journalism and information. As a nonprofit organization, we rely on financial support from readers like you. Please give today.