A neighborhood walk that's healthy for you — and the city, too
In urban spaces all over the world, pedestrians traverse their cities' neighborhoods, with the goal of living by the standards set by urban activist and writer Jane Jacobs.
This story originally appeared on PlanPhilly.
—
"Walking Philadelphia like this is an act of civic empathy and public power." Ashley Hahn, in an op-ed for the Philadelphia Inquirer, shared how walking with fellow passionate Philadelphians can be a democratizing act that helps "chip away at the divisions and indifference that can separate us, that prevent us from hearing one another, or even really seeing the city we share."
Starting today, Hahn will help bring us into the world of our own making through Jane's Walk, a global festival of citizen-led walking tours that takes place the first weekend of May annually in more than 200 cities. Think about that. In urban spaces all over the world, at the same time, pedestrians are actively traversing their cities' neighborhoods, with the goal to live by the standards set by urban activist and writer Jane Jacobs, a passionate advocate who pushed forward community-driven city building during the era of top-down planning and urban renewal. It's like watching the same film opening weekend, except it's starring people you know and set in your neighborhoods.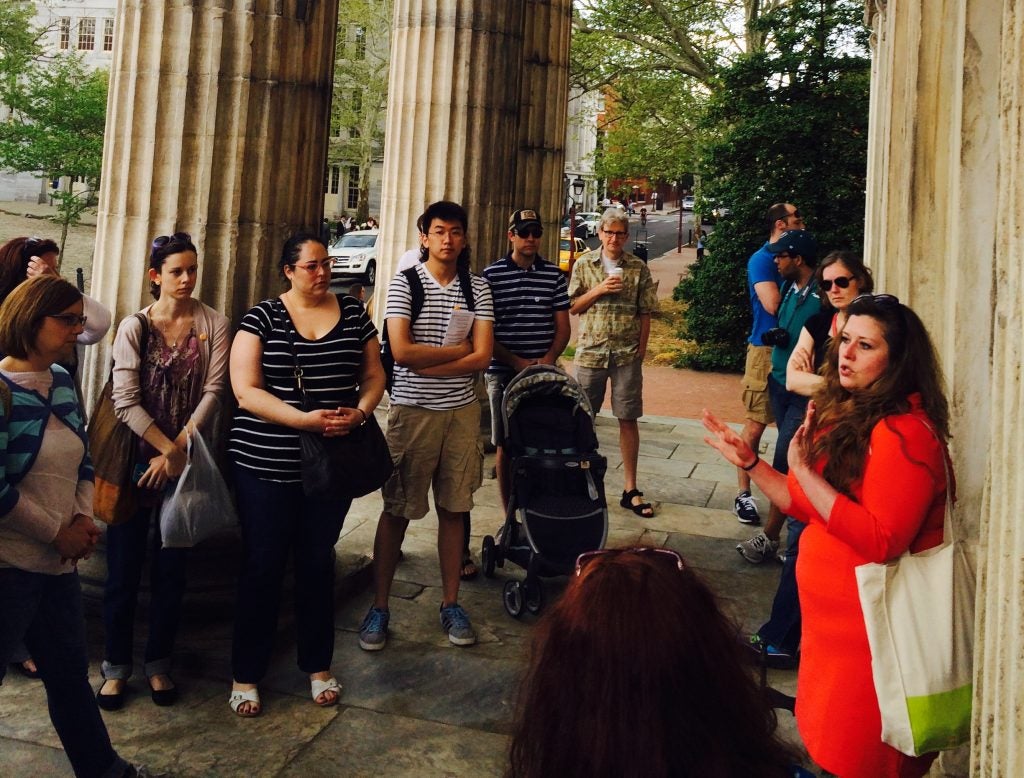 Jane's Walk brings together passionate citizens who believe in a vibrant, inclusive, and appreciated city. Volunteer walk leaders are either passionate residents, experts in their field, or professionals in design and the built environment, or all of the above. At Jane's Walk, they "host roving conversations that typically explore themes of neighborhood change, public history, or urban ecology," and everyone connects with each other and to community gems and resources.
Simply "being together, sharing space….is harder than it might seem," Hahn writes. "Listening in this context becomes an active act of caring, and sharing your experiences is a way to open your heart. When we walk together, even briefly, we're aligned."
Join Jane's Walk this weekend and get to know your city through the heart and soles of your fellow Philadelphians. Also Ashley Hahn, who has organized Jane's Walk since 2014, makes little pins by hand for you to wear.
Check out all the walks here. For those who see the world in map form, here's a map of all the walks.
And, for a walk down memory lane, here's a flashback to one outcome from Jane's Walk 2016, when the John S. and James L. Knight Foundation enabled Jane's Walk to offer an "Eyes on the Street" microgrant to help advance ideas hatched during a Sharswood walk and promote positive community-driven change.
Couple gifts $140,000 to save neighbor's home and community hub in Sharswood
Real estate power couple Greg and Danielle Parker shelled out $140,000 to save a community hub in Sharswood, Billy Penn's Michaela Winberg reports.
It was a gift, Parker told Winberg, explaining the significance of the house on the corner of 26th and Master streets: Greg Bullock, a longtime resident, lost his son to gun violence in 2014 right outside the rowhouse he lived in for two decades. In response, Bullock turned his home into a safe community space for the kids in the community. "He's fought to keep neighborhood kids off the streets by offering a water ice truck and starting jump rope, track and basketball programs at the playground across the street," Winberg reports.
When Bullock's landlord decided to sell the property, and Bullock had exhausted all of his personal networks and resources to save his home, the Parkers stepped in. Danielle Parker grew up about five blocks from Bullock's home and used to visit the recreation center where he runs most of his programming. Parker plans to continue to help Bullock with his community outreach—"next, she'll fund some renovations, and will work with Bullock to turn the ground floor into an authentic water ice store," Winberg writes. She then plans to fund renovations to his living space upstairs.
The Parkers and Greg Bullock are just two more neighbors who are finding creative ways to preserve significant community buildings in Sharswood. A group of preservationists are working to transform the historic Dox Thrash house at 24th Street and Cecil B. Moore Avenue into its latest life cycle as a public space, owned and operated by 'various stewards'  in the community.
"Racial and financial class warfare": How school districts find and prove residency fraudSuburban school districts "paid social workers, hired investigators, tailed students, ran data searches, and monitored bounced mail — all in the service of determining who belonged in their schools — and who didn't, WHYY News' Avi Wolfman-Arent reports. Many school administrators justify the enforcement and disenrollment as a way to fairly "ensure that legal residents  — and legal residents alone — receive the benefits of their tax dollars,"
However, Wolfman-Arent writes, some worry that "this form of educational law and order… receives relatively little scrutiny from education policymakers, officials, and advocates…leaves poor and minority students vulnerable." A deeper look reveals "many of the forces that shape education in Pennsylvania: race, class, school funding, inequity, and changing demographics."
Through a series of Right-to-Know requests,WHYY dug into the scope and nature of disenrollment, finding that of the 37 of 63 suburban districts recorded the number of disenrollments from 2014 to 2017, a combined 1,603 students had been disenrolled in that time period. When WHYY reached out to neighborhood Facebook groups about residency enforcement, "the majority of respondents seemed to think their districts weren't doing enough to keep outsiders out. Some specifically cited an influx of children from Philadelphia, Chester, Darby, or Trenton."
"It's hard to miss the racial undertones," Wolfman-Arent writes, when such comments are made about cities facing rapidly-changing demographics and vocalize fear that children from "poorer, majority-minority communities are slipping into the district illegally." The process comes from a suspicion or a tip. "Someone believes someone else doesn't belong." As Tyra Virden, a single, African-American mom from Upper Darby who once ran for school board, put it, "there's this belief that there's this massive amount of kids that [are] coming in from Philadelphia stealing an education…it's racial and financial class warfare."
PSA: Photo submissions ayayayaaaa
Winner, winner, heavy hors d'oeuvres dinner! Dena Driscoll wins the #PlanPhillyDesignLove photo contest for a VIP ticket to Thursday's Louis I. Kahn Awards + Talk honoring architect Sir David Adjaye OBE. Congrats Dena!
Here for this. #planphillydesignlove #youneedasnappierhashtag pic.twitter.com/Ew4p9SU1ob

— Dena Driscoll (@bikemamadelphia) May 2, 2018
As the winning contributor, Dena described her collection of photos quite succinctly:
Guys, it is all my history, design, museum, and urbanist things all together. *tears* https://t.co/wgYl0CGJiZ

— Dena Driscoll (@bikemamadelphia) May 3, 2018
On scene and as PlanPhilly's eyes on the meats at the VIP reception, Dena shared:
Update @PlanPhilly was not joking about the spread. pic.twitter.com/J1uBYwdd6T

— Dena Driscoll (@bikemamadelphia) May 3, 2018
So there you have it, folks. PlanPhilly does not mess around when using the term 'heavy hor d'oeuvres.' Thanks to everyone for sharing what you see and love about Philadelphia's architecture and design.
WHYY is your source for fact-based, in-depth journalism and information. As a nonprofit organization, we rely on financial support from readers like you. Please give today.