A neighborhood preservation toolkit created by Philadelphians, for Philadelphians
The term "preservationist" can seem old-fashioned, preoccupied with the era of the Founding Fathers, or at least the Gilded Age.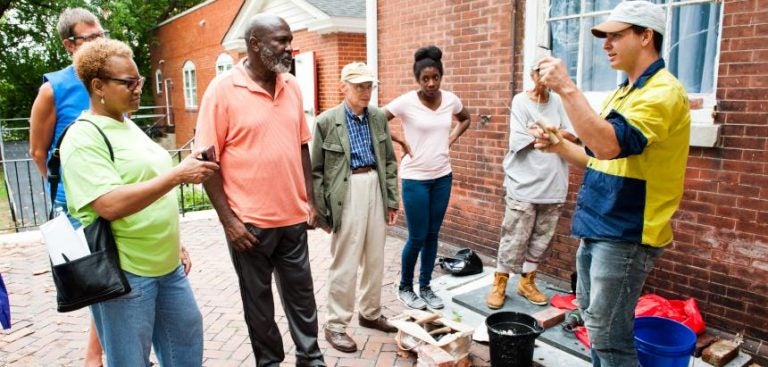 This story originally appeared on PlanPhilly.
—
To many, preservationist might seem a limiting definition, applying to those dedicated to saving individual buildings where famous people were born or died, or where significant events took place. Preservationist can seem old-fashioned, preoccupied with the era of the Founding Fathers, or at least the Gilded Age.
I can relate since, despite holding a degree in the field, I have not often referred to myself as such. Similarly, the term historic preservation often calls to mind wealth, elitism, and privilege, alienating large parts of the population, standing in the path of progress, and mandating expensive replacement windows. Preservationists are often left on an island in the middle, trying to find new ways to communicate that preservation is about so much more than these notions — that it's about maintaining the essence of what holds our cities, towns, and the places we love intact, and respecting those that have made them that way.
The Historic Preservation Citizen Engagement Project, which PennPraxis led over the past few months, seeks to do just that, marking an important moment in redefining how preservation is discussed in Philadelphia. The project began while the Mayor's Historic Preservation Task Force (convened in May 2017) was already off and running, comprised of 33 preservation-affiliated professionals and community members. PennPraxis was brought in to help define and run the citizen-engagement project, funded by the William Penn Foundation, and to provide more community input to the work of the task force.
The end product was envisioned to be a communication piece for building a larger, broader constituency for preservation in Philadelphia, shaking up some of those preconceived definitions. If the task force was working on details such as how to reform policy, create a better survey, or provide more robust incentives, our job was to find more advocates and promote a greater understanding of preservation that would speak both to the diversity of Philadelphians  and reflect their equally wide-ranging values and concerns.
The key challenge of the project was this: We wanted to talk to Philadelphians who did not already consider themselves preservationists. We needed to shed light on the concerns of our neighborhoods, and then see if preservation tools could be used to address them. To do this, we had to engage people in an open and honest dialogue, which is not easily done in the typical public meeting setting.
So we enlisted the help of the Citizens Planning Institute, with nearly 500 graduates citywide, and recruited 20 Philadelphia residents (13 of whom had completed CPI) to act as liaisons to lead community conversations about preservation in their neighborhoods. Their marching orders were to invite a group of 10 to 12 neighbors to participate in a candid conversation — anytime, anyplace that was convenient for them. We encouraged them to include a cross-section of homeowners, renters, business owners, residents of all ages, and even preservation naysayers.  PennPraxis staff would bring some starter questions and take notes, but it was up to the liaisons to steer the conversation. We wanted these gatherings to be led by neighbors, not by us as outsiders. That was important for building trust, and recognizing the agency of the residents themselves. If this project was going to result in greater neighborhood involvement, buy-in, and understanding, it had to start there, too.
For four weeks in late April and early May of this year, my colleague Molly Lester and I drove and took public transit to all corners of Philadelphia, traveling to conversations in living rooms, dining rooms, community centers, delis, churches, and coffee shops, collecting feedback from 20 neighborhoods. The opening questions were very general, such as, "What places in your neighborhood matter to you, and why?" and "How should history and development be balanced in your neighborhood?"  In other words, we wanted an indirect way to talk about preservation, since the topic and term can be off-putting to some.
We compiled the answers in preparation for the task force's public meeting in May, seeing all neighborhood feedback side by side for the first time. What emerged from these very diverse conversations (plus online feedback from an additional neighborhood) was about 30 themes and concerns that united neighborhoods across the city in a more compelling way then we had imagined. Though the participants and conversations were in no way homogenous, it was clear that regardless of whether it was Strawberry Mansion, Point Breeze, or Fishtown, people all wanted to see higher-quality new development, prevent displacement and keep people in their homes, and maintain their neighborhoods' distinctive destinations (many non-buildings!) and sense of place. Residents from Germantown, to Grays Ferry, to Oxford Circle unanimously voiced concern about problematic zoning enforcement and processes. In Chinatown, Rittenhouse, and East Parkside alike, community members wanted to maintain and encourage small business development, and wished to tell neighborhood histories as a means of garnering appreciation and respect.
To us, it became clear that if this wide array of issues could be addressed in a coordinated fashion, a wide breadth of Philadelphians could be united around these common causes. The key challenge was to bring it all into a handy document that would be accessible and inviting, and would encourage Philadelphians from a range of backgrounds and experience levels to address their concerns (at least partially) by taking a more active role in neighborhood preservation.
On Sept. 20, at the next public meeting of the Task Force, PennPraxis will share the final product, but hopefully not the conclusion, of this project. The Neighborhood Preservation Toolkit will identify key resources and action steps that can help neighborhood advocates accomplish goals that are important across Philadelphia: "Improve and maintain neighborhood quality;" "Care for an older home;" and "Learn and share neighborhood history," to name a few.  Background information is provided as a starting place. The toolkit is made for all audiences, including homeowners, renters, developers, business owners, and youth, and the content goes far beyond architectural and process terms to include ideas for community engagement and showcase specific places where these ideas have been successful. Once finalized, the toolkit will be translated and available both online and at community resource centers.
As the project revealed, preservation is about so much more than "historic" buildings. This is not just a tagline but is backed up by the comments of 150 community members who participated in this project. Preservation is about celebrating and respecting people and their communities, enabling equal opportunities for quality living and gathering spaces, giving people the skills and information to play a role in determining their future, and demonstrating that though we may look different (and our rowhomes may, too), the desire to maintain the quality and essence of our Philadelphia neighborhoods is paramount to us all.
Today, I would happily call myself a preservationist, and hope that a new generation of involved Philadelphians would as well.
WHYY is your source for fact-based, in-depth journalism and information. As a nonprofit organization, we rely on financial support from readers like you. Please give today.