A long-shot plan to extend Regional Rail to Phoenixville could revolutionize how infrastructure is built
A mayoral task force is proposing a short-term pilot project using some of Norfolk Southern's freight rail tracks to link Phoenixville to the Norristown/Manayunk line.
Listen
5:30
The Colonial, located in the heart of the commercial corridor on Bridge Street in Phoenixville, PA, on August 21, 2018. (Bastiaan Slabbers for WHYY)

Mayor Peter Ursucheler stands on the back of a stationary caboose, located at the former train station in Phoenixville, PA, on august 21, 2018. The Colombia Station currently houses an event venue. (Bastiaan Slabbers for WHYY)

Families have lunch at the Iron Hill Brewery, in Phoenixville, PA, on August 21, 2018. (Bastiaan Slabbers for WHYY)

Mayor Peter Ursucheler and developer Manny DeMutis embrace upon meeting at Iron Hill Brewery in Phoenixville, PA, on August 21, 2018. (Bastiaan Slabbers for WHYY)

Consultant Thomas Frawley and developer Manny DeMutis present plans for the extension of rail commuter service from Philadelphia to Phoenixville, at a borough meeting in Phoenixville, PA, on August 21, 2018. (Bastiaan Slabbers for WHYY)

Consultant Thomas Frawley and developer Manny DeMutis present plans for the extension of rail commuter service from Philadelphia to Phoenixville, at a borough meeting in Phoenixville, PA, on August 21, 2018. (Bastiaan Slabbers for WHYY)
This story originally appeared on PlanPhilly.
—
A bit before dusk on a gray and muggy Tuesday night, a familiar sight comes rumbling through the east end of Phoenixville: Another freight train slowly chugs by, stretching as far as the eye can see.
Normally, transportation infrastructure projects move like these hulking trains: laboriously slow, screeching periodically, seemingly always moving forward, seemingly never-ending. Sometimes, bureaucratic building proposals move more like the traffic on nearby Route 422 — a curse-inducing, stop-and-go nightmare.
But what if the extension of passenger rail service could move more like a bullet train, fast and smooth? That's what group of local civic and business leaders have in mind with their idea of extending SEPTA Regional Rail service to Phoenixville.
A mayoral task force is proposing a short-term pilot project using some of Norfolk Southern's freight rail tracks to link Phoenixville to the Norristown/Manayunk line. They say they can build three simple stations — little more than platforms and parking lots — and the attendant necessary infrastructure upgrades for just $15 million and run the trains for less than $3 million a year. And once SEPTA, Norfolk Southern, and the surrounding towns agree to the idea, their consultant says they could get it all up in running in under 18 months.
That would be nothing short of revolutionary in the world of public infrastructure, where projects are planned decades in advance and costs often grow like boa constrictors let loose in the Everglades, swelling to terrifying dimensions and strangling all they run across.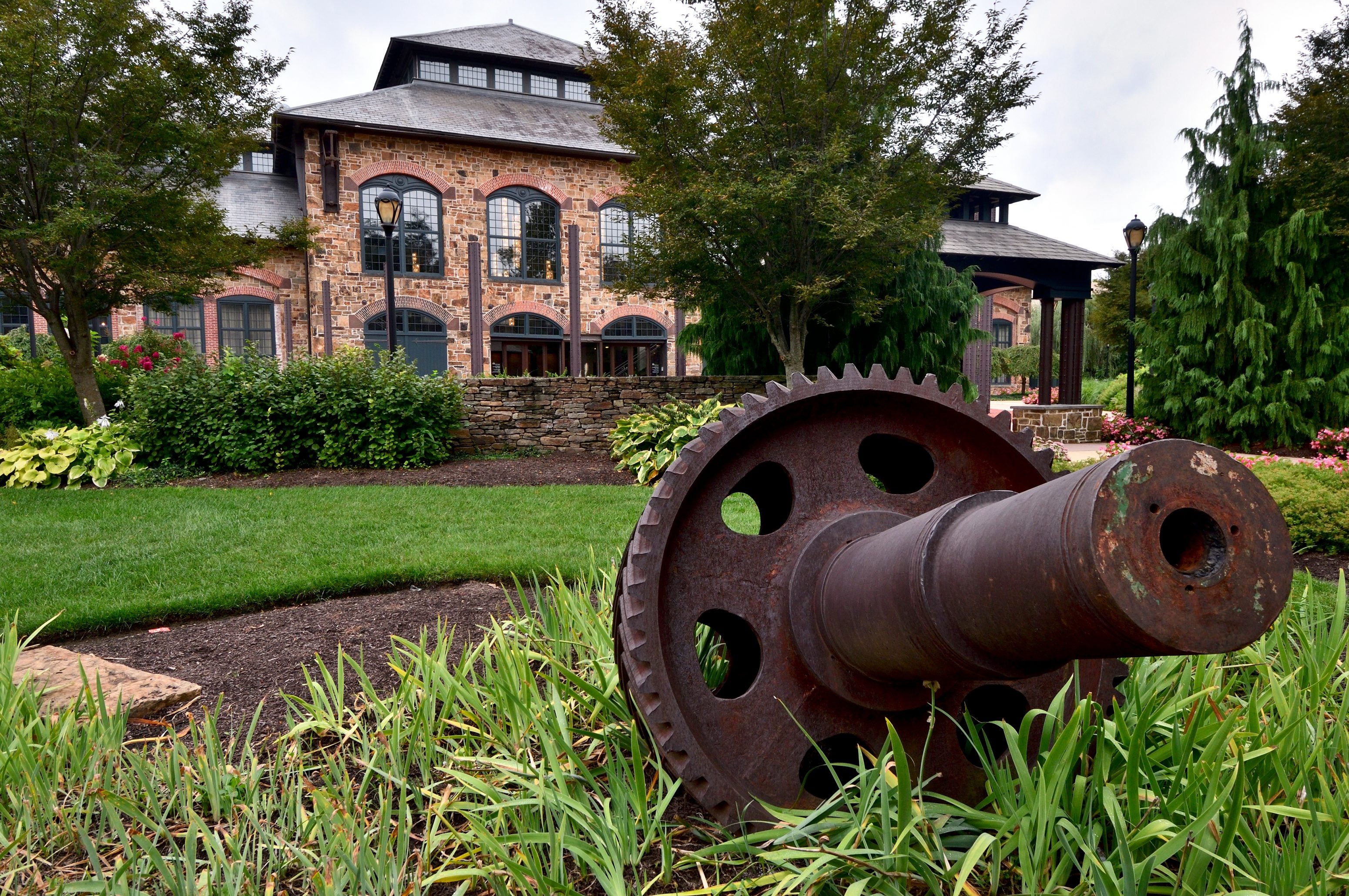 Experts say the Phoenixville plan is not feasible — it's too ambitious, too optimistic, maybe a bit too naive. But its supporters, who have seen this place go from destitution at the millennium's end to millenial destination today, won't take a simple no for an answer.
"If you say you can't do something, that's the end of the conversation," said Manny Demutis, the developer who covered the $40,000 price tag for preliminary planning. "Everybody has something that says that you can't, but nobody has come up and said, 'Y'know, I think could work, if… ' "
Rising from the ashes
There are two unavoidable topics when you talk about Phoenixville: breweries and the cliche about the town's name. The former has driven the latter: Phoenixville is home to a half-dozen craft breweries (plus a distillery), mostly housed in homely, historic former factories and mills, and that's driven rebirth from the ashes of deindustrialization — a resurrection redolent of a certain mythological firebird.
That the story of a Rust Belt town finding second life thanks to an arts-, culture-, and nightlife-driven renaissance has become so common as to be trite should not diminish its remarkability here. Phoenixville pulled off a comeback that plenty of other communities built around steel mills and railroads haven't.
The town got its name from the Phoenix Iron Works that opened on the banks of a Schuylkill River tributary before the Civil War. The railroads — the Reading and the Pennsylvania — soon followed, and the town bloomed around them, a history evident today in the historic downtown's embarrassment of architectural assets dating back to their arrival. The trains would drop off anthracite coal and passengers from Reading, and pick up steel and majolica bound for Philadelphia.
Trains don't stop here anymore. They haven't since 1981, the year SEPTA took control of the Regional Rail lines from Conrail, which had inherited them out of the bankruptcies of the railroad companies that built them. SEPTA cut service on any part of a rail line that wasn't electrified — the costs were too high, and with the commuter rail tunnel under Center City set to open in 1984, they wouldn't be able to use diesel-run locomotives much longer anyway. Which meant no more trains between Norristown and Pottstown.
By then, the town's namesake Phoenix Iron Works had already pulled back to a shadow of its former self. In a few years, other plants and mills nearby would close, decimating Phoenixville. Demutis was in high school at the time.
"I was in the ninth, going into tenth grade, [when] all the jobs left," he said. "Imagine going to school in tenth grade and half your friends aren't there."
By the end of the Eighties, Phoenixville looked like the other kind of hackneyed Rust Belt story — the sad tale of unrelenting decline and economic anxiety. As locals tell it, Phoenixville was written off by the wider world, left to to slowly rot away into obscurity, but the residents had other ideas.
"Phoenixville was destitute at the time," said Demutis, who returned home after college to tend his parents' sports bar and try his hand at coaching football as an assistant at nearby Ursinus College. Naturally gregarious and dedicated to his hometown, Demutis wound up on Phoenixville's planning commission just as it was putting a turnaround plan in place.
The community bought the old iron foundry, cleaned it up, and turned it into a wedding venue. The old Colonial Theatre, made famous in 1958 when it was attacked by The Blob in the eponymous cult classic, was restored to its movie-palace glory. In 1999, Demutis took his first stab at development, building a mixed-use apartment complex on the corner of Bridge Street and Church Avenue. Iron Hill Brewery quickly leased the first floor, but Demutis didn't rent the apartments.
He sold them.
"[They were] going to be apartments, [but] somebody said, 'Hey I'm from Philadelphia, do you mind if i buy one?' " Demutis said. "I thought to myself, 'Who the hell wants to buy an apartment in Phoenixville?' "
"They all sold out in like two sales hours," he said with a laugh. "There was this pent-up demand. People were waiting for Phoenixville to be great — very similar to the train."
Demutis believes there's pent-up demand for a train in Phoenixville — he'd say he knows there is — just like there was for the town itself. All they need to do is prove it, like that first new building did.
Starting small could lead to something big
Hence, the demonstration plan. The idea is to lease access to the freight tracks from Norfolk Southern between Phoenixville and Norristown, where the trains would switch seamlessly onto the Norristown/Manayunk line. Renting rails, instead of building them, means the trains could get up and running fast and on the cheap. The trains would run only three round trips per day, probably around the rush hours.
The initial pilot period would last two or three years, and then the service could be reassessed based on actual ridership figures. If no one rides, it could be cut with relatively low sunk costs. But if it's a runaway success, then the idea of spending hundreds of millions on a major rail-service upgrade begins to make more sense.
Norfolk Southern trains are diesel-powered, but SEPTA's rails are all electric, so the Phoenixville extension would need dual-mode locomotives that can run on either. But these, too, can be leased. (The $15 million capital cost figure is a bit misleading, because it excludes the cost of renting the dual-mode locomotives; SEPTA recently bought 12 more conventional locomotives for $154 million, or about $8.5 million each.)
A few low-cost, no-frills stations could be built quickly. In addition to one in Phoenixville, the idea is to have stops in King of Prussia and Schuylkill Township (Valley Forge), as well.
Once everyone signs off — SEPTA and Norfolk Southern agree to run the trains, locations for the stations are leased, and a cost-sharing among the towns decided upon — the trains could start operations within a year. As it is, the plan's backers hope the approvals won't take more than a year. Negotiations with all those stakeholders will begin after the September meeting of the Borough Council, which is expected to approve going forward with the plan.
SEPTA participated in a preliminary meeting of the mayor's rail task force and says it's open to the idea. But Director of Strategic Planning and Analysis Liz Smith warns the money will have to come from elsewhere. "We do not have capacity in our current capital budget for a project such as this in the next 12 years, so we would need to figure out [how] that would be able to move forward," she said.
Smith also cautioned that while the plan sounds simple, it carries a lot of potential pitfalls. "Freight track aren't typically built up to passenger-rail standards, and that's one of the reasons why the Elwyn-to-Wawa extension is as expensive as it is," she said, referring to SEPTA's ongoing effort to restore service to the Delaware County town.
Work on that $150 million rail-restoration project has been ongoing for over a decade, and there are still three or four more years to go before it's done. Phoenixville thinks it can do something similar for one-tenth the cost and the time.
Though Smith was unwilling to say the plan was implausible before taking a full look at the feasibility study, other planning experts weren't so cautious.
"That's not a realistic cost," said Greg Kyrkewycz, associate director of multimodal planning at the Delaware Valley Regional Planning Commission.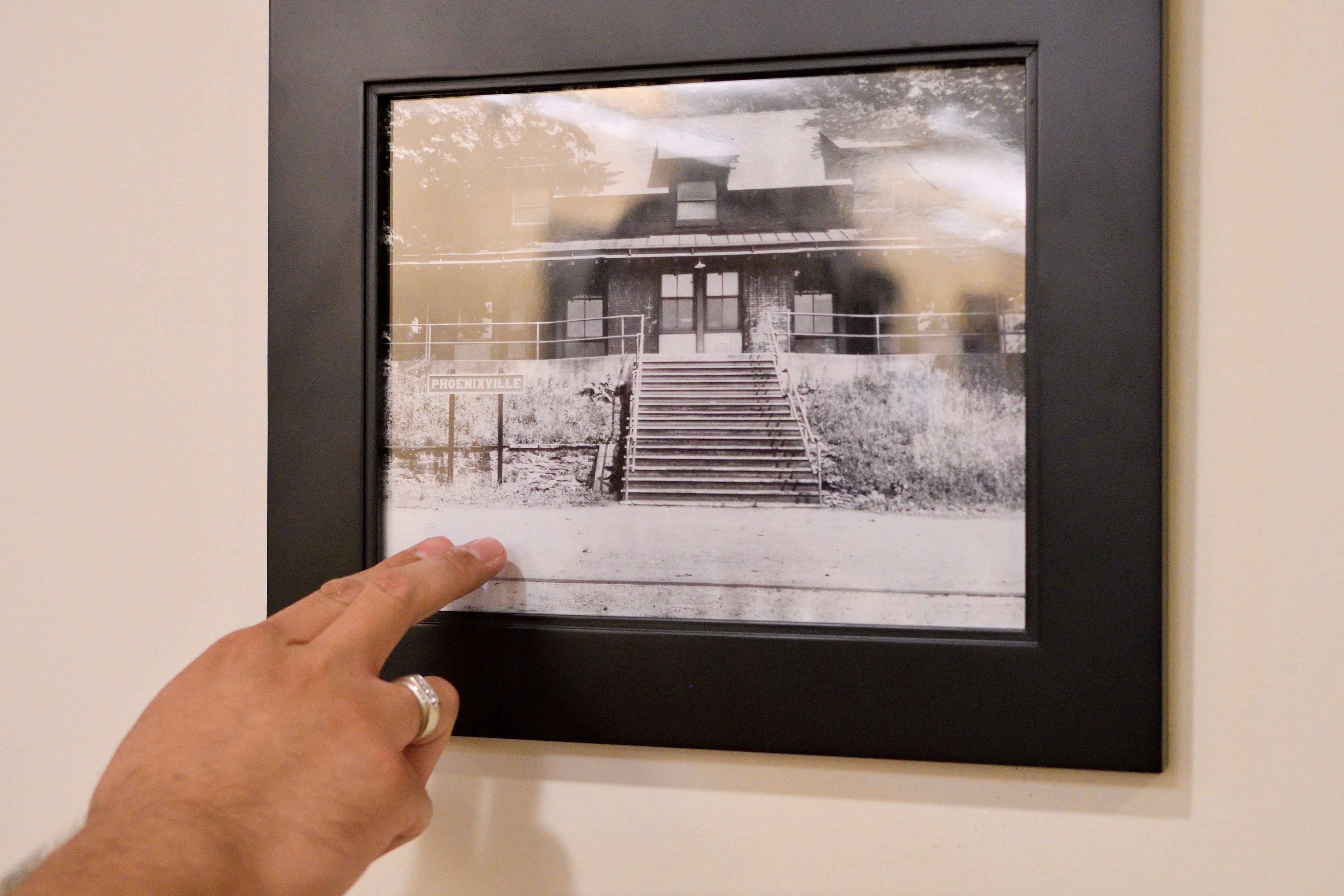 This isn't the first time someone has looked at extending passenger rail service to Phoenixville. The town was on the proposed Schuylkill Valley Metro line that would have connected Philadelphia and Reading in the early 2000s. After years of planning, that $2.2 billion proposal failed to win federal funding and died.
In 2009, planners took a look at extending the Norristown/Manayunk line. Like the new Phoenixville concept, they studied the possibility of using dual-mode locomotives. But that plan would have cost somewhere between $400 million and $475 million, and the proposed funding source — adding tolls to U.S. 422 — was deeply unpopular.
According to Kyrkewycz, though using Norfolk Southern's lines seems like an easy solution, it's harder than it looks.
"It's one of our most active freight lines in the region, and that's something that every study has kind of come up against and never quite found a way to resolve: coming to an agreement with Norfolk Southern on what it would cost to operate on their line and whether you still get enough out of the transit project to make it worthwhile," said Kyrkewycz. "You have to operate under somebody else's rules, or you have to spend a lot more on the project so that you don't conflict with Norfolk Southern any longer, and then it becomes a very expensive rail extension."
If they can pull off the plan, Demutis said, it will be a huge hit. "The demand for rail service into the city, it's here, and it's going to be undeniable," he said. "I think you're going to have capacity issues."
Kyrkewycz agreed with that last sentiment. In fact, that's the very problem with the plan — the limited capacity of SEPTA's Regional Rail system to run more trains. Already, the tracks in the main truck that heads north out of Center City are packed; already, trains regularly need to stop and wait there for others to get by. And, at rush hour, SEPTA's trains are all mostly full.
As a transportation planner, Kyrkewycz wants to restore rail service to Phoenixville; he notes that the concept is on the regional planning commission's long-range plan. But he says that it's harder, and that it will take more money, than the task force suggests it will.
"All of these project-complexity challenges… could be overcome if you could overcome the cost challenge," he said. "We need to come up with local resources, regional resources, to pay for some of these projects that we've said we've wanted for many decades in order to move the needle past another study, and then another shelving of a study, [and] into something that actually gets built."
A spokesman for Norfolk Southern said the company would look at the proposal once it got it, but he added that "a study could take a year or more." And he warned that "mixing freight and passenger service isn't an ideal situation."
Yet the plan's backers are undeterred. Phoenixville Mayor Peter Urscheler said this proposal is different in size and scope from the previous ones.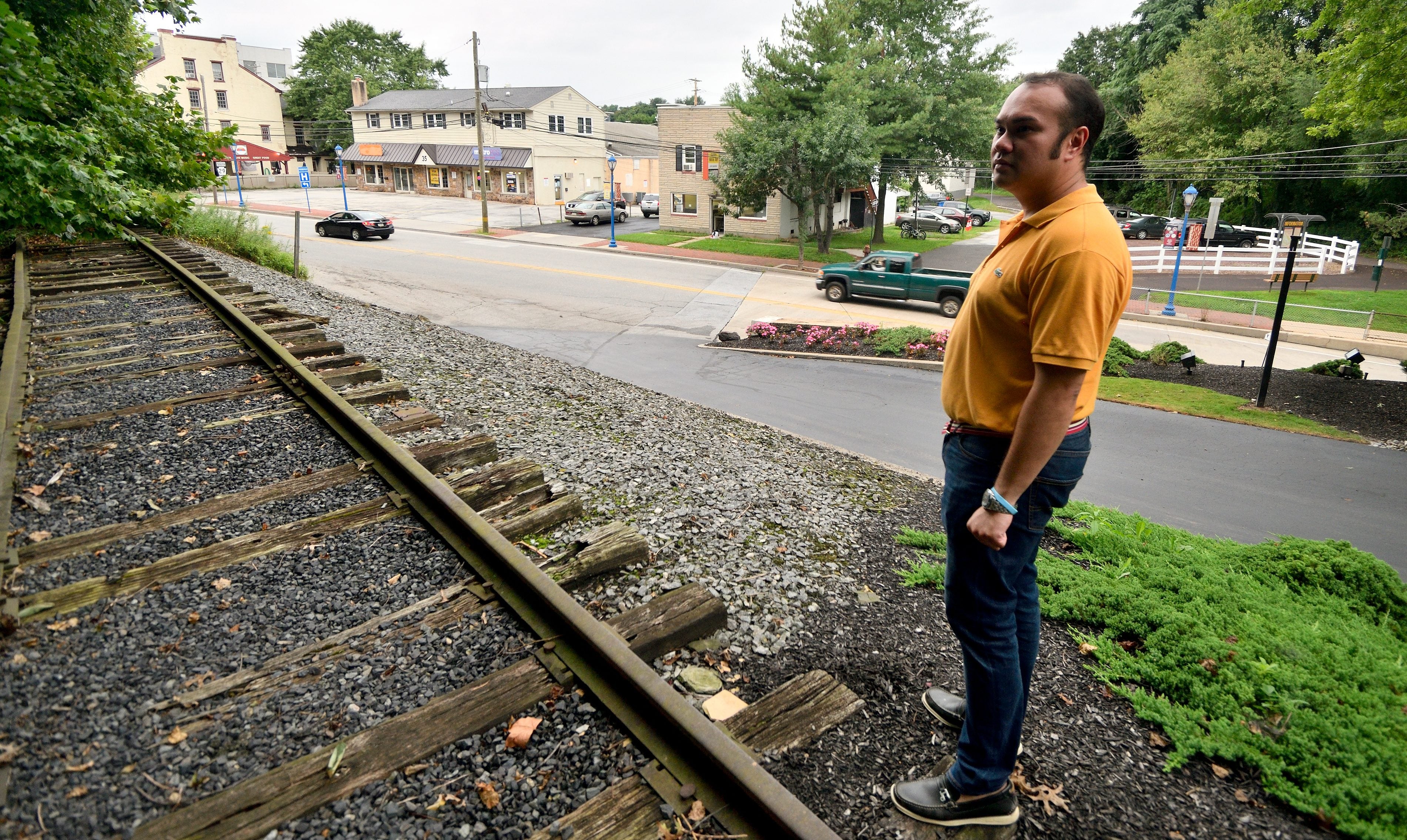 "We're just trying it out," he said. "We're not looking to go all the way to Reading, we're not asking to put a toll on 422, we're not trying to lay any infrastructure, and we're not trying to electrify anything. We really want to make sure that this makes sense before we ask for the larger commitments."
Urscheler is an optimist. He tends to answer every question with the same word, "Absolutely." So he is undaunted by the naysayers.
"The idea is that for a two- or three-year period we actually can prove our concept by building temporary stations, renting rolling stock, renting locomotives, and allowing the citizens to use the rail, allow people in Philadelphia to use the rail to come out to Phoenixville and get a real idea of what ridership could look like, without having to make long-term commitments," he said.
The difference between this and previous plans is attitude, Demutis said.
"If you ask somebody why this can't happen, 96 percent of time they'll give you an answer that is not relevant or has anything to do with any ounce of reality about why it could or could not happen."
Instead of focusing on the plan's imperfections, or how extremely infrequent service would make it difficult for riders to rely on the train, Demutis said, the focus should be on how to overcome the challenges and incrementally build up.
Starting small and building up infrastructure quickly is anathema to the bureaucratic world of planning and engineering.
Consider SEPTA's proposal to extend the Norristown High Speed Line to King of Prussia. The transit authority has spent more than a decade and $8.5 million just studying the plan. Nothing has been built yet, and there's a chance that nothing ever will be. If that extension is eventually built, the total cost will exceed $1 billion.
So Phoenixville's plan isn't merely challenging the conventional wisdom about the feasibility of expanding SEPTA's rail network, it's challenging the entire paradigm of how transportation infrastructure is built in the United States.
But this wouldn't the first time a rail line has been built quickly, said Thomas Frawley, Phoenixville's feasibility consultant. He points to Florida.
"This is sort of the way Tri Rail started down in South Florida — that was a detour because they were rebuilding I-95. They needed some sort of mitigation for the traffic."
According to Frawley, Tri Rail grew from a service as infrequent as the one proposed in Phoenixville to something closer to 60 trains a day. Frawley also pointed to the Metrolink emergency expansion into the Ventura County suburbs of Los Angeles after a 1994 earthquake damaged several freeways in the area. In just a few weeks, Metrolink managed to build new tracks and start running trains. But while the construction was expedited, the expansion itself had been planned years in advance.
A crowd of about 25 residents attended the Tuesday, Aug. 21, meeting of the Phoenixville Borough Council's infrastructure committee to hear Frawley and Demutis present the feasibility study. During a short question-and-answer session, everyone who spoke favorably about the plan, even Rev. John Fedornock of Holy Ghost Orthodox Church, who was concerned to see his church's land listed as one of the potential station sites. (It was just an illustrative example, Demutis assured.)
"It's a gold mine, man, just don't build it on our church!" Fedornock said, drawing laughs.
After the meeting, Phoenixville resident Lisa Napoletano enthused about the idea. "Having a commuter train is exciting for the town and very, very good for the environment and for the people that live here," said the retired commercial attorney.
"Why not give it a try?" she said, as if responding to all the naysayers and pessimists who have dismissed the plan and its potentially novel approach to building infrastructure. "One of the reasons why I like Phoenixville is that people say, 'Why not?' "
That's an attitude born of Rust Belt rebirth — the feeling that not all lost causes are lost, that through pluck and luck and some smalltown gumption, even the impossible is possible.
WHYY is your source for fact-based, in-depth journalism and information. As a nonprofit organization, we rely on financial support from readers like you. Please give today.