The bus stops here? Well, just a minute!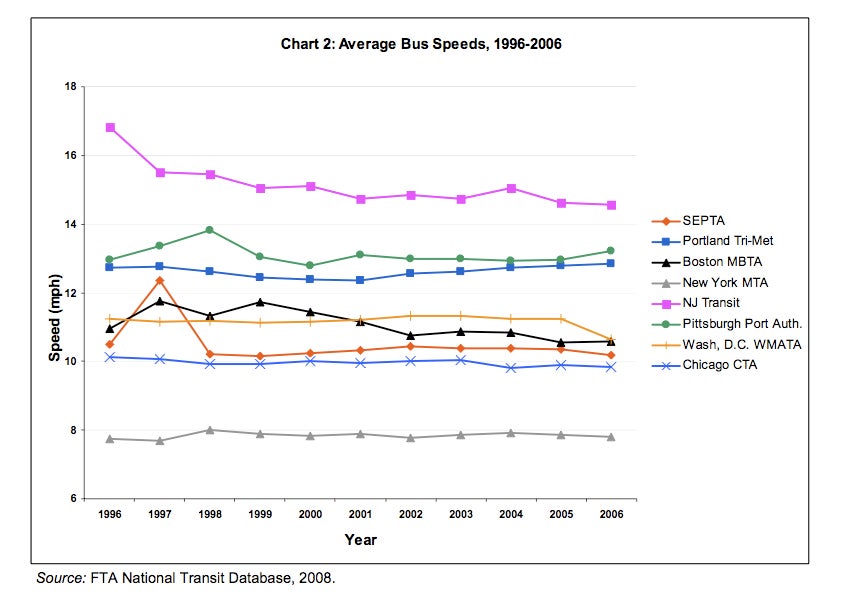 Aug. 31
By Anthony Campisi
For PlanPhilly
Although the Nutter administration will consider bus and trolley stop consolidation as part of its fall Transit First initiative, it doesn't look like SEPTA is sold on it.
Andrew Stober, director of strategic initiatives at the mayor's Office of Transportation and Utilities, has said that the SEPTA system, as it is now, focuses too much on door-to-door service as opposed to fast travel times.
One way of addressing that imbalance, Stober said, will be to consolidate stops along certain routes. Stober said the city would be pushing this option as part of a Transit First committee it will convene in October, in which the mayor's office, SEPTA and city departments will look at improving travel times along commercial corridors throughout Philadelphia.
As it stands now, most buses in the City Transit Division stop at almost every intersection along their routes, especially in neighborhoods in and around Center City. National guidelines call for bus stops to be placed a quarter-mile apart in urban areas to balance accessibility with faster trip times.
However, SEPTA officials say that there are currently no plans to consolidate bus stops.
"We feel like the system we have in place now is working to meet our needs," SEPTA spokesman Andrew Busch said.
And Kim Scott Heinle, SEPTA's assistant general manager for customer service, said that he advocates a case-by-case approach to bus stop consolidation.
2004 City Transit Stop Management study
Heinle was supportive of the Transit First process — he described it as an attempt by the city to design roads to make transit more "attractive" to pedestrians — to replace the current ad hoc approach to planning for buses and trolleys along city roads.
He did not seem to support, however, a systematic attempt to consolidate bus stops in densely populated areas of the city.
Heinle questioned whether bus stop consolidation in Center City would significantly improve travel times and said that stop consolidation would raise problems, such as accessibility issues for the disabled and elderly and that it might put SEPTA drivers in a tough position if, while stopped at a red light without a stop, a customer wanted to board the bus.
Skeptical of applying the national guidelines to bus stop placement, Heinle stressed that each bus and trolley route served a different population of riders with different transit needs.
He said that he would be more accepting of removing unused or little-used stops in less-dense areas of the city, like the Far Northeast, where other nearby stops could still serve users.
Transit planners, however, say that, to be most effective, stop consolidation must remove stops that are currently being used by riders. The point is to concentrate riders that board at several stops at one stop. The impact of consolidation on the elderly and disabled can be minimized by tracking transit usage by those populations and retaining stops they frequently use, according to transportation planners.
The Delaware Valley Association of Rail Passengers, an advocacy group, has also come out in favor of the Transit First initiative.
Matthew Mitchell, a spokesman for the group, said that DVARP will
"lend its support to efforts to speed up service on surface bus and trolley
routes. We hope Mayor Nutter will stand behind Rina Cutler and her staff,
and put the interests of all riders in having faster, more efficient
service ahead of the interests of the few who may object to the program."
Several studies of improving Philadelphia transit have pointed to the potential benefits of consolidating stops. A 2004 traffic stop management study by the Office of Strategic Planning said that it "is apparent in many neighborhoods of the city that every-block stops significantly slow transit service" and pointed to the establishment of limited-stop service in other cities as a way of increasing transit time.
To gain public support for stop consolidation, the report suggested the Philadelphia point to successful attempts in cities like Chicago, New York and Pittsburgh, and that the city begin by studying the effect of consolidation on a particular neighborhood or important route.
A 2008 report by the Center City District (http://www.centercityphila.org/docs/2008CCDcongestion.pdf) said that, by placing bus stops on every other block, "transit could become a significantly faster crosstown alternative," though the CCD is not actively pushing for stop consolidation and fears that it discourage ridership.
And a 2008 report by the Delaware Valley Regional Planning Commission (http://www.dvrpc.org/reports/08066.pdf) said that a 1 mph speed increase in the City Transit Division would yield $13 million in annual savings to the authority.
Contact the reporter at campisi.anthony@gmail.com