Congress takes lead in transit funding relief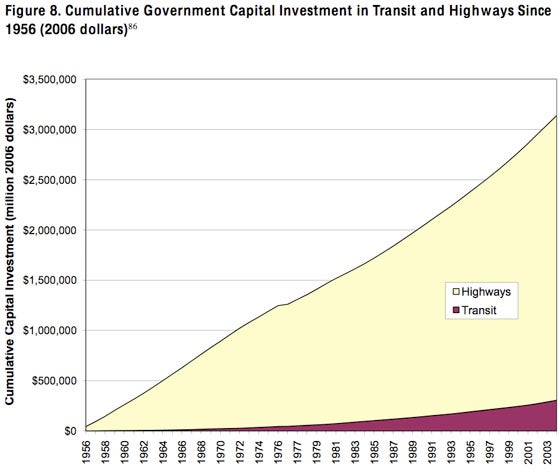 Chart courtesy of A Better Way to Go, a USPIRG Education Fund report published in March 2008
June 22
By Anthony Campisi
For PlanPhilly
President Obama has steered billions of dollars in stimulus money to mass transit over the past several months, making a down payment in reversing a decade of federal neglect of transit.
But it looks like Congress will be taking the lead in a push for more money for transit in the coming months.
Monday, the House Transportation and Infrastructure Committee brushed aside Obama's calls to temporarily sideline infrastructure issues by releasing details of a bipartisan bill that would fund federal highway and transit programs for the next six years.
Obama had asked Congress to extend the current funding scheme for 18 months while he tackled other issues such as health care.
The bill would spend about $500 billion on roads, bridges, high-speed rail and mass transit systems.
Of that money, mass transit would get $100 billion, $337 billion would go to highways and $50 billion would be earmarked for developing a high-speed rail system. This is in addition to the $8 billion included for high-speed rail in the stimulus package.
The bill substantially increases the amount of federal funding for transit agencies — which is currently set at about $10 billion a year — to about $16.7 billion annually.
"This is an opportunity to move past broken policies of the past and move toward a more accountable and efficient future," committee chairman Peter DeFazio (D-Ore.) said in a statement.
The bill would also shift more of the burden for funding transit projects to the Highway Trust Fund and away from the general fund, which would be responsible for funding 12.3 percent of transit spending, down from about 17 percent now.
In a statement, the American Public Transportation Association praised this change, noting that "a smaller portion of funding would be subjected to funding reductions within the annual appropriations process."
It also streamlines the funding process, consolidating transit funding into six programs designed to cut down on approval times and ensure better monitoring.
While no one at SEPTA could be reached yesterday afternoon to discuss the bill, the agency will probably see a benefit from the high-speed rail projects. Three regional rail lines — the R2 Newark, R5 Thorndale and R7 Trenton — use Amtrak-owned tracks that have been designated high-speed rail corridors.
And though it's unclear precisely which SEPTA projects would get funding under this proposal, the basic strategy of federal funding going to capital improvements as opposed to operating expenses has not changed, though Congress has passed a bill that would allow cash-strapped transit agencies to devote up to 10 percent of their stimulus money to operating expenses. The federal government cut most operating subsidies in the late 1980s and early '90s in an attempt to shrink the government's role in regional transportation.
Because of this, older transit networks like SEPTA can get the short end of the stick, according to Don Shanis, deputy executive director of the Delaware Valley Regional Planning Commission. Regions that want to build transit systems from scratch are more likely to get funding than systems like SEPTA that want to upgrade already existing networks of trains, subways and buses.
He foresees future federal support for service expansion to be focused around a few projects that already enjoy widespread support: extending the Broad Street Line south to the Navy Yard, creating a light rail system along the Delaware River and building the Schuylkill Valley Metro, a plan to restore train service between Philadelphia and Reading.
The committee does seem to want to push large infrastructure projects in the future, though, and suggested the formation of a National Infrastructure Bank to fund future large-scale transportation projects.
The big unanswered question at this point is how the bill's sponsors expect to pay for the increase in spending. The Highway Trust Fund, which is funded through the gas tax, was in dire straights and only had enough money to maintain the current level of funding for transit for another year, said Paul Dean, director of government relations for APTA.
While legislators left open the idea of an increase in the gas tax, they made no specific proposals to shore up the fund.
Though APTA has no specific position on specific funding strategies, Dean did mention a number of novel fees that might bring in money, like the imposition of congestion pricing (an additional charge on transportation users during peak periods) and a vehicle miles traveled tax, which charges cars based on the number of miles driven on particular roads.
The ultimate fate of the proposed bill is difficult to judge, however. A funding scheme will have to be decided before the bill can move for a full vote in the House.
It is also not known how the bill, which is scheduled for markup on Wednesday, will be reconciled with the Obama plan.

Contact the reporter at campisi.anthony@gmail.com