The growth of Drexel University
Rendering in Drexel's 2007 plan.
April 08, 2009
By Brandon Gollotti
For PlanPhilly
Drexel University was near bankruptcy when the late Constantine Papadakis became president in 1995. But Papadakis thought the small school with a high percentage of commuter students could become an innovative university and a vital and vibrant part of University City and Philadelphia.
Papadakis' bold vision – much of it defined in a 2007 master plan – is his legacy. The projects in that plan – from its Recreation Expansion on Market Street to the Intergrated Sciences building – have begun taking shape on the campus at 34th and Market streets. Others will continue to unfold over the next decade as the university spends hundreds of millions of dollars on construction projects.
These physical changes will help better accommodate Drexel's increase in student population, which rose from 4,500 full-time undergraduates in 1996 to more than 11,000 today. Some of these new students were drawn to new academic programs added under Papadakis' guidance. And more of them are choosing to live on campus – new dormitory buildings have been added. One is currently under construction.
Drexel University with Center City in the background.
President Papadakis "had a vision to develop Drexel University into a first-class nationally ranked comprehensive research university" says Senior Vice President for Student Life & Administrative Services, James Tucker. "Since 1995," Tucker continues, "nearly a billion dollars has been invested in new construction, redevelopment, renovations, and the fruition of the 2007 master plan that will have a lasting impact on the culture and fabric of the institution."
Drexel was founded in 1891 by Anthony Joseph Drexel, an American businessman and original partner of the company that is now JPMorgan Chase.
From the beginning, Drexel, originally known as the Drexel Institute of Art, Science and Industry had high expectations for his school; its opening convocation was attended by likes of Andrew Carnegie and Thomas Edison.
Through the years, Drexel has expanded (in the 1960s to the 1980s under the leadership of presidents W.W. Hagerty and James Creese) and seen decline through low admissions and financial crisis right before Papadakis took over in 1995.
Under Papadakis, Drexel has looked to redefine itself both academically and physically through the school's growth while also creating relationship with the City in a positive way.
Academically, Papadakis strengthened the existing schools and colleges by vastly increasing enrollment as well as creating a new law and medical schools; all in addition to the university's highly-rated engineering school and cooperative-education program.
Physically, the President wanted to transform its outdated suburban-style campus into a truly urban landscape of higher learning by infilling the campus with buildings of varying purposes.
Alan Greenberger, executive director of the City of Philadelphia Planning Commission and former adjunct professor in Architecture at Drexel, said "The growth of Drexel is a great thing for Philadelphia, and a great thing for West Philadelphia."
Physical changes started to take shape in 1997, with a master plan that focused on four objectives: Creating an identity for the university, establishing better connections between different parts of campus connections, creating unique spaces for its students and faculty, and optimizing the space of the existing facilities. In 2002, the 1997 plan was reevaluated to reflect the University's growth in its student population and academic programs.
New discussions with input from academic leaders (including deans, department heads, and other faculty), the local residential and business community, Drexel's university neighbor (the University of Pennsylvania), and the City of Philadelphia informed a new plan for the University. In 2007, this plan for the University City campus, with both five- and ten-year outlooks, was released.
Earlier this week, Plan Philly sat down with Kimberly Miller, Drexel's director of design in the Department of Planning, Design and Construction, and Robert Francis, vice president of facilities, to discuss the University's current and future construction projects highlighted in the 2007 plan.
Recreation Center Expansion to the Daskalakis Athletic Center
Current view of the Recreation Center Expansion.
At 34th and Market Streets, the Daskalaskis Athletic Center, more commonly known as the DAC, is undergoing a large expansion. Miller says that "additions include a multi-purpose gymnasium, exercise equipment areas, a climbing wall, and a restaurant."
The 6,000 square foot restaurant, with the possibility of outdoor seating, will be Landmark Americana, an upscale bar and grill that already has locations in West Chester and Glassboro.
"The $41.6 million expansion," Miller adds "is designed by Sasaki Associates with Ewing Cole handling engineering and construction administration, and will add 85,000 square feet to the building. The DAC already houses two gymnasiums for basketball, volleyball and badminton, five squash courts, a table tennis area, and a six lane collegiate size pool with diving well."
The expansion is expected to be finished this winter.
Rendering of the future Recreation Center Expansion.
Integrated Sciences Building
Current view of the Intergrated Sciences Building.
Right down the street at 34th and Chestnut Streets on the site of a former parking lot, preliminary construction of a new $69 million, 130,000 square foot science building is underway. Designed by Toronto-based architects Diamond and Schmitt, the Integrated Sciences Building will be one of the greenest buildings on campus. It is set to include a multi-story bio-filter wall, which, according to Miller, will be the first installed at a U.S. university. The bio-filter wall is multi-purpose as it is improves air quality, functions like a humidifier in the winter, cools the indoor air in summer, and saves money on HVAC system costs.
Interior rendering of the Intergrated Sciences Building with the bio-filter wall on the right.
Drexel is pursuing LEED silver with this project. Created by the U.S. Green Building Council, LEED (Leadership in Energy and Environmental Design) certification means that a building conforms to a list of environmental standards for design, construction and operation. Silver certification exceeds LEED's minimum requirements.
Exterior rendering of the Intergrated Sciences Building at night.
Ultimately, Drexel will use Green Globes, an alternate to the LEED certification process. Robert Francis was excited about the switch because Green Globes uses a streamlined, on-line assessment to evaluate buildings. Francis said Drexel will use Green Globes to assess the energy efficiency and effects on the environment of all current and future construction projects.
Francis also highlighted the Drexel Green website – an interactive, virtual space for faculty and students to learn more about their university's sustainable projects and policies and add input on how to make Drexel greener. Drexel Green, according to the website, covers "all aspects of operations, buildings, academic initiatives, and student life and is responsible for the strategic plan to further sustainable practices and policies."
Francis said Drexel expects to soon receive a carbon footprint analysis from an environmental consultant. The University will use it to determine where changes can be made to reduce the campuses environmental footprint.
Drexel Park
Drexel Park today.
Near the northern edge of campus at 32nd Street and Powelton Avenue, Drexel is finishing up a 2.5 acre brownfield redevelopment, open-space project known as Drexel Park. Miller says the park will give students and community residents some much needed green space. Originally purchased with the intent to build permanent structures on the space, input from the community forced Drexel to reconsider and ultimately create usable, open space. Miller said the palette was kept simple to allow the park to develop over time. Drexel maintains the option to develop a building on the site in the future.
The park project coincides with 2008 streetscape improvements, including a dedicated bike lane, along 32nd Street. While a dedication ceremony was held in October 2008, workers are still installing additional lighting fixtures and other final details.
Millennium Residence Hall
Construction at the Millennium Residence Hall.
Rendering of the Millennium Residence Hall.
On 34th Street near Powelton Avenue in the residential area of campus, Drexel is nearing the completion of a 482-bed residence hall. Designed by Erdy McHenry, the $42 million, 17-story building will incorporate an environmentally-friendly green roof to insulate the building, reduce heat absorption, and help manage storm water. The residence hall is set to be completed in September 2009.
Armory Basketball Arena and Convocation Center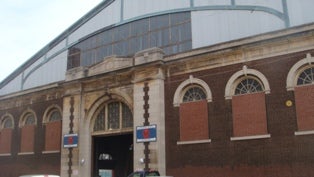 Current exterior shot of the Armory.
Rendering of the interior of the Armory during a basketball game.
Last year, Drexel agreed to lease the Philadelphia Armory for 50 years, with an option to extend the lease. The University hopes to eventually create a new home for Dragons basketball at the building on 33rd Street at Lancaster Walk.
However, Miller says, that "right now, we have two to three options [on how to proceed with the Armory]. And we are currently looking at the short-term option, which is turning the building into a field house-like structure to address the growing need for recreation space on campus."
Eventually, she said, the university will renovate the historic building into a home for varsity basketball and a venue for commencement and concerts for up to 5,000 people, while preserving the façade. The recently completed feasibility and conceptual design studies were done by Ewing Cole and Kimball Architecture.
Hotel & Conference Center
Google Maps view of future location of the Hotel and Conference Center located directly to the West of 30th Street Station.
The most ambitious project in the 2007 master plan is the Hotel & Conference Center adjacent to 30th Street Station. No construction start date has been set, but the university plans to build "a four-star full service hotel with 250 rooms, a parking garage with 400 spaces, about 300,000 square feet of office space, and approximately 30,000 square feet retail and restaurant component," Miller said. The project will move forward, Miller said, "when the market conditions become more favorable."
Other noteworthy Drexel projects
– In recent years, a formerly vacant lot on 34th Street near Lancaster Avenue was transformed into new tennis courts to replace the old courts, which were located at the current construction site of the 34th Street residence hall.
– Drexel is trying to beautify its campus with various landscape projects along the main walkways. The most visible are the walkways beside the Main Building and the future North Campus mall, a landscaped, pedestrian thoroughfare, in the northern part of campus.
– The Northside Dining Terrace at 34th and Race Streets will bring "national-brand food retail"to the residential part of campus. The $3.2 million project was designed by Erdy McHenry Architects and is set to be completed by September 2009.
– Drexel has the city's permission to close Race Street between 33rd and 34th streets. The university plans to take this step in coming months, then turn the former street into a landscaped, pedestrian walkway – a step officials say will help unify the campus.
– In January, Drexel was able to purchase the Venturi, Scott Brown-designed building at 3501 Market Street through an anonymous donation. This site will become the home for the Antoinette Westphal College of Media Arts and Design.
– Another big master plan project without a start date: Matheson Hall will be replaced with a seven level, 140,000 square-foot structure for additional classrooms, student lounges and faculty offices for the LeBow College of Business.
– Expanded retail is also in the plan which will be located in front of MacAlister Hall and the Creese Student Center on the south side of Chestnut Street between 33rd and 32nd Streets.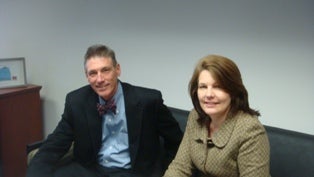 Robert Francis, vice president of facilities, and Kimberly Miller, Drexel's director of design in the Department of Planning, Design and Construction.
Brandon Gollotti joined PennPraxis as an intern in the spring of 2009. He is third year student who is currently attending the University of Pennsylvania pursuing a B.A. in Urban Studies and a minor in History. Before coming to PennPraxis, Gollotti worked on several projects out of PennDesign, including Mapping DuBois and PhilaPlace. A relative of his is part of the Drexel administration. Contact him at brandongollotti@gmail.com