Stimulus leaves visionary projects idle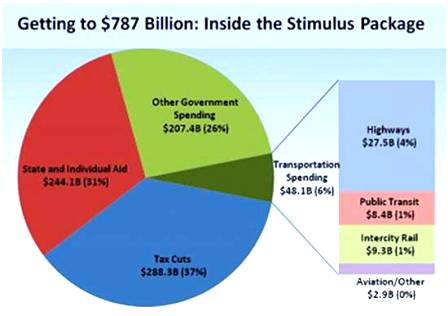 Feb. 24
By Thomas J. Walsh
For PlanPhilly
Of the $631 million that the Greater Philadelphia area will receive as part of the $787 billion "American Recovery and Reinvestment Act" signed into law by President Obama on Feb. 17, about 70 percent of it will go to highways, according to a new report from the Economy League of Greater Philadelphia.
The report breaks down the region's likely allocation of funds and says that the law's "shovel-ready" stipulation limits the use of the funds for visionary, long-term investments.
"Many of the region's forward-looking projects require several more months – if not years – of planning and design, and thus would not qualify as a candidate project for stimulus funding," the report states. "The risk of this approach is devoting scarce resources to expedient, short-term fixes instead of well-planned investments. The strategy will create jobs and circulate dollars through the economy, but it will do so indiscriminately and without regard to long-run economic impact."
"It is what it is," said Steven Wray, the Economy League's executive director, reached on his way back from Harrisburg Tuesday afternoon. "This is a fast-spending program targeted to address short-term issues, and shouldn't be viewed as a long-term plan for the region."
Wray said non-highway efforts should now be geared toward planning for the Transportation Reauthorization package to be included in Federal highway and transit bills due to surface in Congress in late 2009 or early 2010. "That's where the opportunities will exist to help transform" larger scale, longer-term infrastructure projects, he said.
Of the $27.5 billion in Federal Highway Administration "highway stimulus funds" to be distributed to each state by a set formula, Pennsylvania will receive $1.03 billion and New Jersey $652 million.
Of those totals, the Philly area will get $318 million for roadway improvements or expansions, while New Jersey's highways will get $120 million. That's about $438 million dedicated to highway capital projects in the region, the Economy League figures.
Similarly, the Federal Transit Administration will apportion stimulus money to each state by formula. The report says Pennsylvania is due $263 million, and New Jersey some $447 million. "If Greater Philadelphia receives [SEPTA]'s ridership-based share of Pennsylvania's total, Greater Philadelphia will receive approximately $193 million dedicated to transit capital projects, plus any transit funds received for New Jersey."
SEPTA is said to have requested about $478 million for system-wide renewal projects.
The highway funds flowing to "shovel-ready" road projects in Pennsylvania include:
• $120 million for repaving and bridge repair for the "Blue Route" (I-476) in Montgomery County
• $66 million for repairs to the Girard Point Bridge, the I-95 connector between the Philadelphia International Airport and Center City
• $153 million to PennDOT for ramp reconstruction and "information technology installation" in the city
• $78 million, mostly for traffic signals, requested by several county transportation boards through PennDOT
That money will help to chip away at the region's backlog of deferred maintenance, Wray emphasized, and result in an acceleration of other projects.
"The stimulus will not chart a new course for the future," the report concludes. "But, with a coherent strategy to leverage this one-time shot-in-the-arm, it can serve as a catalyst for change. Its ultimate impact will depend on the extent to which stimulus funds fuel progress towards the broader objective of a world class transportation network."
Contact the reporter at thomaswalsh1@gmail.com.
Economy League report: http://economyleague.org/node/1157?f=publications/reports
WHYY is your source for fact-based, in-depth journalism and information. As a nonprofit organization, we rely on financial support from readers like you. Please give today.