6th District Council candidates answer questions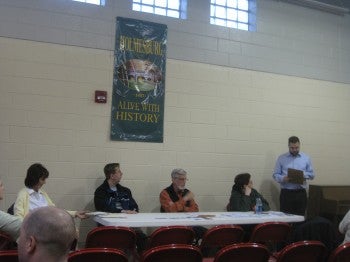 Two of the three candidates for the 6th District City Council seat went to last night's Holmesburg Civic Association meeting to address neighborhood and district-wide concerns and answer questions from residents.
Republican candidate Sandy Stewart and Democratic candidate Marty Bednarek each addressed the members before taking turns answering questions. Democratic candidate Bobby Henon was not in attendance.
DROP was a hot topic, but a question about term limits drew the most discussion from the roughly 20 people at the meeting.
Referring to current Councilwoman Joan Krajewski's 32 years in office, and similar decades-long terms of other elected officials, Stewart said the lack of term limits breeds "complacency," and vowed to not serve more than three terms if elected. "I have no desire to be a lifelong politician," she said. Instead her goal to serve her community.
Bednarek agreed, telling HCA members they should kick him out of office if he can't get the job done in a few terms. Both candidates said they'd sponsor or introduce legislation to create council term limits.
The two alo agreed on DROP. While Stewart elaborated to say the plan, which effectively allows elected officials to retire for a day to collect their pensions and then get back to office, was good in theory, she and Bednarek both said it's got to go since it's being abused.
Notes from Holmesburg
-Ian Litwin of the City Planning Commission said the Philadelphia Housing Authority will keep 12 acres of the Liddonfield property and sell the other 20. There are no development plans for either space so far.
-The HCA will look into expanding its boundaries all the way to the Delaware River.
-Holmesburg Library will be open Monday, has had heater repairs and will get roof repairs.
-The last Holmesburg/Tacony Town Watch fundraiser earned enough to keep the radio channel for the next 10 years.
-Tree Tenders will be planting trees Saturday. Those who want to help or need a tree should get to the rec center at 9 a.m.
HCA President Fred Moore had major concerns about Independence Point, a development planned for the east side of State Road at Rhawn Street that calls for anything from a marina to condos to a hotel. Though Ian Litwin of the City Planning Commission said no building permits have been acquired for the plan, which has been stagnant for five years, and the development isn't feasible given the economy, Moore and other worried about the congestion such a development would bring to Rhawn Street — an entrance point to the neighborhood.
Stewart, who's active with the Tacony Quality of Life Council, suggested Moore reach out to the Delaware River City Corporation and the Planning Commission for help in reaching out to the developer and finding common ground. Bednarek agreed, but declined to say more as he didn't have the full details on the plan.
Stewart, Bednarek and Henon will be at the Tacony Library April 28 at 7 p.m. for a debate sponsored by the Committee of Seventy.
For more on this meeting, check out updates to our coverage on the 172nd Legislative District. Check back later this month for one-on-one interview with the 6th District candidates.
WHYY is your source for fact-based, in-depth journalism and information. As a nonprofit organization, we rely on financial support from readers like you. Please give today.