Drexel will respect Venturi landmark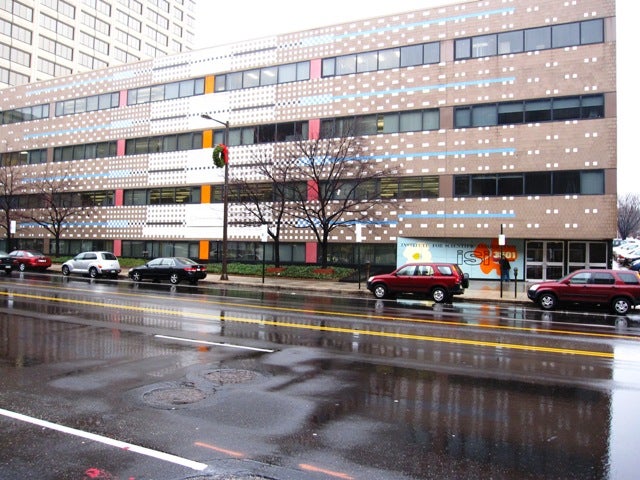 Jan. 07
By Natalie Pompilio
For PlanPhilly
It's somewhat fitting: A center for creativity housed in a building designed by one of the city's most influential architects in a style he made famous.
Drexel University officials appreciate that. That's why they say they have no plans to alter the exterior of the 130,000-square-foot building at 3501 Market Street built by Robert Venturi, who viewed buildings as "decorated sheds.
"Certainly one of the most notable things about the building is the Market Street façade. I can't imagine why we'd want to alter that," said Allen Sabinson, dean of the Antointette Westphal College of Arts and Design. "We're elated that we were able to find this."
That means the eye-catching bands of brightly colored tiles on the building's front will remain, as will the porcelain enamel panels decorated with a floral design at the entrance. The only exterior change in the immediate future? "Trimming the trees on Market Street so you can see the façade," Sabinson said.
Using a $25 million gift from a member of its board of trustees, Drexel plans to convert the Venturi building and another structure at 3401 Filbert Street into a new headquarters for Westphal College. Sabinson said he envisions an open floor plan as the interior is refitted to house the college's classrooms, studios and other work spaces.
The college's undergraduate and graduate programs are currently scattered about the University City campus. The architecture and interior design programs are among those that will be housed there by the 2010 school year.
The purchase of the two buildings and the land around them gives Drexel more than three acres of land and "tremendous expansion possibilities," Sabinson said. At some point, officials may consider taking down the Venturi building's east wall and expanding into an adjacent parking lot, but that was a renovation the architect anticipated, Sabinson said.
The Philadelphia-born Venturi is one of the most influential architects of the 20th century. A critic of the spare and purely functional designs of some of his peers, he worked under the maxim "less is a bore," a phrase he coined to counter, "Less is more." The concept of the "decorated shed" was a revolutionary one in the 1960s and '70s.
Venturi and his wife, Denise Scott Brown, are principals in the Philadelphia firm Venturi, Scott Brown and Associates. Their work includes the Seattle Art Museum, a wing of the National Gallery in London, the Provincial Government Center in Toulouse, France. The Chestnut Hill home Venturi designed for his mother was honored as a "Masterwork of Modern American Architecture" in 2005.
Designed in 1977 for the Institute of Scientific Information, Venturi's structure at 3501 Market Street was described by Philadelphia Inquirer architecture writer Inga Saffron as a "peppy punch card of a building."
"Venturi is one of the most important architects to come out of Philadelphia and this building is a very important example of a key aspect of his conceptual ideas about architecture," said John Gallery, executive director of the Preservation Alliance of Greater Philadelphia. "Its façade should be preserved and protected."
Harris Steinberg, director of PennPraxis, said it was exciting to see Drexel expand westward across 35th Street with a building so different from its others.
"It's a great sign to see them incorporate this into the campus," Steinberg said. "Our hopes are that it will be lovingly restored and its importance understood."
Contact the reporter at nataliepompilio@yahoo.com

WHYY is your source for fact-based, in-depth journalism and information. As a nonprofit organization, we rely on financial support from readers like you. Please give today.