Caring for the Vanna Venturi House like it's family
It is a rare thing to live in a modern landmark, much less a groundbreaking postmodern masterwork by Robert Venturi, but that's what Agatha Hughes calls home.
Hughes lives in the Vanna Venturi House in Chestnut Hill, which architect Robert Venturi designed for his aging mother in the early 1960s. The house was an early articulation of Venturi's ideas about design, that pushed back hard against the conventions of pure modernism. Instead of a stoic glass box, the Venturi House has a sense of and play inside and out, activated by geometric shapes and a balanced kind of asymmetry with a splash of architectural ornament.
"Every time I come down that driveway… it is animate," Hughes said of the monumental, yet inviting, facade. "It has this presence." Designers and students have long appreciated the building, and with age the house 's noteriety only seems to grow.
The Vanna Venturi House is featured in a new PBS documentary called the 10 Buildings That Changed America that will debut next month. The house will also be the subject of program at WHYY tonight (April 23), featuring a preview of the film, remarks by Venturi's design partner and wife Denise Scott Brown, and a panel discussion about the pioneering design.
While "Mother's House" changed American architecture, the Hughes family has worked for decades to see that the house itself doesn't change one bit.
Last week I sat down with Agatha Hughes, whose parents bought Vanna Venturi House in 1973, to talk about what it means to care for and live in this postmodern landmark. Sitting in the living room of the Venturi House – on chairs upholstered in purple Venturi fabric with Venturi books and illustrations mixed in with family mementos on the book shelves – we settled in to talk about the Hughes family's approach to their faithful stewardship of the property, their ongoing relationship with the designer, and her deep affection for the house.
Hughes' parents – Thomas, a professor and historian of technology, and her mother Agatha, an artist and editor – purchased the house from Vanna Venturi in 1973. The Hughes Family was relocating from Texas at the time, and the elder Agatha had somehow heard about the Venturi House from afar and asked her real estate agent to drive her by it while they were house hunting in Chestnut Hill. A few weeks later the agent called Agatha's mother in Texas to let her know that the house she'd asked to drive past would be coming on the market, and wondered if they would like to make an offer.
"That was magic," said Agatha Hughes, who was a college student at the time. "My parents just adored this house, especially my mother."
And through the house, Hughes explained, the family became friends with Robert Venturi and Denise Scott Brown. Venturi would bring prospective clients to the house, the Hughes family would call the architect for paint consultations, and they all shared Thanksgivings at the house.
Agatha Hughes has lived in the house for the last four years and she cares for it like it is a member of the family.
Vanna Venturi House was designated by the city as historic in 2016

Vanna Venturi House

Vanna Venturi House rear facade

Vanna Venturi House curved entryway

Vanna Venturi House

Vanna Venturi House window and curved roof

Vanna Venturi House stairs

Vanna Venturi House hearth

Vanna Venturi House living room

Vanna Venturi House ground floor bedroom

Vanna Venturi House – upstairs bedroom windows and balcony doors

Vanna Venturi House – staircase
Maintaining a masterwork
This year the Vanna Venturi House turns 50, and simply as a function of age the house has required a bit more attention of late. Still, the house is largely in its original condition.
A few years back Hughes replaced the façade's large single-pane window with a double-glazing for efficiency purposes. More recently one of the standing-seam metal roofs needed to be replaced because it had rusted from the inside out, due to an installation error with the original. Hughes has also needed to replace sections of wood siding and trim, add a thicker balcony coping stone, and upgrade the balcony paint system to something more durable. Just prior to my visit to the house Hughes had the living-dining room re-plastered and painted. During my visit Linda Berger was touching up exterior paint where some siding had been replaced.
But these changes are largely invisible, and that's the point.
Hughes says that she has a short list of people, like Berger, who she trusts to work on the house, all of whom appreciate it as a work of art.
Don Brady, her carpenter, has encouraged her to use high-quality replacement materials – again, typically hidden from sight – that will be more lasting than the originals.
"He replaced wood [window] frames with mahogany. I value contractors that think like that," Hughes said.
The details truly matter, she notes. "People study the house. You cannot be sloppy."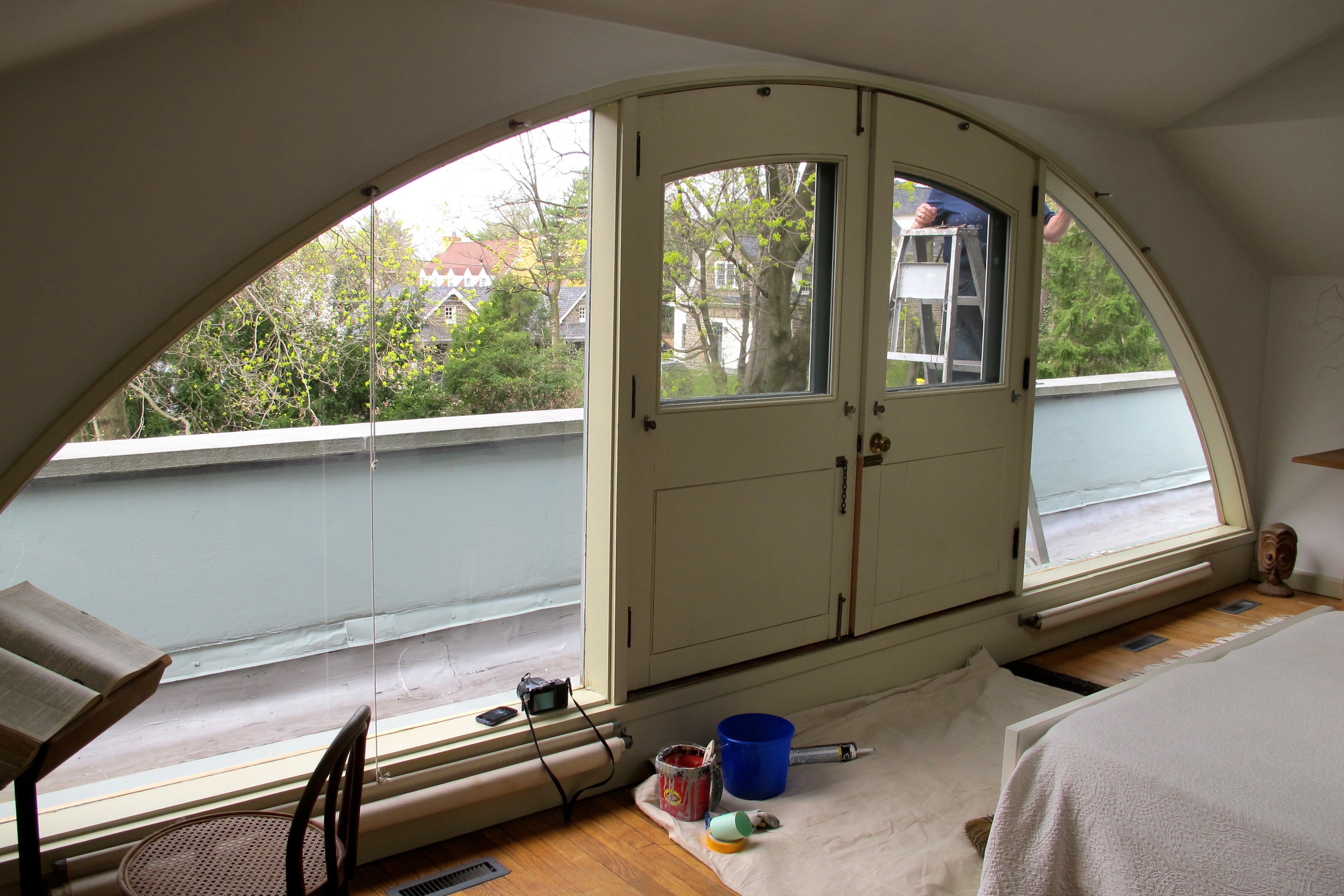 Authenticity is key
"If Bob sweated over it, I'm going to sweat over it," Hughes said. "My goal is to keep this house absolutely as authentic as possible."
That means hunting for the smallest fixture, like metal clamps at the end of canvas shade pulls, and hewing to the original interior paint scheme of whites custom-mixed by Venturi.
"But when it comes to the exterior, I call Bob Venturi," Hughes said, continuing a long family tradition. "What could be more fun than having Bob choose your house color?"
About 7 years ago it came to be time to repaint, Venturi said he'd like to depart from the house's trademark shade of green in favor of a new color. Hughes said Venturi felt that the house was "showing its age" a bit. They tested several shades of grey, a blue-grey, and a green-grey. The green-grey won out after Venturi observed the sample several times in different kinds of light. But after painters started on the job, Venturi came tearing down the driveway having changed his mind to just the right shade of greenish-grey.
And for whomever the next owner is, Hughes is creating a master notebook of sources for replacement parts, paint formulas, and even the species of crabapple trees planted in an arc in the landscape.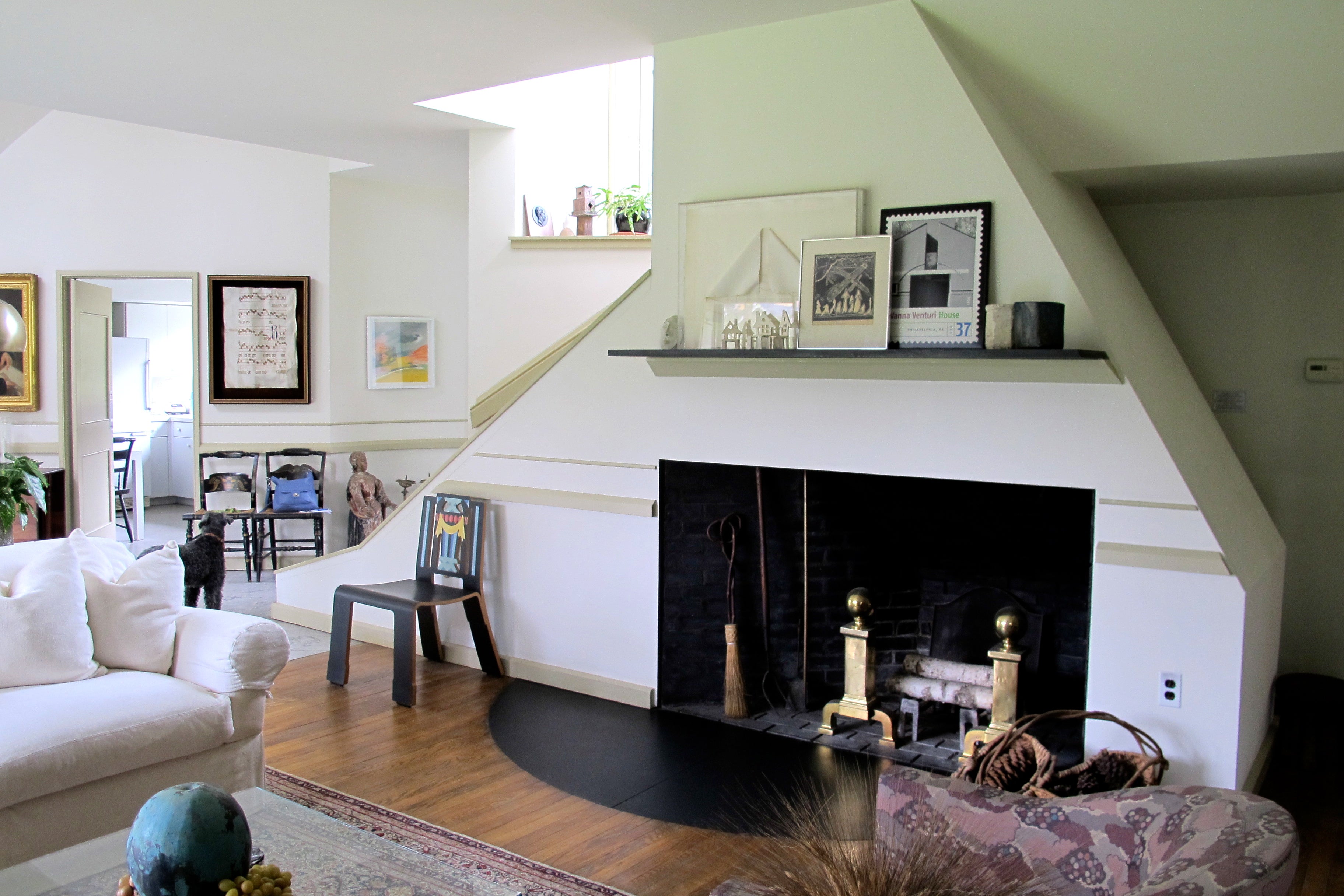 Preservation for the future
"I do have to sell this house," Hughes admits forlornly. But she hopes she will find a buyer "who wants this house for exactly what it is."
It strikes a bit of fear in Hughes' heart that the next owners won't care for it the same way her family has. But her father worked with Venturi Scott Brown Associates to develop a preservation easement that will protect the design integrity of the Venturi House. An easement would help ensure preservation-minded oversight of any alterations to the property. Now it's up to Agatha Hughes to determine the organization she would prefer to donate the easement to, and find the money with which to endow that donation.
Still, the decision is an emotional one.
"After I sell it I'll have to leave Philadelphia. To me it's like a work of art," Hughes said.
Keeping it Accessible
But as long as she's there, Agatha Hughes belives that making the house accessible to people is very much a part of her family's approach to its stewardship.
"My parents' philosophy was to share the house," Hughes explained.
There have always been people who, like Hughes' mother, make pilgrimages to see the Vanna Venturi House out of curiosity and appreciation. A steady stream of people down the driveway has been as much a part of the experience of the house as navigating the wonderfully quirky stairs.
The Hughes family grew accustomed to sounding "architect alert" from the kitchen after spotting well-dressed Europeans walking down the driveway, and finding expensive sunglasses under the bushes where people have hid to sneak a photo and a peek at the house. Hughes installed a driveway alarm and a small sign that reads "Private" to encourage polite behavior.
Hughes is happy to let people look around the property as long as they knock on the door to ask permission, largely because she shares their enthusiasm for the Vanna Venturi House.
"I never tire of looking at this house. It's exhilarating," Hughes said. She points to the way light plays off of the architecture and changes the interior, the house's "infinite, complex intersecting shapes," and catching glimpses of the moon through roofline windows. "I used to try to draw the house when I was away. I couldn't replicate it."
_______________________________________________________________________________________________________________________________________
Learn more about the Vanna Venturi House and how it influenced American architecture at a program at WHYY tonight, April 23, at 7pm. The evening will feature an excerpt from the new PBS documentary, 10 Buildings That Changed America, remarks by Venturi's design partner and wife Denise Scott Brown, and a panel discussion about the pioneering design with PennPraxis' Harris Steinberg, architectural historian David Brownlee and the film's director Dan Protess. WHYY will air the full documentary on May 12 at 10pm.