58th Street Greenway still under construction in Southwest Philadelphia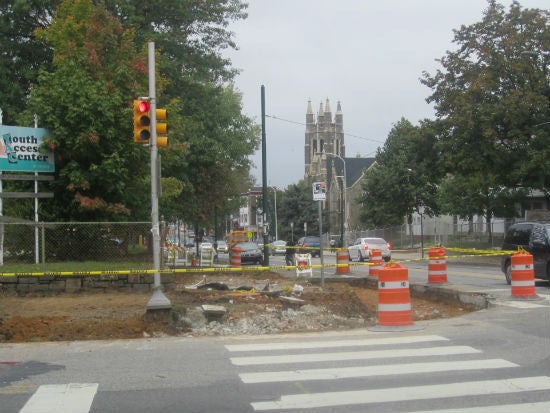 According to the Pennsylvania Environmental Council (PEC), construction on the 58th Street Greenway is about 75 percent complete, but driving along the future greenway in Kingsessing, it still looks like there is a lot of work remaining.
The 58th Street Greenway, which connects Bartram's Garden to Cobbs Creek trail, is an important connection in the Philadelphia portion of the East Coast Greenway – the nearly 3,000-mile, bicycle and pedestrian trail system stretching from Canada to Key West, Florida. PEC is developing segments of the vast trail network with local partners and the East Coast Greenway Alliance.
Crews broke ground on the 58th Street Greenway project in February, and Spencer Finch, PEC's director of sustainable development, said he hopes construction will be completed in time for a November ribbon cutting. If the project is delayed the official opening may be pushed into next year.
"We'd hoped it'd be very, very close to completion, and I think we're close," Finch said.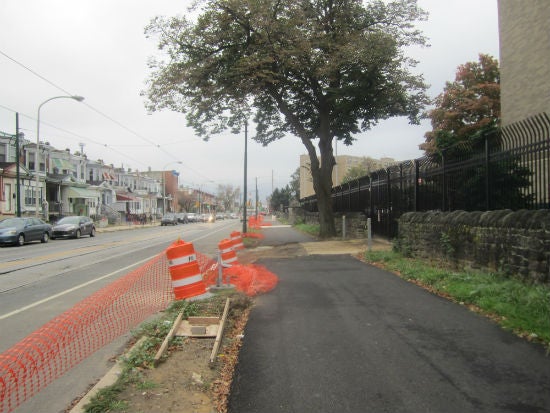 Construction of the new storm water management systems is complete, but crews still need to lay the topsoil and do some tree work, Finch said.
Most of the other to-do list items are "nitty, gritty details" including ADA ramps, electrical wires, moving some posts and more, he said.
Driving through the neighborhood, it is clear that this trail is still under construction.
Orange construction barrier plastic stretches along what seems like most of the route, and many corners are completely blocked off, dug up, and off limits to pedestrians. New pavement is visible but it does not cover the entire greenway, which spans from Bartram's Garden to the existing Cobbs Creek trail via Lindbergh Boulevard, Elmwood Avenue, 58th Street, Chester Avenue, and finally 59th Street.
The greenway runs along the western boundary of the Kingsessing, near the Mount Moriah section of Southwest Philadelphia, where the trail passes Frances Myers Recreation Center and Bartram's Field.
Finch described this area of the city as a bit of a green space desert and said PEC hopes the greenway "ties the community together and helps to make a statement that this is a neighborhood that's on the rise."
"This is a neighborhood that's coming back," he said.
At first the community was a little bit skeptical of the 58th Street Greenway plans, but by incorporating community input and participating in "Get Active 58th!" a healthy living program aimed at making exercise on 58th Street a habitual pastime, PEC gained support.
After the project is completed, Finch said PEC will continue to gather and address feedback from the community.
"We're not going to leave the neighborhood behind," Finch said. "We've made great friends, and we think they'll become stewards of the trail."
———
Want more?: