Big discovery at SugarHouse site?
Archaeological investigations on Monday Nov. 10 only revealed parts of these two foundations. Work continued on Tuesday Nov. 11. The three I-beams (two with graffiti) support the northern billboard. Excavation within the basement of what some say is Batchelors' Hall will have to consider the stability of that billboard.
Nov. 11
By Kellie Patrick Gates
For PlanPhilly
SugarHouse archaeologists, led by an amateur local historian, on Tuesday continued to unearth part of a foundation on the proposed casino site.
The historian, preservationist Torben Jenk, says the find is a portion of Batchelor's Hall – a society whose members included many prominent 18th Century Philadelphians, and where the nation's first botanical garden of medicinal plants was established in 1729.
"It's a 279-year-old structure, and we found it using a 204-year old survey," said an excited Jenk on Monday evening. "It's the second oldest building that we can document to date in Fishtown."
But casino spokeswoman Leigh Whitaker said the casino's archaeologists, A.D. Marble, say what was found is much less historically significant, and from a different century, than the place where Pennsylvania Hospital founder and trustee Lloyd Zachary socialized and renowned botanist John Bartram may have tended the plants.
"We did not find Batchelor's Hall," Whitaker said. "We found a foundation of a residence or other building from the 19th Century."
Jenk, who restores old homes and other buildings professionally, said the 22-inch high foundation wall that was found was not the Wissahickon schist – the gray stone with sparkly mica flecks – that he sees in 19th Century buildings.
"It's definitely an 18th Century foundation," he said. "Those tend to have cobbles – stones that looked like big ostrich eggs. And the mortar that joins them is different – it tends to be courser, with lime and crushed oyster shells." Jenk says that's what he saw on the northwest corner of the site, near the northern most of the two large SugarHouse Casino billboards.
It's not just that SugarHouse thinks the foundation found Monday is younger than Batchelor's Hall, Whitaker said. A.D. Marble and SugarHouse believe the social club was not located anywhere on the site.
Jenk takes issue with this, because, he said, the foundation is in the right place, on the right property, according to old maps and surveys. "That northeasterly wall sits exactly where I told them to look," he said.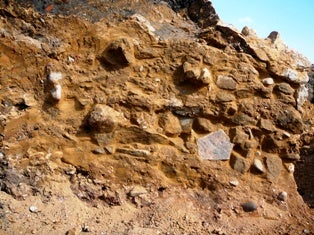 It is not unusual for Jenk and SugarHouse to disagree.
The archaeology that has been done at the SugarHouse site is part of a historical review mandated by federal law because the casino needs a federal permit from the Army Corps of Engineers to build its Delaware Avenue project as planned.
According to Torben Jenk, the 200-250 year old sandy alluvium "banded soils" at right do NOT have the same stratigraphy (layering) as atop the truncated (cut) foundation wall. Within the foundation (at left) is the brick and plaster from the demolition of this structure. That 200-250 year alluvium soil age comes from Marble's soil scientist, Dan Wagner, in his various geomorphological reports and at the Oct. 29 Consulting Party meeting. In laymen's terms, this foundation is deeper, and therefore older, than the surrounding soil. The foundation sits atop the ancient Pleistocene soils (darker red with the river cobbles).
The photo above shows the northeastern foundation wall, looking west towards Delaware Avenue. The foundation wall obviously continues into this high soil towards Delaware Avenue.

The Corps has been advised on this portion of its permit process by the Pennsylvania Historic and Museum Commission, the national Advisory Council on Historic Preservation, and a group of local archaeologists, historians and community activists called consulting parties. Jenk is one of them, but he is not the only one who has been critical of the process.
He, Philadelphia Archaeological Forum president Douglas Mooney, Northern Liberties Neighbors Association Vice President Debbie King and others have taken issue with the both the archaeology done by A.D. Marble and the way the Corps has handled the historical review process.
In what is probably the most publicized example, Marble did not mention that a British Revolutionary War fort once sat on the site. Jenk provided a mountain of historical documents. Marble's position is now that the Fort stood there, but any evidence was destroyed when pilings were drilled to support the former sugar factory that once stood on the site.
Marble also anticipated not finding any Native American artifacts on the site, and it has turned out to be one of the richest troves of such artifacts in the city.
SugarHouse has stood by its archaeologists and said they would do all necessary work in the Army Corps process.
In August, The Corps wrote a letter to the Pennsylvania Historical and Museum Commission saying that they were satisfied that SugarHouse and Marble had done all the digging necessary before the permit could be issued.
The consulting parties were frustrated that this step and others had been taken without face-to-face meetings. Aside from their first discussion nearly a year ago, most of the debate has taken place via email.
In late October, the Corp called another face-to-face meeting, and it was at that meeting that Terry McKenna, project executive for SugarHouse's general contractor, volunteered to look for the remains of Batchelor's Hall, a tide mill and a shipyard at locations suggested by Jenk, and that Jenk could be present. McKenna also said Marble would do more looking for the British fort, beneath Penn Street, but that work cannot begin until the utilities under the street are capped.
A few days after the meeting, Whitaker said that Marble had looked for these things before, but found no evidence of them. The additional digging – which is not required by the Army Corps – was to be done to assuage Jenk's fears that Marble was digging in the wrong place.
Whitaker said Monday that SugarHouse will keep its promise to look for the shipyard, tide mill and Fort. Tuesday, more work will be done related to the foundation found Monday, she said, and archaeologists will include their findings in a future report.
"A.D. Marble has determined that the foundation is that of a 19th century structure based on the method of construction, the surrounding soil deposits, and the interior contents of the foundation walls (19th and 20th century rubble and debris)," Whitaker wrote Tuesday in an email. "No evidence of Bachelor's Hall was found on our site and there is no definitive evidence that the Bachelor's Hall structure was ever on our property."
Jenk pointed to surveys and maps as evidence, and also to the soils. "A little addition and subtraction and the historic documents stated 110 feet south of Shackamaxon Street. This foundation stands 110 feet south of Shackamaxon Street," he wrote. "In a 22.6 acre site, Reading Howells' 1804 survey is correct to the foot.
A layer of striped earth is visible at the site, and Jenk said that that earth is 200-250 years old, according to information provided by A.D. Marble's soil scientist in the geomorphological reports and at the Oct. 29 consulting party meeting.
"In laymen's terms, this foundation is deeper, and therefore older, than the surrounding soil."
Whitaker said that she stood by the reports SugarHouse received from its team in the field, and Jenk's interpretation did not sway her. "I am going to rely on the licensed professionals who do this work for a living," she said.
Mooney, the president of the Philadelphia Archaeological Forum and a consulting party, said he had not been to the SugarHouse site, and therefore had no opinion yet as to whether or not the foundation is that of Bachelor's Hall.
But whatever it is, he said, A.D. Marble should have discovered it before now.
"Our argument has always been there's not been enough testing out there, and sure enough, this is something they haven't found before," he said.
Mooney said Marble and SugarHouse needs to put together a report to back up their position with facts and a clear, concise argument. "They found so mething, and if they're claiming that it's 19th Century, they have to provide the evidence that backs that up."
Whitaker said a summary report of the findings will be prepared and submitted to the Army Corps, PHMC and ACHP in about a week.
"We have every interest in preserving an historical evidence we find on the site," she said. "It just so happens we have found no evidence of the Fort or of Bachelor's Hall"
Jenk said he will wait to see what is within that report, and if it follows Whitaker's description of a 19th Century foundation, the consulting parties will take their case to the contrary to the Army Corps, the Historical and Museum Commission and the Advisory Council.
CHECK PLANPHILLY FOR CONTINUING COVERAGE
WHYY is your source for fact-based, in-depth journalism and information. As a nonprofit organization, we rely on financial support from readers like you. Please give today.