Re-imagining cities after age of oil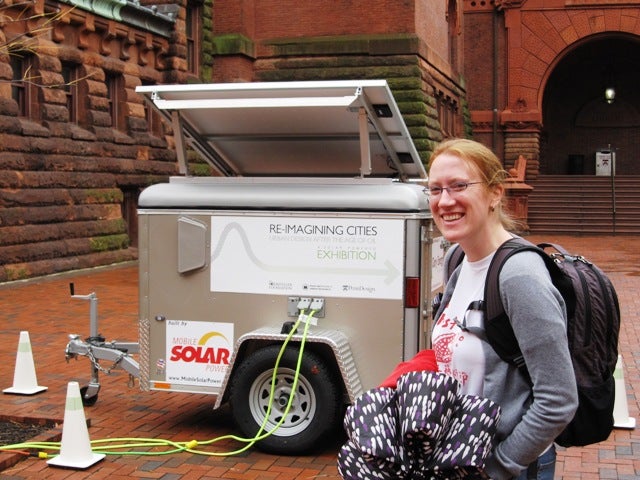 Nov. 07
By Thomas J. Walsh
For PlanPhilly
Amid the sarcophaguses of ancient Egypt and Bodhisattvas of a thousand years ago, planners, designers and academics of the 21st century met and dined Thursday evening at the University of Pennsylvania's Museum of Archaeology and Anthropology to kick off "Re-Imagining Cities – Urban Design After the Age of Oil." The exhibit and conference, ongoing through Saturday afternoon, is being sponsored by the Penn Institute for Urban Research, the Rockefeller Foundation and the Penn School of Design.
The international gathering is meant to glimpse energy possibilities of what will be and what should be, going forward five decades, by integrating design and development, along with a nod to the influential "Conference on Urban Design Criticism," held 50 years ago. That 1958 forum was also sponsored by the Rockefeller Foundation and featured some of the heavy hitters of the mid-20th century. Lewis Mumford, a young I.M. Pei, Louis Kahn, Jane Jacobs, Kevin Lynch and others traded ideas before their major works were published. The current environment is meant to globalize what had been only a national concern over urban renewal, and what was believed to be a sad state of post-war re-development efforts.
"We approached Rockefeller and said, 'Wouldn't you like to re-dedicate this?' based on global warming and our dependence on foreign oil," said Eugenie Birch, chair and professor of Penn's Department of City and Regional Planning. The answer was yes.
Maritza Mercado, Penn IUR's curator, said she sees three approaches to questions on fuel, energy and space: "Adapt," advance" and "aspire." That applicable triad forms the works seen in the compact, compelling gallery of the ground floor of what is normally a bustling and ever-changing Meyerson Hall.
Part of the exhibit includes "vote" stations, where participants pitch green marbles – the kind large enough to be dangerous – on topics such as "In which should the United States government invest?" The choices are A: Nuclear power plants; B: Improved solar panels; C: Renewable fuel vehicles; or D: High-speed trains.
It was a little early for that verdict, but around the other side, observers were asked, "Which do you think is a larger part of the transportation solution?" There were two choices. A: Keep putting out gasoline vehicles with alternative fuel; Or B: Improve mass transit options. As the Comedy Channel's Jon Stewart might say, "Oh choir, what do you sing?" As of 7 p.m. or so, it was only three to one, roughly speaking, in favor of the former.
The exhibit is free and open to the public, Friday from 9 a.m. to 8 p.m., and then from 9 a.m. to 5 p.m. on Saturday.
"This exhibit and symposium is asking professors and people in this field to reflect on their profession in a way that's really important," said Jamie Montgomery, principal of DIE Creative, a Philadelphia-based firm. He said it was imperative that planners and architects, happy as they may be to make a difference in the larger world of infrastructure, connect with regular people to facilitate a transformation from environmental adaptation to an advancement of such thinking.
Given the upside of a new U.S. president that seems likely to be open to urban needs, coupled with the downside of collapsing municipal budgets caused by the current national economic downturn, Birch is somewhat optimistic.
"Let's hope we get a new 'New Deal'" that delivers us not only from recession but also avoids a depression, Birch said. The capital stock we gained through schemes like the national Works Progress Administration and others (Birch did not name those programs) could translate easily into post-oil initiatives, she suggested.
This kind of thinking, heretofore academic and perhaps too Al Gore (God bless him), is only the beginning, said others.
Robert Socolow, a Princeton University professor of mechanical and aerospace engineering, gave the evening's main speech, a direct, calm indictment of our "legacy" – the U.S. highway system, our power plants and our historical and likely future CO2 emissions. What was different from most speeches of this kind was the insistent personalization that he urged. What was the carbon footprint of your house? What is it for this magnificent museum in which we were currently talking and schmoozing and eating nice food?
Don't get him started on "stabilization wedges," he warned. Mental and short-hand note from PlanPhilly: Google that (or click here: http://www.sciencemag.org/cgi/content/abstract/305/5686/968), and we'll get back to you. In the meantime, as we enter winter, ask your friends if the sight of windmills in the ocean would bother them.
It's relevant. And now that the Phillies have won the World Series, and the presumably infrastructure-friendly Barack Obama has won the White House, what the heck else are we going to talk about?
Exactly, Socolow would say. So much of the push-back on global warming and oil dependence is based on "'I'm not going to argue facts, but there are larger things'" to worry about. Looking ahead, science and art say otherwise, he said. Not to mention more than one-third of people who are profoundly poor. That is, human beings. On Earth.
And with what seemed to be full agreement from the silent, sage visages of the surrounding, timeless works of temperamental peace, it was hard to argue, even if there was anyone in the room so inclined to do so.
Contact the reporter at thomaswalsh1@gmail.com or tom@thomasjwalsh.info.
COVERAGE OF THE EVENT WILL CONTINUE THROUGH THE WEEKEND
WHYY is your source for fact-based, in-depth journalism and information. As a nonprofit organization, we rely on financial support from readers like you. Please give today.