Across the river in Shanghai (photo above), the Pudong district is an ever-growing financial center that hosts many new skyscrapers, namely the Shanghai World Financial Center.
Sept. 4
By Fred Kunda
For PlanPhilly
BEIJING – During the four short years between my summer visits to Beijing and Shanghai in 2004 and 2008, China changed dramatically in many ways: physically, culturally – even politically. Fantastic new structures now dot the skyline in many cities.
Thousands of new visitors and foreign businesses have appeared on the landscape. Even the Beijing government appears to have to eased its television and cyberspace censorship.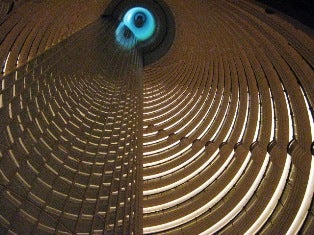 Inside the Grand Hyatt Shanghai: "The Tallest Hotel in the World." This is the breathtaking 33-story atrium between the 53rd and 87th floors of the Jin Mao Tower.
The effect of the Olympics on Beijing was overwhelmingly apparent. "One World, One Dream" and other Olympic slogans were painted, plastered, and posted everywhere. Whole buildings were covered in banners glorifying the spirit of international sports.
Every light post from the airport to downtown Beijing (even along the entire two-hour highway drive out to the Great Wall) had an Olympic message on it. There were special Olympics-only commuting lanes throughout the city to make athlete and media transportation a breeze. The city morphed into an architectural wonderland of exciting, modern buildings – including many that were not built four years ago.
Beijing spent over 40 billion dollars (see BBC news http://news.bbc.co.uk/2/hi/asia-pacific/7523235.stm) on the games – more than was anted up during the previous five Olympiads. While much of this outlay was used to produce the Games, a significant portion created sustainable development: new subway lines, more hotels, redone apartment complexes, extensive roadwork and fantastic arts/sports venues.
A picture of the Jin Mao Tower taken in 2004. The building looks like it belongs to the Galactic Empire in Star Wars.
In 2004, I was a 17-year-old Radnor High School student lucky enough to get an "insider's tour" of China. I traveled with my best friend and his family and saw things that many tourists on their more structured journeys never come across.
My friend, Ben Zhang, a junior at Conestoga High, was visiting family all over China. We stayed in Beijing, Shenyang, Xiamen, Shenzhen, Hong Kong, and Shanghai – squeezing a little Great Wall in between.
Instead of hotels, I stayed in homey middle-class apartments. I rarely ate in restaurants that were not filled entirely with locals – and with unfamiliar local cuisine – or watched television stations other than those run by Chinese Central Television (CCTV). At times, we were grouped with throngs of tourists in Beijing and Shanghai as we made our way through the must-see attractions.
Other times, I would not see a single foreigner for days in cities like Shenyang and Xiamen. The attention I sometimes drew, in Shenyang for example, was literally as if I was dancing down Market Street naked on a Tuesday afternoon. Needless to say, it was both unsettling and awesome.
This 480+ meter monster is the Shanghai WFC. Four years ago, the neighboring Jin Mao Tower was the tallest in the PRC at 420 meters.
I also got my first glimpse of China and its rapid rise as an economic and political powerhouse. The growth rate was staggering. In Shenyang, I looked out the window and saw more cranes than I could count. KFC and Starbucks were everywhere (even inside the Forbidden City). Throughout all of this, I would watch China winning gold after gold in the Olympic games of Athens.
I knew they would soon become an even more potent sports juggernaut.
The largest outdoor LCD screen in Asia. We stumbled across it on Dongdaqiao Road when we were looking for a good bar to watch some USA v AUS basketball.
This August, however, was different. Ben invited me back for the XXIX Olympiad and I witnessed some stunning transformations. Of course, many things looked familiar and I was cursed with déjà vu almost every day. But Beijing had changed – a lot. The city is a cleaner than I remembered. The streets seemed wider, the traffic more organized, the buildings more pristine, and of course, the skies were blue and air was clean. Even more impressive were the bold, new structures all over Beijing and Shanghai. The CCTV Headquarters defies gravity. The Grand National Theater looks like a lunar colony. The creative and bold design of the Bird's Nest and Water Cube are now known around the world. Shanghai's new World Financial Center now ranks as the tallest in China and third in the world after Burj Dubai and Taipei 101 (neither of which are completed). None of these structures had even broken ground four years ago.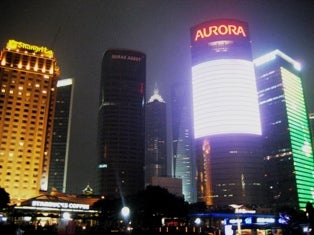 Pudong, Shanghai from the riverbank at night.
However, not all of these changes are grand and majestic. The blitzkrieg progress can leave you with an impression of sterility and excessive commercialization.
The Beijing apartment building I spent most nights in, with units worth roughly $1.5 million dollars, was hardly occupied. The two-month-old and strategically-located Qianmen shopping street (right next to Tiananmen Square) is still filled with mostly gray, unoccupied facades. Obviously, there are growing pains.
Another example of a psuedo-Chinese style architecture in a modern format. On the facade is a massive screen.
Crowds of Chinese hug the railings in a mall to watch one of many giant screens showing 24-7 Olympic games coverage.
While I don't intend to trivialize Beijing's raze-and-pave tactics to prepare the city for the games, the foray onto the international stage got some bad neighborhoods cleaned up, turned old industrial complexes into parks and world-class sporting grounds, improved existing transportation infrastructure, and created a fantastic airport (more like a spaceport) that I can only hope we see the likes of in Philadelphia by 2050.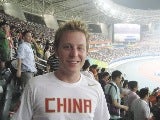 Fred Kunda is a senior majoring in Marketing and minoring in History at the College of William & Mary. He spent the last semester studying abroad in Seville, Spain. Contact him at fwkund@wm.edu. To see more pictures of development in China, click here:
http://picasaweb.google.com/FredKunda.
WHYY is your source for fact-based, in-depth journalism and information. As a nonprofit organization, we rely on financial support from readers like you. Please give today.