Planning Commission OK with interiors bill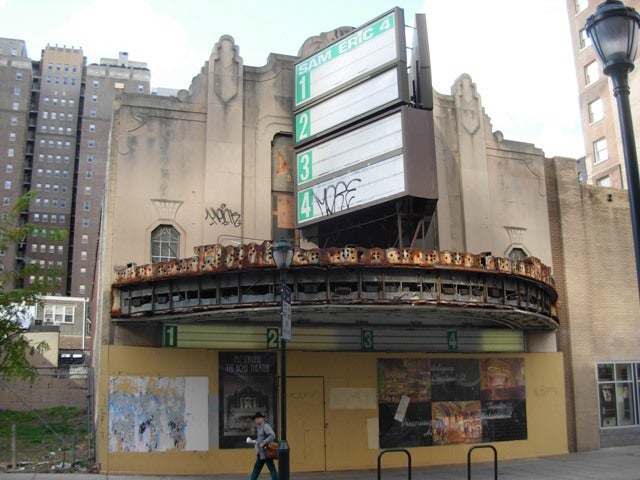 Boyd Theatre / Howard Haas photo
Aug. 20
By Thomas J. Walsh
For PlanPhilly
At Tuesday's special meeting, the Philadelphia City Planning Commission gave its OK to a bill that would grant the city's Historical Commission the authority to designate as historic the interiors of buildings with public spaces. It includes spaces that were used by the public in the past or the present, but not interiors that have already been altered.
The bill, which has been making its way through the system in tandem with the re-designation of the historic Boyd Theatre on Chestnut Street, is expected to easily be adopted by City Council when it returns to session in September. Led by City Councilman Bill Green, it was co-authored by fellow at-large council members William Greenlee and Blondell Reynolds Brown. Preservationists have feared that a new owner could gut the Art Deco style Boyd, considered the only early 20th century movie palace remaining in the city.
"It should be noted that the passage of this bill will not be retroactive," said Martin Gregorski, a city planner who presented the staff's recommendation to the commissioners. He also said that if the exterior of a building is designated historic in the future, the designation would not necessarily include the building's interior. Should the bill pass, buildings already designated as historic, such as the Boyd, would have to undergo the same interior designation process as any other landmark.
"Philadelphia's Historical Commission has no legal means to protect famous interiors, such as the Wanamaker Grand Court, the Academy of Music, and the Boyd Theatre, from severe alteration or demolition," said Howard B. Haas, president of Friends of the Boyd, in a statement. "The bill would only affect the public portions of buildings, such as lobbies, and would not apply to private residences."
Guidelines will only get more complex. The rules and regulations for interior designations still need to be drafted, and the Planning Commission will have one staffer assisting the Historical Commission for that task.
Alan Greenberger, the commission's vice chairman and its recently appointed executive director, emphasized discretion for the rules writing process, and asked Historical Commission Executive Director Jonathan Farnham to keep Planning informed. Farnham agreed that the process would "certainly be complicated. I imagine the Historical Commission holding a series of public hearings."
Elise Vider, deputy director of the Preservation Alliance of Greater Philadelphia, testified that her organization fully supports the effort, which has long been in effect in most major cities, including New York, Chicago, Boston, Los Angeles, and San Francisco. "This simply brings us up to the standards" of those other cities, she said, and urged passage.
Deputy Mayor and Planning Commission Chairman Andrew Altman and Commissioner Patrick Eiding acknowledged and thanked Green, who was sitting in the back of the room as an observer, for his efforts with the bill.
"It just goes to show that we can start working better together, and working with [City] Council more closely, and setting an example," said Commissioner Natalia Olson de Savyckyj.
Contact the reporter at thomaswalsh1@gmail.com