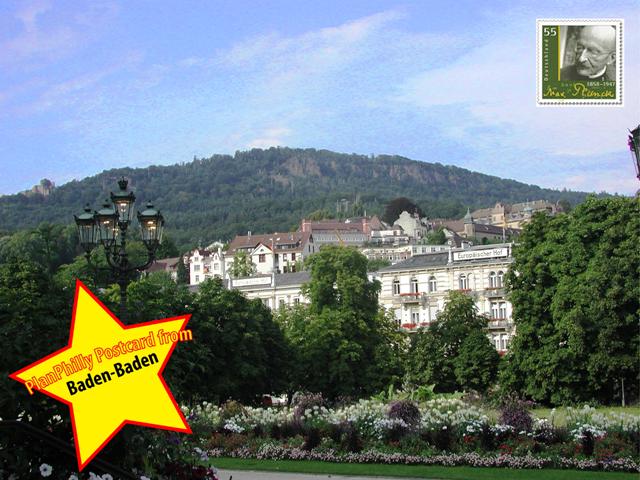 Aug. 13
Postcard from Pittsburgh

By Arrus Farmer
For PlanPhilly

BADEN-BADEN, Germany – "Yes, we're going to have to go right to ludicrous speed"
It's 717 kilometers from Berlin to Baden-Baden, quite the stretch by European standards where culture and language can change from village to village. But the trip is impressive, beautiful countryside, an incredible piece of infrastructure, and a driving culture where the user understands that the right lane is a passing lane. Here driving is a joy, people take pride in their automobiles, and they drive really, really fast. For a person who is unaccustomed to riding at speed of 130 mph+ it can be stressful, especially in those curves that probably should have a speed limit, or a warning sign, or something for the love of god…
Lucky for me, there were a few interesting planning applications along the way which helped to preserve my mental health and overall emotional stability. No matter how interesting though, these distractions could do little to save the door handle which will from now on bare the imprint of my five sweaty fingers.
Like Polka Dots of Civilization
The small towns that dot the German countryside are compact nodes of development contained and surrounded by working fields that produce varieties of grain, feed, and vegetables. Farmers this time of year in southern Germany are cutting their hayfields in wide swaths and the highway is lined with freshly shorn golden fields of stubbled stalks. Some solid planning over the past four centuries has helped to preserve these working landscapes and the towns that they surround. Compact nodal development is prevalent throughout the country and planners use a performance based zoning to manage growth and mix uses.
Although every town does it a little differently, German zoning can best be characterized as build to fit. Height, density, building envelope and even use are often permitted based upon the existing built form or the context that will hopefully be achieved. Similar to American zoning, the Germans have several residential classifications, a few mixed use categories, an industrial classification and a few odds and ends to fit other miscellaneous uses. While the primary goal of zoning in the US has been to separate incompatible uses, Germans historically have used zoning to encourage compact mixed use development which preserves both natural and workable land (agriculture, mining and timber, industry or heavy commercial). This solid regulatory framework produces an enjoyable and consistent form in most German cities. Combine that with high quality European design, pedestrian primacy and a tradition of urban-green, and you've got what many planners would call a city well built.
Once Baden, thrice named
Though they may be gifted in the creation of regulations for their cities, Germans have a rotten way of naming them. There is a strange habit of calling multiple towns by the same name, usually they are specified by some other characteristic like the river nearby i.e. Frankfurt am Main: Frankfurt on the Main River, and Frankfurt am Oder: Frankfurt on the Other River. No kidding, those are the actual names of the rivers, and their English translation.
There are no less than three Badens though: Baden bei Wien, Baden im Argau, and of course Baden-Baden. Why the repetition? Baden-Baden is in the southern German state of Baden-Württemberg, thus the meaning Baden in Baden.
This Baden is a small hillside town at the foot of the Black Forest near the Swiss and French Borders. It's a popular vacation destination, especially well known for its baths which have been said to have healthful qualities since the time of the Roman Empire. The streets here are lined with impressively preserved Villas that bare the same French influence which plays upon the region's cuisine, language, and residents. There are nearly 60,000 Baden-Badenites, many of whom walk the streets and sidewalks of the bustling pedestrian zone in the center of the city. Cafés line the streets and one gets the impression that everyone is on vacation, or living out the golden years of their lives since many seem to be of my grandmother's generation. That could explain the somewhat outlandish prices: 3€ for a cone of lemon gelato (smacks of Capagiro on Rittenhouse Square) but its worth it to be able soak up the warm summer air and enjoy an afternoon of my favorite hobby, people watching.
Casi-Yes

One of the most popular spots in the city is the 200 year old Casino Baden-Baden and in contrast to our American standard it is a sight to behold. The Parisian Chateau inspired building is located at the rear of a public park in the town's center which it also shares with a small-scale outdoor concert venue, two cafes and a number of small boutiques.
There is a lot of activity here, the café terraces, like those in the vibrant pedestrian area are filled to capacity with folk seeing and being seen. I get the impression that most aren't here only for the casino, and that they are both residents and tourists alike. The design of the surrounding buildings addresses the park as the centerpiece of the locale. The surrounding uses are accessory to the public and social use of the open space.

The casino building itself is exquisitely designed and ornamented, such that it resembles a small palace or large mansion of its day. A strict dress code of smoking jackets for men and evening wear for women is equally nostalgic. The interior of the casino is reminiscent to the gambling scenes of James Bond films: 007 could approach the bar at any moment, make eye contact with the stunning vixen across the bar, and gesture to the bartender: "Vodka martini, shaken not stirred." But there is some other force at work here that makes this scene belong to another time and place: there are no cars.
It's the Parking stupid
Although the streets bustle with passers by, window shoppers and café goers there seems to be little auto traffic here. The roadways seem secondary to sidewalks and there are far more people than cars about. Around the casino are all of the peripheral uses one would expect, numerous hotels, restaurants, high-end retail. What one may not expect after having visited Vegas or Atlantic City is that folks here walk from their hotels to restaurants, gaming houses, shops and parks. The casino is just another destination in a well planned urban system of public and private spaces.
This pedestrian-friendly environment is made possible in large part due to an extensive network of underground parking garages. There are few surface lots to be found here. Hotels, restaurants, and even public spaces like parks and the successful pedestrian shopping district all stand on top of multiple levels of auto garages.
More than 2,000 spaces are managed by a quasi-municipal parking authority which collects user-fees through numerous automated ticket booths, maintains existing lots and provides parking garage planning, construction, and management services to private developers. Additionally, the parking authority administers a bike rental system with depots located at each of their lots throughout the city. Reasonable hourly and daily rates are made available and paid through the same automated system as the parking fares. Through the provision of these services the Baden-Baden Parking Authority finances maintenance and expansion of their product.
When parking is done right it facilitates design with a different emphasis: a pedestrian emphasis. Fewer cars on the roads mean more room for sidewalks, street-side cafes, playgrounds, and other amenities. Removing the developer's burden of building parking palettes and seas of surface lots makes it possible for public and private spaces to flow seamlessly and the value of public edges to be captured. (Think of the hotels on Rittenhouse Square. Where would they be if there were 500 spaces separating their front door from the park?) Subterranean parking allows for multiple entrances and exits to public and private space, allowing large uses to be integrated into the city's fabric. The casino and its supporting hotels and restaurants fit seamlessly into the city's existing street grid allowing guests and passersby equal access to the private and public amenities offered. The costs of implementing similar systems in the States are often thought to be prohibitive, a visit to Baden-Baden however reveals the invaluable benefits of an effective comprehensive parking plan.

email: arrus.farmer@gmail.com
Arrus Farmer is a Robert Bosch Fellow based in Berlin, Germany working in the planning and administration of large scale public-private developments. He holds both a Masters of City Planning and a Masters of Government Administration from the University of Pennsylvania which were completed earlier this year. Farmer has worked with Praxis on a number of civic engagement projects including the Civic Vision for the Central Delaware Riverfront.
WHYY is your source for fact-based, in-depth journalism and information. As a nonprofit organization, we rely on financial support from readers like you. Please give today.