Foxwoods gets operating license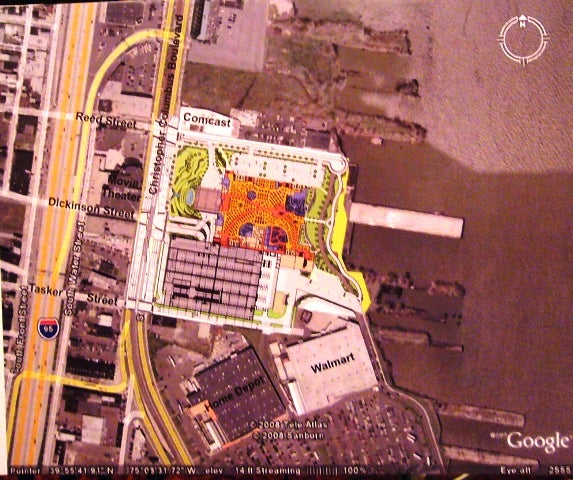 June 3
By Kellie Patrick Gates
For PlanPhilly
Foxwoods Casino received its slots operator license from the Pennsylvania Gaming Control Board on Tuesday.
Foxwoods was among the successful casino applicants chosen by the Control Board in December 2006, and the issuance of the operating license is another step toward opening. How big a step is it? Depends who's asked.
It's a significant step that signifies the casino "has satisfied all of its present requirements regarding its ability to successfully build and operate the casino as present to the board." Foxwoods said in an emailed statement.
"We have worked diligently to ensure that the Gaming Control Board is completely satisfied with the Foxwoods project and assure them we are capable of delivering a world-class casino that will bring tremendous economic benefits to the Commonwealth of Pennsylvania," said Foxwoods Casino Philadelphia General Manager James L. Dougherty. "This is a truly a significant milestone for Foxwoods."
But representatives of state legislators who oppose Foxwoods' chosen South Philadelphia site say the license doesn't mean so much.
"You can get a license to operate an elevator, but you need a building to operate the license in," said Mary Isaacson, spokeswoman for Rep. Michael O'Brien.
"It just means that the clock now starts ticking on when they have to have the machines up and running," said Christopher Craig, Senate counsel for Sen. Vincent Fumo.
SugarHouse Casino received its operating license in January. Both it and Foxwoods continue to face opposition to their chosen waterfront sites from some city and state officials and some neighborhood residents – including the vast majority of the waterfront neighborhoods' associations.
But other neighbors say they want the casinos and the jobs they would bring. And the State Supreme Court has ruled largely in the casinos' favor in a series of court battles. (One significant case that would determine whether a permit allowing SugarHouse to build on the waterfront that was issued, then revoked by the city should still stand – and was legitimately issued in the first place – is ongoing.)
The Court recently ruled against city council that the city has been intentionally stalling and must issue Foxwoods the zoning it needs to operate – this was similar to an earlier ruling the Court had made in favor of SugarHouse.
"The issuing of the license and the recent Pennsylvania State Supreme Court rulings have given the project tremendous momentum," Foxwoods' press release states. "Foxwoods has started the process of applying for foundation and building permits with the City of Philadelphia, and is coordinating with its contractor, TN Ward, to finalize plans to release bid packages for subcontractors and suppliers of construction materials. Those bids will launch the start of millions of dollars to be generated by Foxwoods Casino Philadelphia in wages and tax revenues."
Isaacson said Foxwoods still faces many hurdles before construction can begin at its proposed location.
"Representative Keller and Representative O'Brien would be more than happy to help Foxwoods take this piece of paper and apply it to another location," Isaacson said.
But Foxwoods officials have consistently said they've chosen the best site for their project, and they do not intend to leave it.
Contact the reporter at kelliespatrick@gmail.com