Part II: Rethinking the Parkway
April 28
This is the second in a series of articles on the restructuring or re-designing of certain parts of the Benjamin Franklin Parkway, from street signs to the development of major museums. Coverage will include long-term plans, short-term projects and those in their design, approval, funding or implementation stages. The first article in late March, "Boulevard of Contradictions," www.planphilly.com/node/2897 prompted dozens of email responses. In the series, we will address those comments and concerns.
By Thomas J. Walsh
For PlanPhilly
With construction already well under way, a new outdoor café and information center will open this summer on the triangle of land bounded by the Benjamin Franklin Parkway, 16th Street and Cherry Street.
It represents the first of a series of improvements scheduled for the next couple of years, and is among a handful of announcements slated for this spring and summer about further upgrades to the Parkway, said officials at the Center City District (CCD) and the Fairmount Park Commission. Within months, additional funding will be announced for enhancements to Logan Circle that will introduce lush new gardens and eight additional fountains, bringing to fruition urban planner Jacques Gréber's original plan for the circle from a century ago.
Additional plans to bring to life Shakespeare Park – the area directly in front of the Free Library – will be unveiled. The creation of the park itself, a pavilion, book stalls and sound barriers are part of the scheme.
(Graphic renderings courtesy of the Center City District. Click on to enlarge)
Proposed cafe at 16th and the Parkway
The café also represents progress in a deliberate "place-making" plan – the "activation" of landscapes, streetscapes, roadways and public spaces that make up the Parkway. The goal is to make the boulevard an "animated cultural campus."
That's according to Paul Levy, director of the CCD and the Central Philadelphia Development Corp. (CPDC). Levy, who has been a leader for efforts to revitalize the Parkway for the past decade, has lately been using the above terms in a presentation about the new direction for the area. He's been showing it to city officials, Parkway stakeholders, and earlier this month he gave a private screening to PlanPhilly.
"That's probably the safest place to build a café" on the Parkway as it is currently configured, said Jesse Gardner, a Northern Liberties-based urban designer and developer. "That location will get plenty of locals, and the tourists will probably feel that they are not just sitting there on display. If you go further west (along the Parkway), it's harder to do that. And Paul Levy is smart enough to know that you need to have residential above the store."
Gardner, who moved here from New York in 1995 and spurred the creation of the Liberty Lands Community Park in Northern Liberties, was referring to the need to convert empty spaces above shops like those on Chestnut Street into apartments, but the Parkway lacks row homes. What it has are condominiums, old and new, and more in the planning stages.
Levy's PowerPoint presentation is surely one of the few that won't lull you to sleep with dense text and charts. This one's got photographs – lots of them, but it's not a history lesson. It shows past mistakes, present nightmares, dreams of what could have been and what might be. Aerial shots illustrate the many dead zones to address. Graphics laid on top of images shows traffic patterns that need to be changed, challenges from existing infrastructure and pockets of geometrical nothingness – gaping holes, grass squares, triangles and rectangles that could be thought of as a sort of tattered hem to the Parkway's overall fabric.
"We're close to inking a deal on a long-term lease," Levy said of the new building, which will serve coffees, food prepared off-site and perhaps ice cream. Doors and windows have been designed to accommodate every season, with warm weather opening the space up to outdoor tables.
"We're very happy to see these improvements come into being," said Gary Jastrzab, acting executive director of the Philadelphia City Planning Commission. He said the land for the café is owned by the Fairmount Park Commission and was leased to the CCD.
Mark Focht, executive director of the Fairmount Park Commission, said plans for the café and Logan Circle are just the beginning of what he called "major announcements" set for later this year. They will set the stage, he said, for the new Barnes Museum, expansions of the Free Library and the Philadelphia Museum of Art, and a proposed Holocaust Memorial Museum at 16th Street, south of the new café.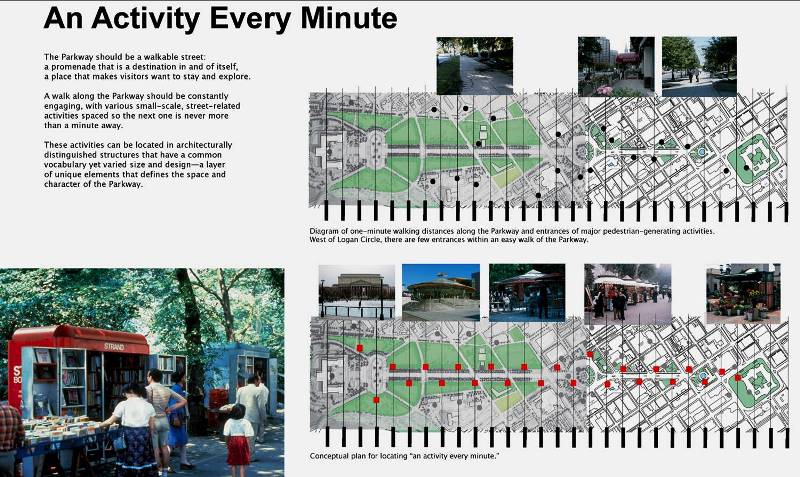 The photo lower left is of book stalls in Central Park, NYC; Paul Levy would like to use book stalls on or near various Parkway attractions, or along the outer lane's sidewalks.
Focus
Having people at outdoor tables on the Parkway – a la the often-cited Champs d'Elysses in Paris – is clearly a passion for Levy. You can practically hear the man sigh when showing an artist's rendering of sidewalk activity that could accompany the planned Barnes site, a large swath of land now home to the Youth Study Center (a prison) and a little urban wood that had long been a haven for the homeless.
But more on the Barnes later. And more on set-back controls later, and the possible elimination of trees. More on everything later, it always seems with the Parkway, observers say. The vast nature of the roadway is such that it encompasses a large number of constituencies, public and private. Groups fight for short-term solutions, but planning takes decades.
"It's hard to focus," acknowledged Gardner. "It's such an exciting area and you want to fix everything at once, so you don't know where to start." Gardner said that for decades there has been no forward thinking at the top of city government, making present-day blueprints exponentially more difficult.
In the meantime, the café, Levy says, is a prime example of activating a place. "Think of the Parkway as unfinished urban renewal," he said. "The demolition was completed" but the development never occurred as it was planned. What happened instead was piecemeal growth and unintended barren spaces. Priorities changed as neighborhoods surrounding the Parkway waxed and waned, or shifted demographically. That has brought about increased citizen involvement in the planning process – a positive development in the abstract, but perhaps a bit of an impediment, at times, in the particular.
Artist's rendering of the cafe now under construction at 16th near the Parkway. Windows would be removable for fair weather operation and more walking space, while creating more indoor space for seats and tables in cold weather.
Having their say
Philadelphia, often called a "city of neighborhoods," is also a city of neighborhood associations. And as condos are created from older buildings, such as The Phoenix at 16th, or built anew like the planned Parkway22 tower and its accompanying lofts and townhouses, those groups are only going to grow. Some are more organized than others, or have more funding, or work more closely with city officials. All have something to say.
"The Center City's top-down plans [for the Parkway] have not worked," said Rob Stuart, president of the Logan Square Neighborhood Association (LSNA). His group has raised more than $100,000 over the past year, he said, to bring about its own plan for the Parkway's future, one that includes institutional as well as resident stakeholders. The money has come from the Commerce Department, a grant from the Delaware Valley Regional Planning Commission and from resident contributions.
Jesse Gardner, who is active with the Northern Liberties Neighborhood Association, said that some neighborhood associations wield too much power to get zoning variances granted. It's one of a number of forest-for-the-trees problems.
"I'm as guilty of it as anyone," Gardner said. "The problem is that although these volunteer boards mean well and are truly dedicated to improving their communities, their lack of professional planning and design expertise sometimes ends up by doing harm to the public realm, or at best moving sideways rather than forward."
Rob Stuart said his Logan Square group has hired some of the same traffic consultants that the city has, and brought in professionals to illustrate a future that is neither top-down nor too reliant on grassroots efforts.
"This is a design process to bring out all the stakeholders and finally agree on a combined future for the neighborhood and the Parkway," Stuart said. "We were tired of having to react to either plans for development proposals that weren't grounded in reality or in conversations with people who live there."
Andy Toy, the chair of LSNA's Parkway Plan Committee, said, "We intend to be a strong voice for the surrounding community as we develop a plan for the whole neighborhood, not just the Parkway in a vacuum."
While Levy serves on the LSNA's advisory board, he said that too often in community meetings, people mix together realistic issues with those that are not. "And that's fair, because we have not had a rational planning and development process. This is a city that has been losing people for 50 years, but I'm optimistic."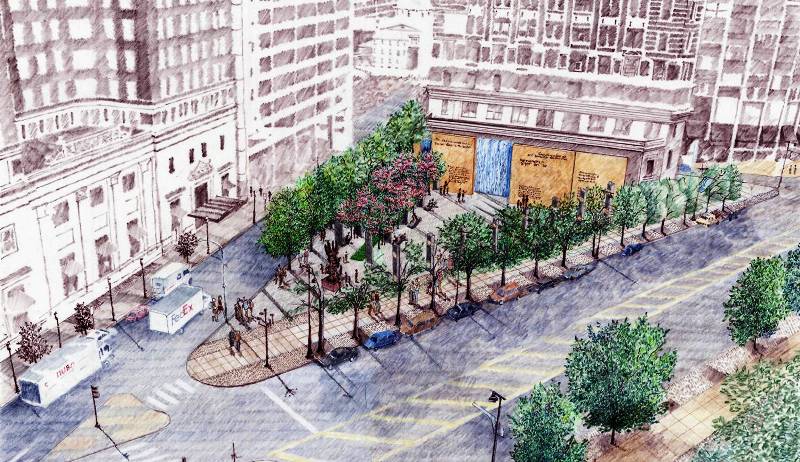 A Holocaust memorial park, proposed for the southwest corner of 16th Street and the Parkway, would be across from the new cafe. Its status is described as being in "fundraising stage." Currently, there is a Holocaust memorial statue there.
Let's have coffee and talk about it
All that said, Stuart is a fan of the new café, and the LSNA even helped work out an agreement with the CCD for hours of operation, lighting, landscaping issues and access to the café's electronic information screens.
"I think it's going to enhance that little section of the Parkway very well," Stuart said. "It's a long time in coming and when it was first proposed, a lot of people had a lot of trouble envisioning people sitting outside on the Parkway. Now just look next door at the Mexican Post [restaurant]. Its outdoor seating is always full."
Stuart is happy to cooperate with the CCD and is optimistic about the newly formed Philadelphia Planning Commission. But he believes a community-driven process is a better means of ensuring that short-term solutions are not sacrificed at the altar of long-term visions. The group has initiated community surveys and its January meeting drew hundreds. The association's advisory committee was scheduled to meet Thursday evening (April 24), and tops on its agenda for "quality of life goals" was to discuss ways to "reduce the adverse impacts of Parkway events, by limiting the number of events, and assuring that permitted events contribute to the cultural life of the Parkway."
On that, Stuart and Levy could not agree more. Levy said there are more than 35 closures each year for large special events staged on the Parkway, many of which actually hinder visitors to the boulevard's cultural institutions. "From the neighborhoods' point of view – Spring Garden, Fairmount, Logan Square – it is one of the most important issues. Clearly it is one of these management issues."
The Center City District has funded $611,000 in design improvements for 20th Street where it intersects with the Parkway's pedestrian and vehicular traffic. Infrastructure costs, though, could make overall changes cost-prohibitive.
It's getting there
Levy says that the Parkway will never be a promenade, and that vehicular traffic is so much a part of the thoroughfare that the only options for addressing it lay in changing the lanes. One scenario would narrow the outer lanes to create a dedicated bicycle path that sits above the plane of the street, while widening the inner lanes.
Another idea is to divert Martin Luther King Drive, turning it south at the Art Museum, and perhaps re-routing the Schuylkill Expressway off-ramp. These moves – dramatic, pricey and time-consuming – would free up Eakins Oval to actually be an oval again.
"The Parkway really is a fascinating unfulfilled opportunity for the city," said Martin Hull, a five-year resident of Queen Village and a transportation planner for IBI Group, a Toronto-based planning, architecture and design group. Try getting from his neighborhood to the Art Museum on a Sunday morning, he mused. It's not easy. "Although the CCD's report does mention public transportation, most of the public debate on the topic that I have been exposed to treats it very much as an afterthought."
That might be changing, Levy said. Increasing the frequency of the Philly Phlash, the purple tourist-oriented river-to-river loop vehicle (a.k.a. "the Barney Bus"), is under review. And CCD and the Parkway Council Foundation (PCF) are working with consultants on an analysis of Parkway-centered shuttle service that would sweep through Center City, Fairmount and other neighborhoods.
"If … we want a pedestrian friendly environment, then it seems that the outer lanes of the Parkway should be reclaimed as green space," said Jerry Silberman, an environmentally conscious South Philadelphia union organizer who lives on the same block that his grandmother was born on. "Perhaps as public orchards or community gardens, the asphalt replaced with rich black earth."
Also, a $2.1 million federal grant would target the redesign and relocation of part of Winter Street, landscaping and streetscaping, an information kiosk, better pedestrian crossings, an outdoor science park and designated bus parking.
2012: An urban space odyssey
In all, the CCD and PCF are focusing on four "components of vision" for their approach to the Parkway as envisioned for 2012:
• Place-making: landscape, streetscape, roadways and public space activation;
• Land-use and urban design, including height controls and set-backs;
• Parking and transportation;
• Management of the public environment and promotion of the place;


PennDOT's concern about the infrastructure supporting the Vine Street Expressway bridge and the unknown amount of funding it would take to alter the sunken roadway has delayed the project. Levy would like to cover some of the open areas that now expose the expressway, starting with the Nevada-shaped opening to the lower right of the red circle here, directly in front of the Free Library and just steps from the future site of the Barnes (upper right).
There are scores of issues to address before officials even get to the topic of how to pay for all or any of it.
Can parts of the Vine Street Expressway be covered? If so, it would go a long way toward making the "Sister Cities" plaza, in front of the Basilica of Saints Peter and Paul, something other than the definition of urban dead space. The area is choked by ill-conceived parking lots, the big vent holes for the expressway and an almost completely lifeless stretch of 18th Street.
The Family Court building, twin to the Free Library, will likely be redeveloped within five years, as court operations relocate. Its new use is unknown.
Crossing the street from Eakins Oval in the infamous "run for art" is still a daily occurrence, and crossing almost anywhere on foot remains dangerous, despite crosswalk and lighting improvements implemented over the past five years. Levy's descriptions for changing 20th and Winter streets are extensive and costly.
Improving pedestrian access between the Philadelphia Museum of Art and its new Perelman wing is a priority. The vastness of the spaces in between is rife with traffic in all directions and a patchwork of parking for the museums and neighboring apartment buildings that front the Fairmount neighborhood. It requires shifts in traffic patterns, dedicated parking lots and intuitive walkways.

We could go on.
But more on all that later.
To weigh in with Parkway-related commentary or news, contact the reporter at thomaswalsh1@gmail.com.

ON THE WEB
Center City District & CPDC:
www.centercityphila.org
Parkway Council Foundation:
www.parkwaycouncilfoundation.org
Fairmount Park Commission:
www.fairmountpark.org
Logan Square Neighborhood Association:
www.LSNAphilly.org
Northern Liberties Neighborhood Association:
www.nlna.org
First PlanPhilly story in Parkway series:
www.planphilly.com/node/2897
WHYY is your source for fact-based, in-depth journalism and information. As a nonprofit organization, we rely on financial support from readers like you. Please give today.