Dry run for anti-casino activists at SugarHouse site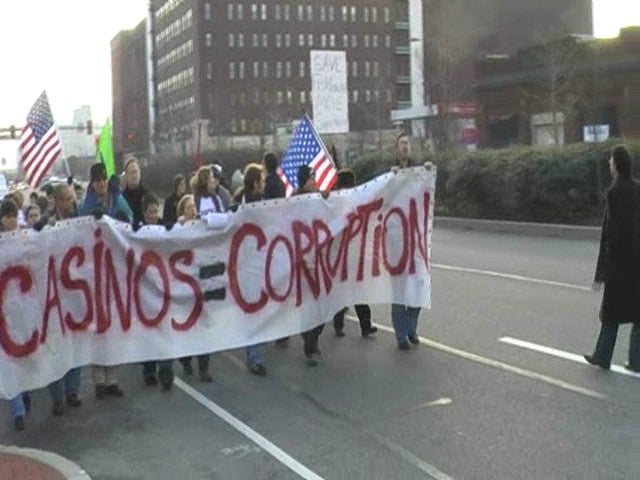 Dec. 8
By John Davidson
For PlanPhilly
The first glimpse of what could play out at SugarHouse Casino's Delaware Avenue site in the coming weeks appeared Saturday afternoon, as Casino-Free Philadelphia staged what they called a "practice site occupation."
Holding a banner that read "Casinos=Corruption" and chanting anti-casino slogans, some 50 protestors marched from Spring Garden Street to the gated, empty waterfront lot where Sugarhouse plans to build a $550 million casino and hotel. Having recently received approval from the State Supreme Court, casino officials have said they could break ground in a matter of weeks.
With construction looming, Casino-Free Philadelphia rehearsed their plans, walking protestors through basic procedures for site occupation including mock arrests with some protestors playing the role of police officers, even as about 25 real police officers looked on.
"We're not prepared, at this point, to force the issue," Casino-Free co-founder Jethro Heiko told the crowd through a bullhorn. "But we're going to be doing a training in non-violent peaceful resistance in anticipation of future actions."
Police made no arrests and the rally ended peacefully after about an hour of slogan chanting and shouting, mock arrests, short speeches from organizers and detailed instructions on the proper way to get arrested and how best to sit in front of an approaching bulldozer without getting run over.
"Make sure the driver can see you, and make sure you can get out of the way if you have to," said Daniel Hunter of Casino-Free Philadelphia.
Anne Dicker, a candidate for State Senate against incumbent Senator Vince Fumo, was on hand to support protestors but said she did not organize the event. "The casinos have stolen democracy from Philadelphians," she said before the rally. "They gave hundreds of thousands of dollars to city and state officials before their licenses were given, it's been totally undemocratic."
Paul Boni, an attorney representing Casino-Free Philadelphia, said that despite the recent State Supreme Court ruling that granted Sugarhouse permission to build on the Fishtown site, there were still legal obstacles in SugarHouse's way, specifically citing Department of Environmental Protection permits for storm water management. "They need permits they don't have."
Also on hand Saturday was SugarHouse Spokesman Dan Fee, a native Philadelphian who echoed the familiar claim of casino advocates that gaming will be an economic boon for the city and the cornerstone of a revitalized Delaware waterfront:
"Far as long as I can remember, this entire waterfront has been blighted, and this particular spot has been vacant for a number of years. Now hopefully the casinos will come in and create good new jobs and more economic development. It's great."
Casino opponents like Heiko, who lives about 300 feet from the proposed SugarHouse site, see gaming as the very thing that will ruin the waterfront and bring economic ruin to nearby neighborhoods.
"This goes completely at odds to the riverfront plan. This street, Penn Street, actually goes through the site," Heiko said, pointing to where Penn Street crumbles into the vacant SugarHouse lot. "This should be a street, this is a street grid that we say we love. Well, if it doesn't happen here and it doesn't happen at the Foxwoods site, it doesn't exactly set a good precedent for the rest of the riverfront."
Heiko said if construction begins, there is "no question" that protestors, including himself, will be arrested. "If they don't stop this, we plan on being here, doing various kinds of disruptions and site occupations where we camp out," he said. "They'll get to know me, although I have no interest in that at all. I have a job, I have a baby coming up, our first child, and I'd rather be planning the city, planning the riverfront."
WHYY is your source for fact-based, in-depth journalism and information. As a nonprofit organization, we rely on financial support from readers like you. Please give today.