Philadelphians say: "make it over city wide"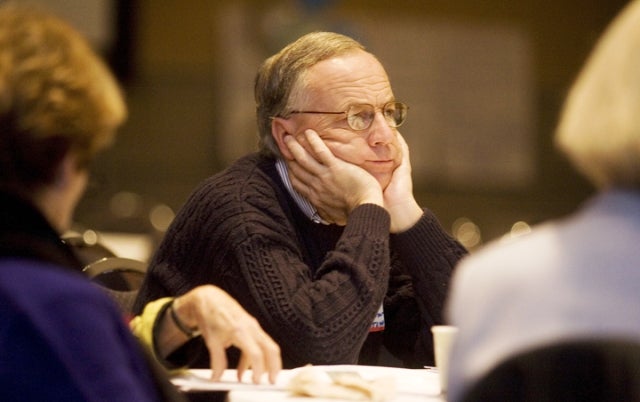 Dec. 2

By Kellie Patrick Gates and Natalie Pompilio
For PlanPhilly
Philadelphia should make revamping the documents and procedures that guide development city-wide a bigger priority than redeveloping any one area.
That was the consensus of the about 125 participants in the three Planning & Zoning break-out sessions of Great Expectations Citizens Convention Sunday night.
The groups were asked to discuss the draft agenda, which was based on feedback from the public and experts over the past year. The reform the groups craved Sunday was already high on the list, but top priority was given to the Central Delaware Riverfront Plan, which was created by PennPraxis based on a multitude of public meetings and work sessions.
"Not that the river is unimportant, but the focus should be on planning for the whole city," said JoAnn Desper of Wissahickon.
Participants held up the Central Delaware Plan as an example of the right way to get citizen involvement – one that future efforts should follow. But, they said, retooling the zoning code and process and creating a comprehensive plan will help make all future projects better – including the Riverfront Plan.
"If we have good planning and good process, all of these other plans will fall into place," said Susan Sheahan, who is president of the Ashton Square Civic Association. "If we don't have a good process, it doesn't matter what is number one."
Philadelphia has begun work on two of the key items participants desired. At the direction of a citizens' referendum earlier this year, a Zoning Code Commission was appointed to revise and update the code. Work has begun, with guidance from City of Philadelphia Planning Commission Executive Director Janice Woodcock – the Commission's chairwoman – and help from her staff.
The Planning Commission has also recently begun preliminary work that they hope will lead to a new Comprehensive Plan sometime in about the next two years. The first in a series of public forums will be held Tuesday. "Our planning commission is already working on it, but we have to keep an eye on them," Jeannine Missaoui, a resident of the Harrowgate neighborhood, said.
A comprehensive plan would ideally take into account public transportation and parking issues, ways to make the city greener, and the unique characteristics of each neighborhood.
"We don't want to become homogeneous where everything's the same," Desper said.
The need for diversity applies to income, too, many said. Steps should be taken to make sure that working class people can live in any Philadelphia neighborhood, said West Philadelphia resident Violetta Kidd.
Some participants suggested changing the 10-year tax abatement program. Some suggested that the tax break be graduated, so that by the 10th year, beneficiaries would be paying their full tax bill. Others suggested that the abatement should be applied only in neighborhoods that need a redevelopment boost.
Many said the Planning Commission should have more authority. "Planning should drive zoning and not the other way around," one participant said. Many spoke in favor
of having design professionals and other experts take a larger role in planning and zoning processes. But, they said,
Participants voiced frustration at the number of Philadelphia planning efforts that have started out gangbusters, but never came to fruition.
Dusty plans really bug Ajay Creshkoff, a 92-year-old professor emeritus of the graduate school of public and international affairs at the University of Pittsburgh who now lives in Center City. There seems to be a focus on strategy and vision but "no thinking through on how do you get it done," he said.
As has happened at most public planning forums of late, several people adamantly said the casinos proposed for the waterfront should be moved elsewhere or eliminated.
Some participants expressed anger at the governor, noting that residents in other parts of the state had a say in the placement of casinos while Philadelphians did not.
For Jesse Gardner, a 51-year-old Northern Liberties resident and small developer who builds in depressed neighborhoods, the biggest frustration was the short amount of time participants were given to discuss planning and zoning.
"We can't make this happen in one hour – we need a whole day," he said.
Should the organizers plan another opportunity to work on the planning and zoning questions, Gardner said he'll be back.
WHYY is your source for fact-based, in-depth journalism and information. As a nonprofit organization, we rely on financial support from readers like you. Please give today.