20th reunion for Million Woman March begins year of actions
Twenty years later, Phile Chionesu, still looks back on the Million Woman March with a bit of disbelief.
"That day for me, I can almost say was unreal," Chionesu, the march's founder, said. "To see the magnitude of these incredible women and girls of African descent …"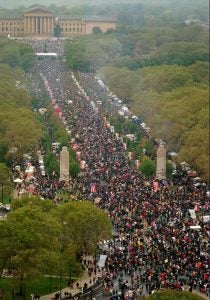 On Oct. 25, 1997, hundreds of thousands of women braved the chill and light rain to gather on the Benjamin Franklin Parkway in an impressive show of solidarity and sisterhood. Estimates provided by various source put the number of women in attendance anywhere from 500,000 to 1 million — remarkable numbers, given the event was promoted primarily through word of mouth.
This weekend, black women will gather once again in Philadelphia for the 20th anniversary of the Million Woman March. Chionesu doesn't expect nearly the numbers of women to flock to Philadelphia as they did 20 years ago. But she says this weekend's reunion will be the kickoff to something bigger.
"What we want to bring forward is not something that we want to be looked at for one day," she said. "We want our women in Philly, and in cities and other states and worldwide, to get ready, because for the next three years, that's what this campaign is really about."
This time around, organizers are aligning their mission with the heads of the African Union — an organization of African nations and stakeholders dedicated to advancing the agenda of African people — planning an agenda of women's empowerment into the year 2020.
"So what we are about to bring forward is not something that we want to be looked at for one day," Chionesu said. "The way this is designed, we will literally be doing various kinds of activities and events for the entire year."
The weekend includes a Declaration of Violations rally Friday at 5th and Market street — a "speak out" demonstration to bring attention to human rights violations through history against black women throughout the diaspora.
The Million Woman March reunion is scheduled for Sunday, beginning at 5th and Market street in front of the President's House memorial. Marchers will proceed to Washington Square, also known as "Congo Square," where Africans were held and sold as slaves during colonial times. They'll continue to what used to be the London Coffee House at Front and Market streets, where slaves were auctioned.