20th century grief on display at the Philadelphia Museum of Art
"Elegy" traces grief across different cultures through the 20th century at the Philadelphia Museum of Art.
The phrase "Rest in Power" is a relatively recent way to honor the dead, first appearing about 15 years ago in print. But as "Elegy: Lament in the 20th Century" shows, it's not a new concept.
The exhibition features, for example, Thornton Dial's "The Last Days of Martin Luther King" (1992), an enormous canvas that reads more like a wall sculpture than a painting, it's abstracted surface thick with ridges made of rope, wire screen, crushed glass, and paint. Coiled mop strings create the figure of a leaping lion, a symbol the artist typically used to describe the cunning and strength that Black people employ to survive.
Nearby are the face and hands of Abraham Lincoln, taken as plaster molds from the President's body when he was still alive, then cast in bronze in 1886, in memoriam after his assassination. The hands are balled into fists.
The exhibition also shows artistic expressions of grief, which can be very dark or quite beautiful.
Juan Scoriano's "The Dead Girl" (1938) is a painting made after the artist happened upon the decorated body of a deceased child on display in a large window of a home in Veracruz, Mexico, a common funeral practice at the time to announce a death to the community.
Scoriano painted a seemingly serene child surrounded by marigolds, roses, and magnolia flowers, and also with cotton in her nose to prevent postmortem excretions.
"Grieving is done differently by everybody," said curator Jessica Todd Smith. "Different cultures have different methods and rituals for helping people come together as a cultural group to mourn those who have passed."
"Elegy," opening Saturday, is the first of three loosely related exhibitions coming to the Art Museum, which speak to the last two years of pandemic, loss, and protest. In three weeks, the museum will open "Waiting for Tear Gas," a show of art related to public political protest, and "Pictures in Pictures," featuring artwork that attempts to remember an absence by incorporating a picture within the picture.
"Elegy" was conceived prior to the pandemic and subsequent loss of more than  900,000 victims in this country, but the timing is nevertheless on point.
"While most of the works in the show were made between 1900 and 2000, that historic distance – the ability to look at how artists of the last century were trying to commemorate individuals and express grief – I think helps us look through that lens to think about issues that we're dealing with today," said Smith.
Smith started working on this exhibition four years ago, in 2018, after the Museum acquired "His Reward, Emmett Till" (1955-1960) by Clarence Lawson, a sculptural piece resembling a death mask of Emmett Till, the 14 year-old Black boy whose extremely brutal murder by white men in 1955 revived a groundswell movement for civil rights.
Till's mother in Chicago insisted the funeral be public and open casket, to show the world how violently her son had died. An estimated 50,000 people came to the viewing.
As a Black, Chicago-based artist, Lawson was likely one of those 50,000 attendees. His piece is not a re-creation of Till's face, but an abstraction of a face made in plaster and painted black, with additional painting effects suggesting distress.
When the museum acquired the piece in 2018, Smith knew she could not simply display it with explanatory text. That would not have been fair to the piece, nor the museum's visitors.
"It's a moving and very emotionally charged work of art. We knew that we couldn't just put that up on a wall and expect people to be able to deal with it in an appropriate way," she said. "Context would be paramount to showing it in a way that was respectful, and would allow people to really understand both the story of Emmett Till and Clarence Lawson's motivations for making the work."
So Smith built an entire show around the Lawson sculpture. "Elegy" draws entirely from the Museum's collection, with work from across several departments including prints, photographs, paintings, sculpture, and even fashion: the show features mannequins dressed in mourning attire made of matte black crepe, a fabric deemed appropriate for the mourning woman as it absorbs light, instead of, say, black silk which reflects light.
Some of the pieces on display are tied to specific people and tragic events. "Miner's Wives" (1948) by Ben Shahn was made in response to the 1947 coal mining explosion in Centralia, Illinois that killed 111 workers. "Death is a Small Child" (1948) is a print Harold Paris made after his experience as a World War II Army correspondent witnessing the Buchenwald Nazi concentration camp.
Some pieces are not associated with death at all. "Evicted (Sorrowing Farmers)" (1937) shows Depression-era farmers with physical gestures associated with mourning: clasped hands, downturned faces, sunken eyes.
Those mournful gestures inform many of the pieces – including abstract ones – that do not represent any specific person or event, but evoke the anguish of loss. Charles White's "Black Sorrow" (1946) depicts a man and woman embracing in a deep sadness, her closed eyes downturned behind his thick, powerful hands.
"The exhibition does not tackle all of the tragedies of the 20th century. That's not really the point," said Smith. "It's how artists were responding to the aftermath of tragedy, and those who are remaining to try to deal with the grief that follows."
The final gallery of the exhibition features a sitting area with reading material about death and grief. A QR code on the wall leads visitors to a guided audio meditation. Should visitors need help with overwhelming feelings of loss, a pamphlet is available with a list of grief resources assembled by the Philly Death Doula Collective. "Elegy" will run until July 24.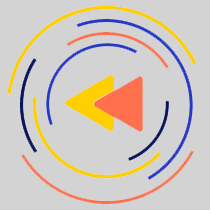 Saturdays just got more interesting.
WHYY is your source for fact-based, in-depth journalism and information. As a nonprofit organization, we rely on financial support from readers like you. Please give today.