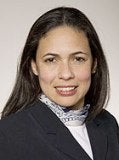 VARSOVIA FERNANDEZ
Age: 44
Education: BS in business management from Rosemont College.
Professional: President and CEO of the Greater Philadelphia Hispanic Chamber of Commerce. Previously vice president of external affairs for Congreso de Latinos Unidos.
Volunteer/Community work: Serves on several boards, including those of the Community College of Philadelphia, the Make-A-Wish Foundation, and the Penn's Landing Corporation. A founder of Calle Americana CareerLink, the first and leading bilingual job-seeking center in the state of Pennsylvania.
Personal: Divorced. Daughter Amanda, 20. Lives in Ardmore. Has lived in the Philadelphia region for 25 years.
Q&A
Why is zoning reform important to you? Because whatever goes on with zoning affects all the residents of the city. It is also important because we have a very old code that is very difficult to work with, given the demands of our times. We need to bring this code up to par with the realities of technology and construction – and the intelligence and needs of the citizens. We have to balance the needs of the residents and the businesses, and the city as a whole.
Why are you a good choice for this commission? I think I am a good choice because I am in contact with many of the businesses and residents of the emerging Hispanic community (and) of the emerging Hispanic markets. Historically, there has not been enough Hispanic representation to voice the issues of the Hispanic community. Also, I care so much about this city, and I have the intelligence and capacity to make a contribution to this process.
What is the most pressing zoning issue Philadelphia faces? One of the most pressing issues is the speed of the process, when somebody goes through the application process requiring permits. I believe that reviewing the zoning code and its processes will enable its citizens to be more effective, as well as the city (and therefore lessen the amount of time it takes to go through the process). Another important thing is land use issues. How do we make the best use of the land so that the city's needs are taken care of? How can we do this so that coexists with businesses and residents, and things like parks.
What should be done to address this issue? The voice of our communities across the city needs to be heard. We need to hear from the public, from owners and non-owners, what the issues are in reviewing the code. The process must include the voice of the citizens. One of the reasons why this commission is designed the way it is, is to include the voice of the citizens.
WHYY is your source for fact-based, in-depth journalism and information. As a nonprofit organization, we rely on financial support from readers like you. Please give today.