UPDATED: 10-year-old assaulted in Castor Gardens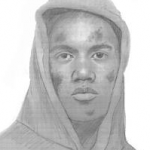 UPDATED (March 2, 5:50 p.m.) — Police have released a sketch of the man (at right) whom they believe assaulted the girl.
Police are searching for the man responsible for sexually assaulting a 10-year-old girl in her Castor Gardens home early Monday morning.
According to reports, the girl awoke around 2:30 a.m. yesterday to find a man indecently assaulting her in her home on the 1400-block of Levick Street. The girl's screams startled her 74-year-old babysitter, Julie Etienne, who came to the rescue.
The babysitter bit the attacker's fingers until he fled. Police believe the attacker gained entrance through an unlocked door.
The assailant is described as a black male in his late teens to early 20s with freckles or spots on his face. He is about 6 feet tall and has a thin build. He was wearing a gray shirt and blue jeans at the time of the break in. Anyone with information is urged to call Special Victims Unit at 215-685-3261.