10 arrested during Philly climate change sit-in to pressure Democrats
Dozens of protesters with the Sunrise Movement crowded offices in a building where the Democratic Part once held offices. Ten people were arrested.
Listen
1:11
Hoping to pressure the national Democratic Party to hold a debate focusing solely on climate change, protesters were arrested outside the Philadelphia building that they thought was home to the state's Democratic Party.
The arrests happened suddenly, after protesters spent several minutes sitting in front of six elevators at the Philadelphia building that used to house offices of the Pennsylvania Democratic Party. They sat holding signs that read "DNC: Time is running out" and "11 years" before police and security guards swiftly handcuffed them and brought them out to a wagon.
While security and police officers were walking around them for several minutes, the arrests began after an officer gave the protesters an ultimatum to leave.
As the protesters were being escorted out of the building, they sang:
"Courage, courage, my friend, my friend, you do not walk alone/ We will, we will, walk with you, and sing your spirit song."
The ten protesters were sitting in at the building on behalf of the Sunrise Movement, dozens more were outside. As part of the national organization advocating for policies like the Green New Deal, the protesters were calling on the local Democratic leaders to pressure the national party to commit to hosting a climate debate for presidential candidates.
Sabirah Mahmud, a 16-year-old volunteer with Sunrise, says getting a climate debate in August is a pressing matter.
"We have only 11 years left, so we need this debate now because the next president to be elected will put us in the state of a climate crisis, whether it be good or bad. So we need to know their position," Mahmud said. The 11-year timeframe comes from the Intergovernmental Panel on Climate Change. That group estimates that's how long is left to significantly reduce carbon emissions before climate change becomes irreversible.
The protest began in front of City Hall, almost an hour before anyone was arrested. Speakers like Kendra Brooks, Candidate for Philadelphia City Council At-Large, and representatives from Earth Quaker Action Team and Philadelphia Poor People's Campaign voiced support for Sunrise Movement.
File photo: The protest began in front of City Hall. Kendra Brooks, Candidate for Philadelphia City Council At-Large, spoke to the crowd. (Naomi Brauner/WHYY)

Protesters begin to block the street and walkway in front of the building where the Democratic Party once had offices. (Naomi Brauner/WHYY)

Nijmie Dzurinko, Co-Chair of the Philadelphia Poor People's Campaign, speaks to the crowd about the way climate issues intersect with class issues. (Naomi Brauner/WHYY)

Protesters line up before marching to pressure Democrats to hold a debate about climate change. (Naomi Brauner/WHYY)

Two protesters take their posts at the elevators. (Naomi Brauner/WHYY)

A protester block an elevator in the building. (Naomi Brauner/WHYY)

Some of the arrested protesters singing from inside of the police van. (Naomi Brauner/WHYY)
Sunrise Movement spokesperson, Isa Flores-Jones, says the ten protesters who were arrested should be released within a couple of hours of their arrest. The group plans on greeting the protesters when they are released.
"We engage in this strategy of nonviolent, direct civil disobedience because we've been emailing Chairwoman Patton Mills' office for the entire month, we've been asking for this meeting … We want an arena to have a full conversation about the climate crisis and they simply aren't listening," Flores-Jones said.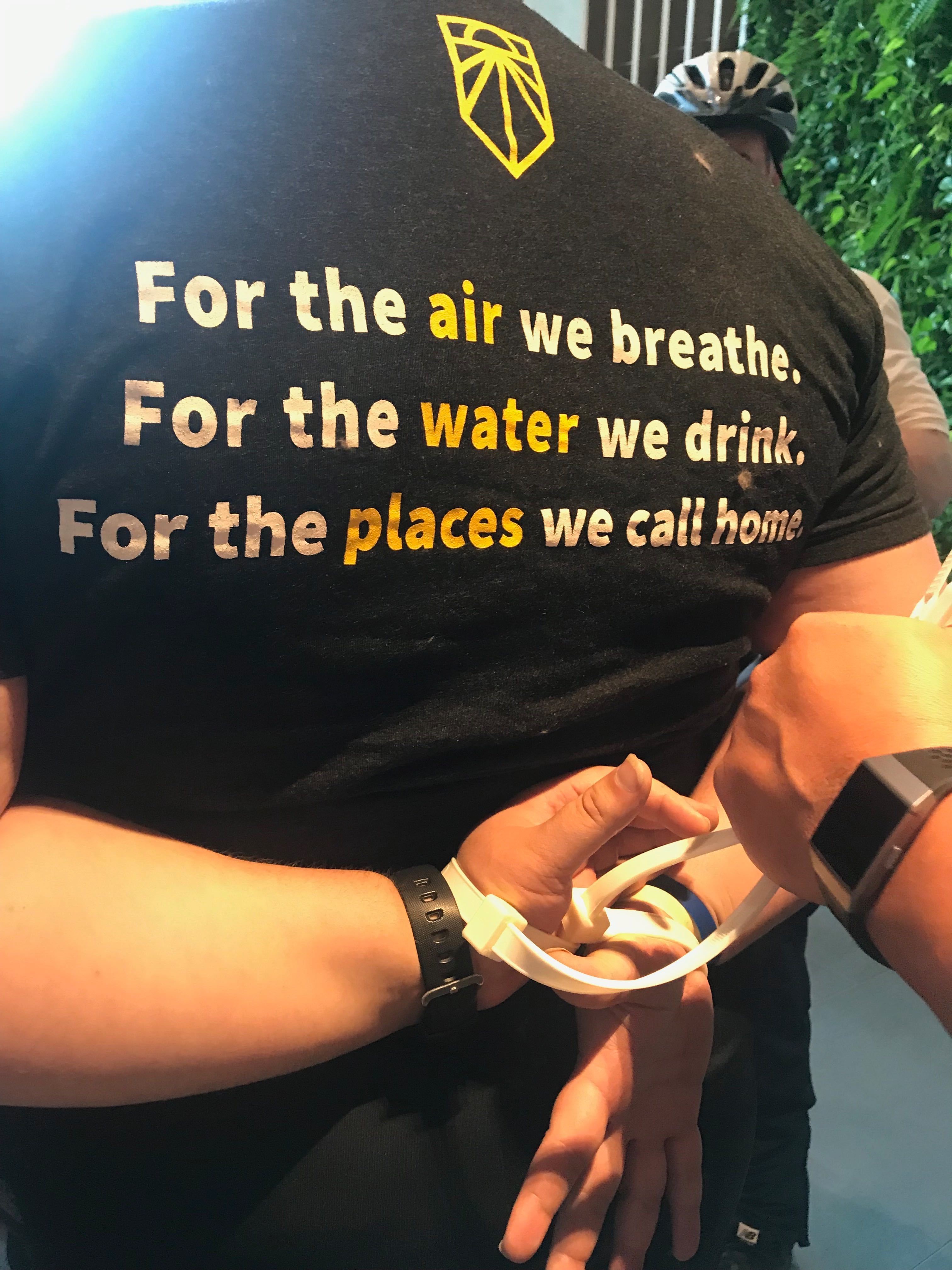 After the arrests, protesters returned to City Hall to sing one more song.
"Forget your perfect offerings/ just ring the bells that still can ring/ there is a crack in everything/ that's how, that's how, that's how the light gets in!"
Editor's Note: This is a corrected story. The original story failed to report that the location of the protest was the former offices for the Pennsylvania Democratic Party.
WHYY is your source for fact-based, in-depth journalism and information. As a nonprofit organization, we rely on financial support from readers like you. Please give today.