What's on TV: Grades 3-5
View educational shows airing on the Y2 channel for grades 3-5 and access links to lesson plans on PBS LearningMedia.
Specific episodes of the programs listed below were selected for the Y2 schedule to align with PA State Standards and the School District of Philadelphia's Term 3 and Term 4 curriculum. For more free educational resources, visit WHYY Brings the Classroom Home.
---
Literacy
Set in a rural Alaskan village, and featuring the adventures of Molly, her family, and friends, Molly of Denali models the many ways that children can access and create informational text in their daily lives. At the same time, the stories are infused with Alaska Native values, history, traditions, language, as well as contemporary life.
Watch Molly of Denali
View PBS LearningMedia activities for Molly of Denali
---
Subject: Math
Cyberchase is the Emmy award-winning animated math mystery show featuring a team of curious kids who use their math and problem solving skills to outwit and outsmart the villain Hacker in their quest to save Cyberspace. In addition to segments from the animated portion of the show, this collection of resources includes live-action For Real segments, in which hosts Bianca and Harry explore the show's math topics in everyday life.
Watch Cyberchase
View PBS LearningMedia activities for Cyberchase
---
Subject: Math
Welcome to Odd Squad: the zaniest, craziest team of kid investigators around! Explore content below targeted at making elementary-level math a fun, imaginative experience, mixing concepts like arithmetic and geometry with fantastical storytelling.
Watch Odd Squad
View PBS LearningMedia activities for Odd Squad
---
Subject: Social Studies
Engage students with Xavier Riddle and the Secret Museum, a PBS KIDS series based on the Ordinary People Change the World books by Brad Meltzer and Christopher Eliopoulos. The show follows the adventures of Xavier Riddle, his sister Yadina, and their friend Brad as they travel back in time to meet real life historical figures when they were kids.
Watch Xavier Riddle and the Secret Museum
View PBS LearningMedia activities for Xavier Riddle and the Secret Museum
---
Subject: Science
Join Jet Propulsion and his Earthling friends Sean and Sydney as they explore the vast reaches of the solar system!
Ready Jet Go! is a series aimed at PreK-3 students and covers topics in Earth science and astronomy. In this collection, students will watch fun, educational video clips about the planet Earth as well as the eight major planets in our solar system and their distinguishing characteristics. Additional themes like space technology and physical science are also addressed in this collection.
Watch Ready Jet Go!
View PBS LearningMedia activities for Ready Jet Go!
---
Subject: Science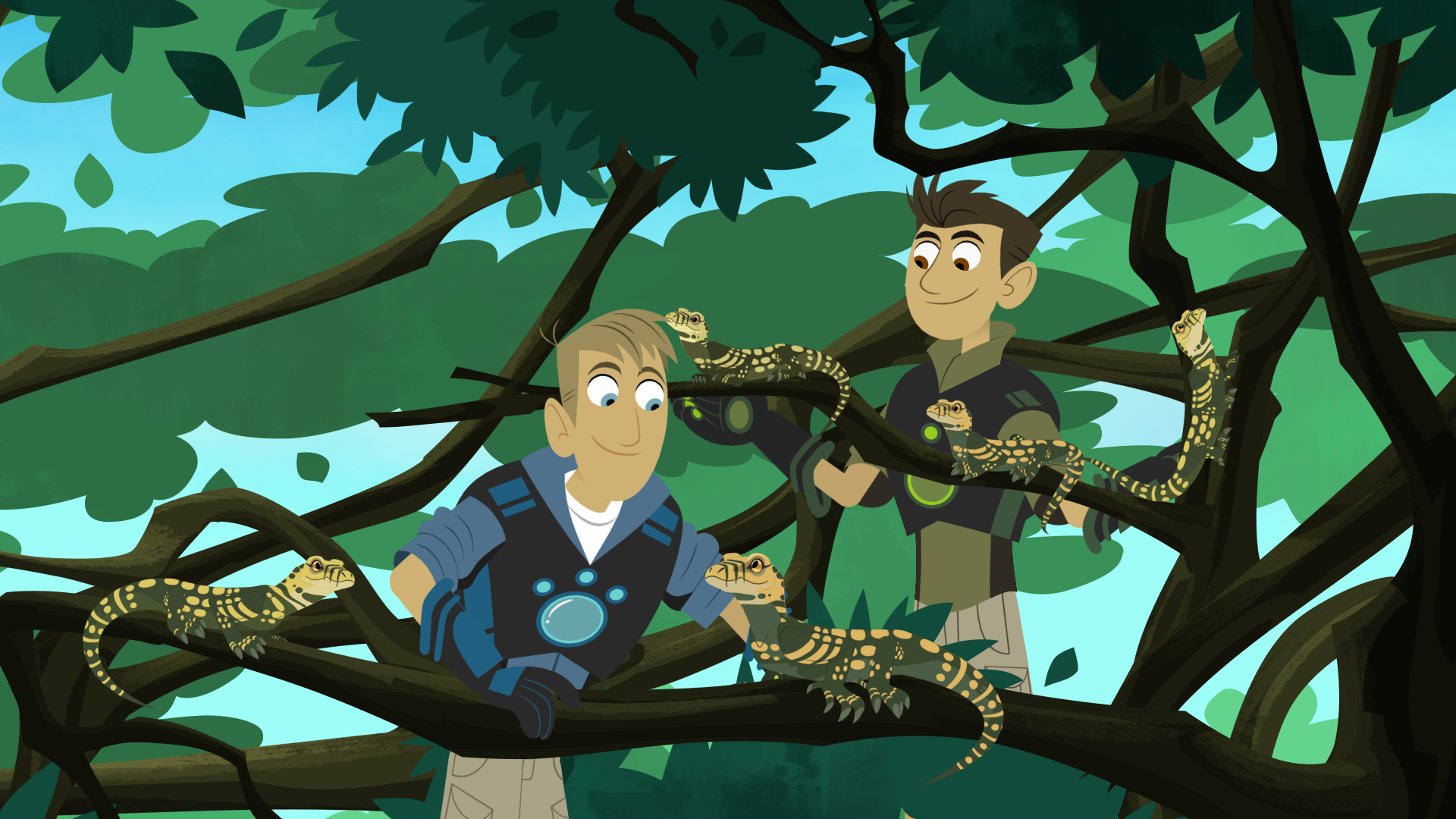 Wild Kratts joins the adventures of Chris and Martin Kratt as they encounter incredible wild animals, combining science education with fun and adventure as the duo travels to animal habitats around the globe. Each adventure explores an age-appropriate science concept central to an animal's life and showcases a rarely seen wildlife moment, all wrapped up in engaging stories of adventure, mystery, rescue, and the Kratt brothers' brand of laugh-out-loud-comedy that kids love.
Watch Wild Kratts
View PBS LearningMedia activities for Wild Kratts
---
Subject: English Language Arts
Animated Super hero WordGirl fights crime using her superhero strength and her colossal vocabulary with her monkey sidekick, Captain Huggy Face.
---
Subject: Science
The Sid the Science Kid on-air series and online resources provide many opportunities for teachers to introduce or reinforce early science concepts in the classroom.
Help your students think, talk, and work like scientists do with activities that explore "Science Tools" with the Science Adventures curriculum. Students will learn about some of the tools that scientists use including magnifiers, charts, measuring tools, and science journals.
Watch Sid the Science Kid
View PBS LearningMedia activities for Sid the Science Kid
---
Subject: Math/Generating Patterns
In each 11-minute episode, Peg and Cat find themselves thrust into the middle of a wacky word problem. This problem isn't just an academic exercise for them, it's a real life problem…a messy funny crisis they have to solve to get them out of trouble.
Along the way, they grapple with all kinds of loony, loopy obstacles, under intense time pressure. They write out diagrams and charts on the graph paper that comprises their background. They interact with one another in their own quirky, comical way. And somehow, they always find a way to solve the math and save the day.
Watch Peg+Cat
View PBS LearningMedia activities for Peg + Cat
---
Subject: Science/Plants
Foster students' interest in reading and writing, and encourage positive social skills with this collection of classroom resources from ARTHUR. Aimed at children between the ages of four and eight, these resources feature entertaining and educational activities for use at and away from the computer.
Watch Arthur
View PBS LearningMedia activities for Arthur
---
Subject: Science
In each episode, once his family leaves for the day, Fred transforms into Nature Cat, "backyard explorer extraordinaire." Nature Cat can't wait to get outside for a day of backyard nature excursions and bravery, but there's one problem: he's still a house cat with no instincts for nature. Like many of today's kids, Nature Cat is eager and enthusiastic about outside activities, but is at times intimidated by them. With the help of his animal friends, Nature Cat embarks on action-packed adventures that include exciting missions full of nature investigation, "a-ha" discovery moments and humor, all while inspiring children to go outside and "play the show."
Watch Nature Cat
View PBS LearningMedia activities for Nature Cat