To better counsel patients, doctors try handling firearms themselves
Emergency medicine doctor Emmy Betz wanted to get more comfortable with guns. Pistol instructor and family physician Michael Victoroff had a proposal for her.
Listen
12:55
When it comes to firearms, doctors may feel like they're on their own in navigating conversation and counsel with patients. For Marian (Emmy) Betz, now an associate professor of emergency medicine at the University of Colorado School of Medicine, firearms never came up in her medical training.
Beyond that, she says discussing firearm ownership is a challenging conversation, period.
"I think there's a lot of other barriers as well," Betz said. "Fear of alienating patients or offending them, not knowing what to do with this information and so forth."
Betz says doctors need to better understanding guns and gun culture, to better connect with and counsel patients. Yet she's the first to admit that she doesn't own a gun, and for most of her life, didn't know much about them.
A few years ago, Betz coauthored an editorial in the Journal of the American Medical Association, calling on doctors — including herself — to get more comfortable with firearms. Shortly after that, in August 2015, she was contacted by someone who would take her efforts in a totally new direction.
"I started with an email," recalled Michael Victoroff. "You know, I didn't want to be too brazen, right?"
Victoroff has a very different relationship with guns.
"I shoot a competitive pistol and a high-power rifle. I have a couple of AR-15's," he said. "I shoot shotgun like an amateur just for fun, blowing up clays. That's fun."
Victoroff is a certified National Rifle Association firearms instructor. He gets annoyed with what he sees as a growing rift about firearms in America, with conversations becoming hyper-political.
He's also a doctor, a family physician, and says he has his feet in two worlds.
Betz's article resonated with him. He told her he was on board with what she wrote, and then proposed that if she was serious about what she said, to do something else: take his pistol class. (Both doctors were based in Colorado.)
"I'll give you a certificate of completion at the end," he recalled saying.
"We'll go through the whole thing. You know, the bonafide NRA, no kidding, pistol class. But in addition, we're going to talk about how does this come across to you as a health professional."
Betz agreed. She and small group of doctors met up one weekend, at a community center, to take Victoroff's eight-hour class.
"I was excited but really nervous," Betz recalled.
The group examined lots of different unloaded guns, learning about the mechanics and safety mechanisms.
"We can all play with them and handle them, and we can spin the cylinders and rack the slides and pull the triggers," Victoroff said. "In a totally safe and contained and supervised environment."
Betz was surprised at all the different shapes, sizes, and models.
"I think I just had never really thought about that angle, and that for some people I think it can be — it's sort of a hobby in that sense," she said. "The mechanics of it are kind of interesting."
And then, after a few hours of initial training, the group headed to the range at a nearby gun shop.
"We're going to put a bullet into a gun and we're gonna fire them," Victoroff recalled explaining to the group. "You're going to see what that feels like because actually that is emotionally and intellectually at the same time, the whole point of crossing that chasm."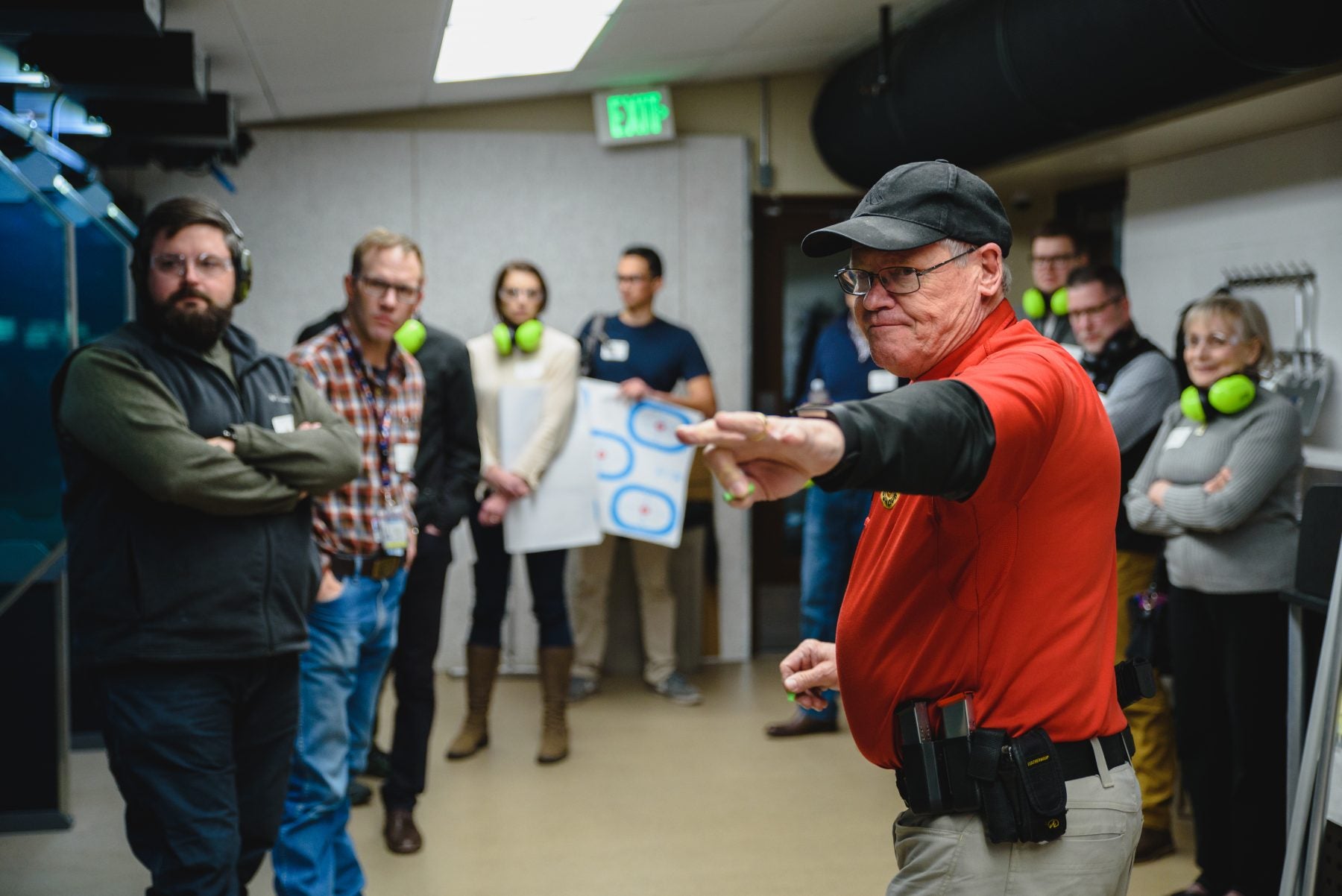 Betz didn't enjoy it.
"It was really an uncomfortable experience," she said.
She worried something might go wrong, like that someone might accidentally shoot her.
"That part made me nervous, and I realized that's irrational, probably, but that was sort of in the back of my head that it felt like an inherently sort of dangerous thing to do for fun," she recalled. "It's also sort of loud and you have to wear earplugs and then headphones, and so it's like your senses feel sort of dulled."
Still, Betz says she's really glad she went through it, the whole course.
"I haven't changed probably my own views on whether I'll ever own a gun or not," she said. "But I think it really helped me understand like, OK, I get why people go to the range for fun with their friends and enjoy target shooting or competitive shooting and so forth. It really helped me cross the bridge."
Betz keeps her pistol certificate in a drawer at her office, as a reminder. It's mixed in with some empty shell casings from that first trip to the range, gun safety brochures, and locks.
She doesn't think that full training is necessary for all doctors.
"I do think that physicians and other health care providers need more training, at least the classroom portion," she said. "I don't think they need the full eight-hour NRA course."
She is now trying to figure out what type of training and approach would be most effective, so that doctors get used to bringing this topic up more routinely with patients. She and Victoroff have since held three more pistol classes for doctors and psychologists.
They recently piloted a modified, three-hour training for about 20 emergency medicine doctors in Colorado.
When Betz isn't leading the trainings, she conducts research on firearms. She has been looking into how doctors handle the topic with patients who have dementia or some other kinds of cognitive impairment. She's also been working with a group of doctors focused on developing better guidance for doctors.
Michael Victoroff, the pistol instructor who is also a family physician, is older and doesn't see patients anymore. But he still thinks a lot about the discussions he used to have — and didn't have — inside the exam room over the years.
"I have to confess that I'm just learning now this decade about the conversations I should have been having with patients of mine years past who killed themselves," he said. "It's never the one you suspect."
He remembers a 24-year-old patient he cared for 10 to 20 years ago, "who did not seem the least bit depressed, but she had issues she was struggling with."
She took her own life.
Victoroff says a large number of people who end up killing themselves have visited their primary care doctor a week or a month before they commit suicide. And so those moments, he says, are vital opportunities to counsel patients, to help keep them and their firearms safe.
"I feel for sure I'd be able to save a life or two that escaped me in the past," he said.
WHYY is your source for fact-based, in-depth journalism and information. As a nonprofit organization, we rely on financial support from readers like you. Please give today.