The unleashed power of a personal story: 'Fun Home' at Arden Theatre Company
Listen
3:45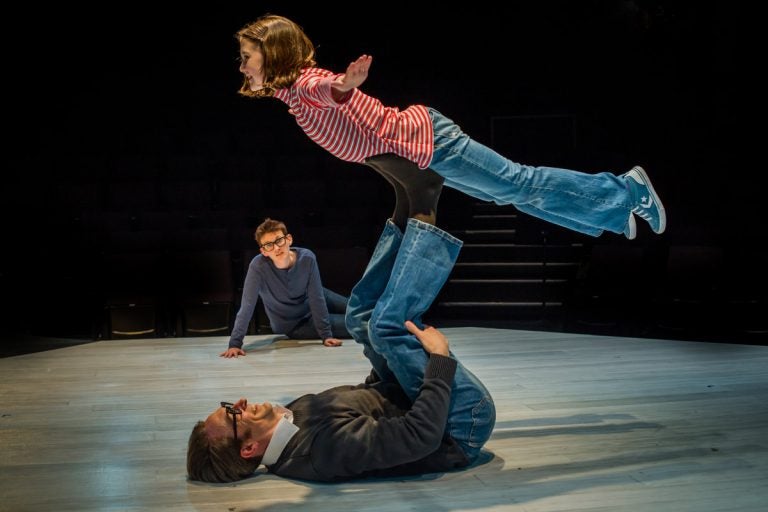 We don't wait long until Alison Bechdel, the narrator and central character of the musical "Fun Home," hands us the plot synopsis. She's become a graphic novelist, and she announces the captions of the story she's illustrating.
"Caption," she says. "My Dad and I both grew up in the same small Pennsylvania town. And he was gay. And I was gay. And he killed himself. And I became a lesbian cartoonist."
Quite a successful one, too.
"Fun Home," now in an Arden Theatre production so well-considered that it increases the ample power of the show, is the story of Bechdel's finding herself and coming out as a gay woman — and of her father's downfall. He's a not-so-tightly closeted gay man who destroys himself as a school teacher and funeral home director after hitting on a former student and family baby-sitter who's still a minor. (The funeral home gives the show its title.)
Bechdel — who plays three characters, actually, because we see her at different ages — wrote her family's history in a 2006 graphic novel whose wide critical acclaim forced uninitiated readers to take a serious look at the genre. In 2013, the Public Theater in New York opened this stage version, with music by the much respected composer Jeanine Tesori and lyrics by performer-playwright Lisa Kron, who also wrote the show's book. It transferred to Broadway and won the best-musical Tony Award two years ago.
The play is set mostly in Bechdel's tiny Pennsylvania hometown of Beech Creek in Clinton County, maybe a half-hour's drive north of State College. After we hear briefly from the grown-up Bechdel — a masterly performance throughout the show by Mary Tuomanen — we're introduced to the family house. It's a Victorian that Bruce Bechdel refurbished himself and where he and his wife (Ben Dibble and Kim Carson, rich talents each) raise their three children (Charles LaMonaca, Lyam David-Kilker and as the little-girl version of Bechdel, Kate Bove. All three kids are excellent, and Bove renders a fine "Ring of Keys," a pivotal song about the way a delivery woman at a local restaurant enchants her.)
The middle of the three Alison Bechdels (Izzy Castaldi) is a freshman at Oberlin who oh-so-hesitantly comes out to herself as she hooks up with a student (Jackie Soro) from the school's gay club. Back home, dad – demanding, rude to his kids, and always irritated except when he has to put on a good face – has been plying his former student (Robert Hager) with sherry, beer, and entreaties.
"Fun Home" is an amalgam of short scenes and songs – the song titles aren't listed in the Arden's program, and they weren't in the Broadway Playbill. Several characters have their moments in song, but it's not the score, sometimes passionate and sometimes perfunctory, that moves me. It's the scenes. I was happy to revisit them at the Arden, whose artistic leader Terrence J. Nolen directs them for maximum impact, aided by Thom Weaver's meticulous lighting.
One scene is a sad interchange between small Alison, who's drawing a map for school, and her dad, who insists she draw it differently – it's his way or the highway. (The highway is where, we learn early on, he will end his life in front of a truck.) Another scene has her preparing to go to a party, with her father forcing her to wear a dress and party shoes. There are others, all pointing to a father-daughter relationship so fragile that when it breaks, you wonder what took so long.
"Fun Home" is in a category you could call TMT, for therapeutic musical theater. These shows ("Spring Awakening," "Next to Normal," the current Broadway hit "Dear Evan Hansen" are others) are not intentionally meant as therapy, but they speak frankly to people who've experienced something similar to what the characters go through, either personally or in their families.
The Arden produced "Next to Normal" several years back — it's a show about a mother and her family who grapple with her increasingly profound mental illness after her son dies. After an initial week of Arden performances, a woman told me she'd seen it three times. On Broadway, people waited after that show to tell the actors personal stories.
Similarly, a woman I know well visited "Fun Home" on Broadway so many times, I stopped counting after five. Some people will do this because  "Fun Home" is stunningly honest in its depiction of gay self-discovery. For my friend, I think, the importance of a father-daughter experience was speaking to her. This is musical theater whose illumination bounds off the stage and directly into the seats, underscoring both the power of the work and the power of theater. "Fun Home" harnesses it unfailingly, and the Arden production shows why.
—
"Fun Home" is extended through June 24 at Arden Theatre Company, on Second Street north of Market Street. 215-922-1122 or ardentheatre.org.