The art of preserving and fixing rare books
Listen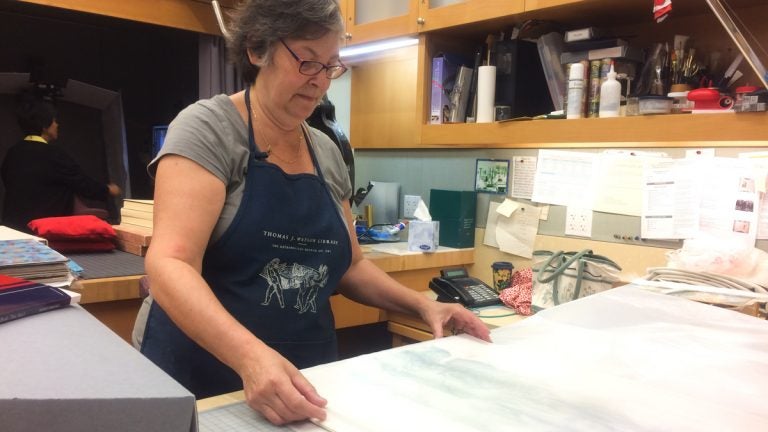 Mindell Dubansky has been repairing and taking care of books for 35 years.
Mindell Dubansky once slapped someone's hand for mishandling a book.
"I would put the book first. Definitely. But I don't think most people do. That's my job."
Dubansky is the head of book conservation at the Metropolitan Museum of Art, where she repairs and takes care of roughly 900,000 books, catalogs, and manuscripts, some of which date back to the 19th century.
The collection includes an invitation to Beethoven's funeral in 1827, letters from the French painter Manet and letters from the American painter James Whistler.
The Met is digitizing part of its collection to make sure the materials are preserved before the paper falls apart. Dubansky thought that meant her job was an anachronism now that books can be scanned and read digitally, but it wasn't the case.
"I've noticed a big increase in interest in our collection for exhibitions, I mean huge, like 500 percent in a year," she says. "Everyone wants to borrow our books, not just in the institution or from museum exhibitions but they're borrowing books for exhibitions all over the world."
"My boss Ken Soehner always said we have job security, that we're never going to run out of books that are falling apart, because as fast as we fix them, people upstairs are damaging them."
Dubansky knows not everyone cares as much about the books as she does.
"I'm attached to the object of the book, like I really believe that the handling of the book, the interaction with the book, is as important as the text…that's a little bit radical."
"Everybody who's a bookbinder, it's like cupid's arrow…you take a class, that's it. You know you have to be a bookbinder. It's a very strange obsession and passion. It's not just we decided, 'oh wouldn't it be interesting to be a bookbinder' and we'll study that. No it's like a compulsion."
Thirty five years ago, this was her first job, and she says it was a good fit because she wanted to fix things and not deal with people.
"Books are the best people have to offer," she says. "It's not so easy to write a book."
She says books come from the "people that have worked the hardest to do something, to make their lives count."
"I thought, 'what could be more important than keeping that going?'"
"And that's what I decided to do, because that's what I wanted to do. To me, that made me feel like my life meant something."
Dubansky says there's a lot of damage we can do to books just by reading them — "every time someone reads a book and fans through the pages, they're weakening that hinge…or the point of where the page flexes or the binding material flexes."
The library has five pages of guidelines on how to handle their books properly. Here's what Dubansky says she and other librarians hate to see:
We don't like when they lick their fingers and turn the pages and grab the pages from the corner.
When people want to show you something and they go, 'oh look' and then they'll start rubbing the pages. You know you're going to rub it right off eventually.
When you take a book off the shelf, grabbing it by the head cap and pulling…you always see all these breaks and tears on the spines of books.
A lot of books don't open well. We have book supports on the tables right there for people to use but people don't always know how to use them.
If you're taking notes and you put paper on the book, and then you write through it…in all the spy movies, that's how they know what you know…It leaves an impression on the pages.
"We can't have a perfect world for the books here because we really stress service and we want people to be able to use the books," she says. "We'll try as hard as we can to make sure they use them properly. But people will be people. We know what they do."
WHYY is your source for fact-based, in-depth journalism and information. As a nonprofit organization, we rely on financial support from readers like you. Please give today.