Settling into Bucks County, Syrian family has year of worry — and progress
With their two young children, refugees Moustafa and Amal are making a new life for themselves far from Syria's civil war. Their first year in the U.S. hasn't been easy.
Listen
4:37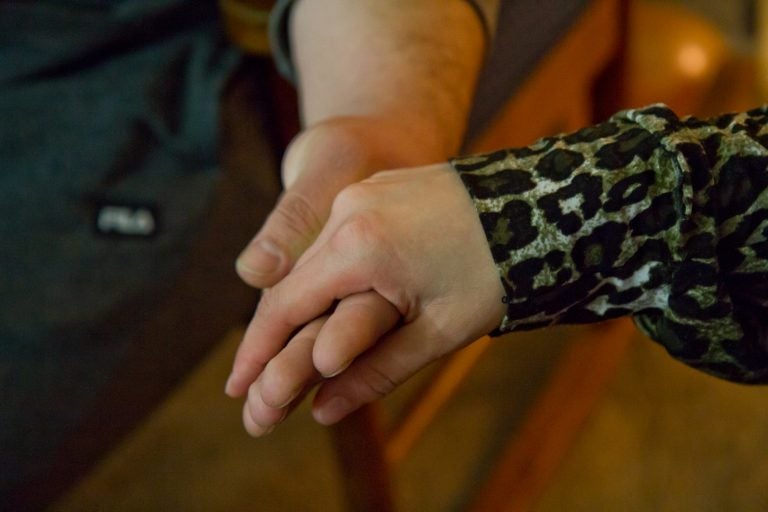 Moustafa sat at his dining room table, surrounded by English-as-a-second-language  worksheets. In front of him, volunteer Vicki Lynott propped a computer, playing YouTube videos to go with today's vocabulary. Since it's December, the lesson, naturally, is Christmas-themed.
Moustafa had trouble pronouncing the first 'n' in "ornament," but nailed another question that transcends cultural boundaries.
"What can the problem be if you eat too much food? What will happen?" said Lynott.
"Have a stomach ache," said Moustafa, without hesitating.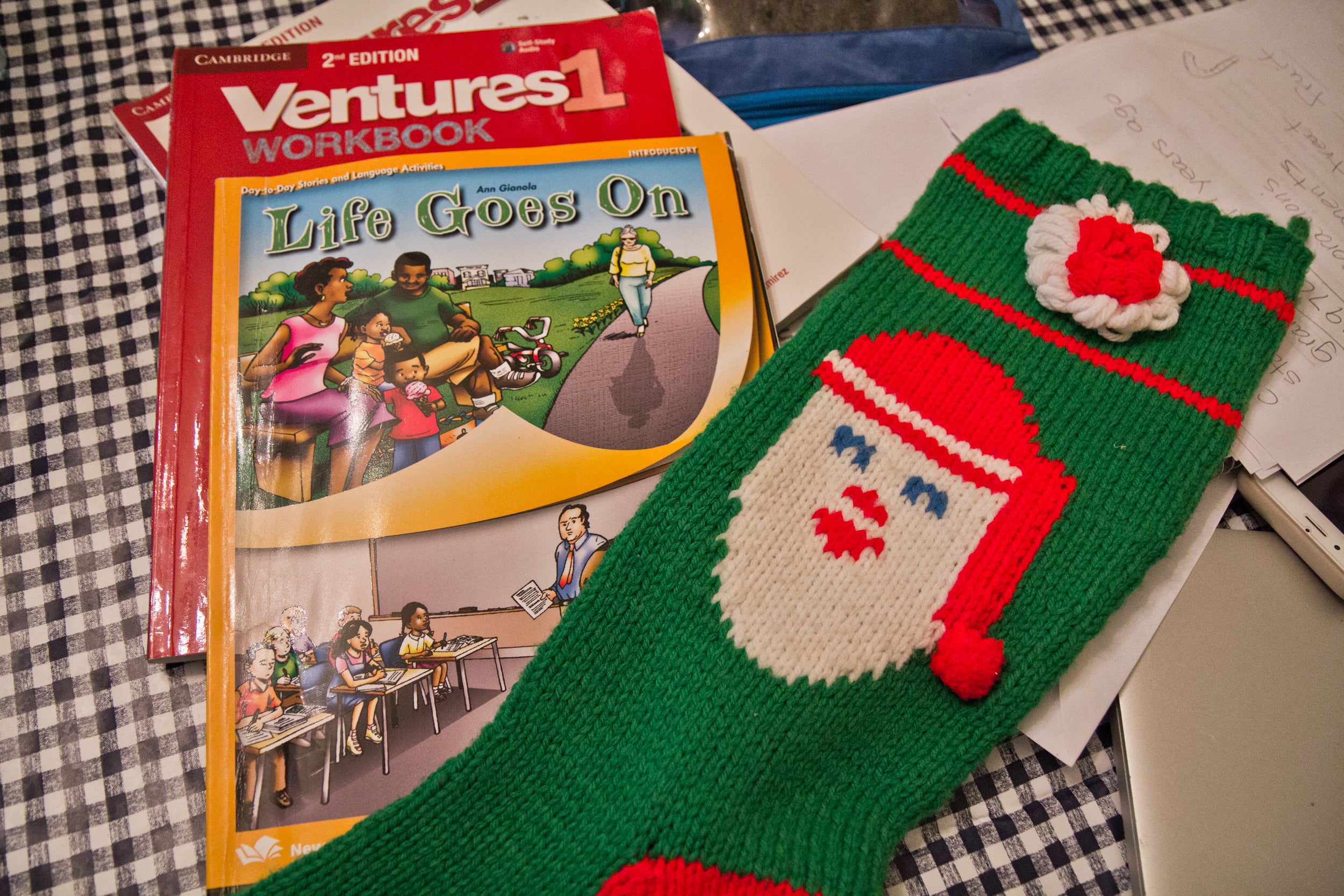 Moustafa is a refugee from Syria. The 22-year-old, his wife, Amal, 21, and their two young children Yusra, 4, and Rasha, 2, came to Bucks County on Nov. 13, 2016. They asked WHYY to use only their first names because they want to avoid any chance that talking to the media might harm family members still in Syria.
Two months after their arrival, an executive order by President Donald Trump banned refugees entirely and, initially, restricted travel from seven countries, including Syria, citing concerns about terrorism.
A desire for security is why Moustafa and his family left Syria. Now, fears over their personal safety have been replaced by a new anxiety — how to pay the bills.
The family's two-bedroom apartment, in a sprawling beige complex in Morrisville, is cozy but sparse. Computer paper printouts of phrases such as the Arabic equivalent of "Home Sweet Home" hang on the walls. Moustafa's wife, Amal, set out fruit and cakes for visitors. Stickers with the English words for everyday objects, like "door," linger on surfaces around the apartment. They signal the steep learning curve the family has faced over the last year.
A few weeks into their new life, Moustafa got a cashier job at a local 7-Eleven. His boss speaks Arabic, but he didn't speak English.
"It's funny," he said, laughing at the absurdity.
The first phrase he learned there was, "I have."
"Second word, 'change'," he said. "[Then] 'How much?' 'How many? '"
Squaring off against adversity
Despite his good humor, the task of acclimating is daunting.
"It's really tough. It's tough to be poor in this country, and then to come in from another culture where you've been through trauma and violence … and then have to pick up and make it work," said Bob Anderson a volunteer with the Bucks County Interfaith Coalition for Refugee Resettlement.
Intensive government aid for refugees continues only about three months, so the local volunteer group formed to provide ongoing support for the family. That meant furnishing their apartment before they arrived, bringing clothes and food, and driving them to doctor's appointments in the first few months, right up through providing today's ESL class.
To get to the U.S., Moustafa and Amal overcame quite a bit, a fact that's not obvious when you meet them. They're both in their early 20s and smile easily. Moustafa's mustache barely shades his upper lip, and Amal looks girlish in a matching leopard-print headscarf and long-sleeved dress. She has a tendency to smile even when talking about events as painful as the Syrian civil war. War separated her from her family, and recent court rulings on Trump's executive order's banning Syrians mean they are indefinitely barred from traveling to the United States.
"I want more Syrians [here]," Amal said, when asked about the ban.  "I have five sisters, they are refugees. I have a sister in Jordan, I have a sister in Lebanon, I have a sister in Turkey, and my sister in Aleppo, two sisters."
The young couple left Aleppo after several of Moustafa's family members were caught in the crosshairs of the war. One night, his father was on the balcony of their house, when a stray bullet struck him in the stomach. Moustafa's parents received refugee status in Canada.
With safety concerns behind them, Moustafa and Amal hope to continue to climb the economic ladder into the American middle class.
"I look now for a new job," said Moustafa, before switching to Arabic to explain that everything is more expensive in the U.S. The wages at 7-Eleven are not enough to support his family.
But those everyday concerns are built on a foundation of triumphs. Before moving to Bucks County, Amal had never driven a car and didn't speak English.
Now, with her license, she is the family's de facto chauffeur, taking their 4-year-old Yusra to pre-kindergarten in Levittown, Moustafa to work, and driving to the store.
On a recent frosty Monday, Amal was running late for Yusra's class, and her daughter fussed impatiently in the backseat of the family's used sedan.
A couple of minutes past the 12:30 p.m. start time, Yusra got out of the car and charged up the steps of the school, into her teacher's arms.
In this moment, the couple appears to be right on track for the safe and prosperous future they want for their kids.
Editor's note: This article has been updated to reflect that it was seven countries initially targeted in the travel ban, not six.
WHYY is your source for fact-based, in-depth journalism and information. As a nonprofit organization, we rely on financial support from readers like you. Please give today.