Saying goodbye to Philadelphia's first black Catholic church
For the last 30 years, former parishioners of St. Peter Claver have hoped for a miracle.
Listen
5:41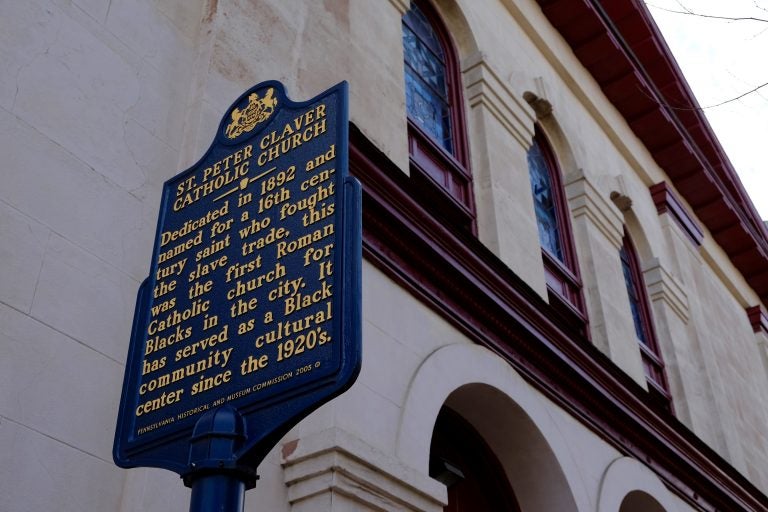 Over tea, at her kitchen table, Adrienne Andrews Harris cracks open a thick binder containing the story of St. Peter Claver Roman Catholic Church. It's a blend of personal and parochial history, as these things often are, tracing stories from the establishment of the mother church for black Catholics in Philadelphia through generations of her family's story, and most recently through the fight over its demise.
For the last 30 years, former parishioners of St. Peter Claver have hoped for a miracle. They have prayed, lobbied, and begged for some intervention that will revive their church, officially closed by the Archdiocese of Philadelphia in 2014. They have appealed for help from everyone they could think to ask, including writing Pope Francis at the Vatican. Their efforts slowed but did not stave off the Archdiocese's closure or now its plan to sell the 176-year-old church at 12th and Lombard — a potential revenue-generating move, made possible by a court decision in December to clear deed restrictions that had prevented the property's sale and put racial limitations on its use.
In a city with one of the nation's most deeply rooted black Catholic communities and a wealth of preserved buildings, parishioners like Harris see it as the deepest kind of insult.
"I don't want it sold. I think the history is too important, especially at this time when this country is so racially divided and things are so ugly. This is not a time to throw out black history," she said. "This is holy ground. Our ancestors had their feet here. They sat in these pews… You don't see Philadelphians giving away Constitution Hall, but anything black is replaceable."
Black Catholics have worshiped in Philadelphia since its earliest congregations, Old St. Joseph, Old St. Mary, and Holy Trinity, were established in the late 1700s. But mass was segregated; black people typically had to sit separately, in a balcony or at the back of the church, and often received sacraments after whites. As more Catholics from the West Indies came to Philadelphia, including refugees from the Haitian revolution, the city's population of black Catholics grew. With the Great Migration came another wave.
In the 1880s a group of black Catholics formed the Union of St. Peter Claver for Colored Catholics and raised funds to establish their own church. In 1886 they began worshiping separately, first at Holy Trinity at 6th and Spruce streets and then in a rowhouse at 832 Pine Street, which also housed its school. With an assist from Katharine Drexel, they acquired and renovated the former Fourth Presbyterian Church, a building designed by architect Thomas U. Walter. In 1892 it was dedicated as St. Peter Claver, named for a 16th century Jesuit who fought the slave trade. The school building next door was built in 1906. At the time, the Seventh Ward – stretching from Seventh to the Schuylkill River, Spruce to South – was a diverse enclave with the city's highest and oldest concentration of black residents. The area entered the national consciousness as the setting for W.E.B. DuBois' 1899 study, The Philadelphia Negro.
St. Peter Claver is one of the several "Mother churches" among black Philadelphia congregations, including Mother Bethel A.M.E. (founded 1794), African Episcopal Church of St. Thomas (founded 1792), and First African Presbyterian Church (founded 1807). Though creations of racist and unequal systems of segregated worship, these churches quickly overcame these beginnings to become hubs of black community life with schools and vital social programs.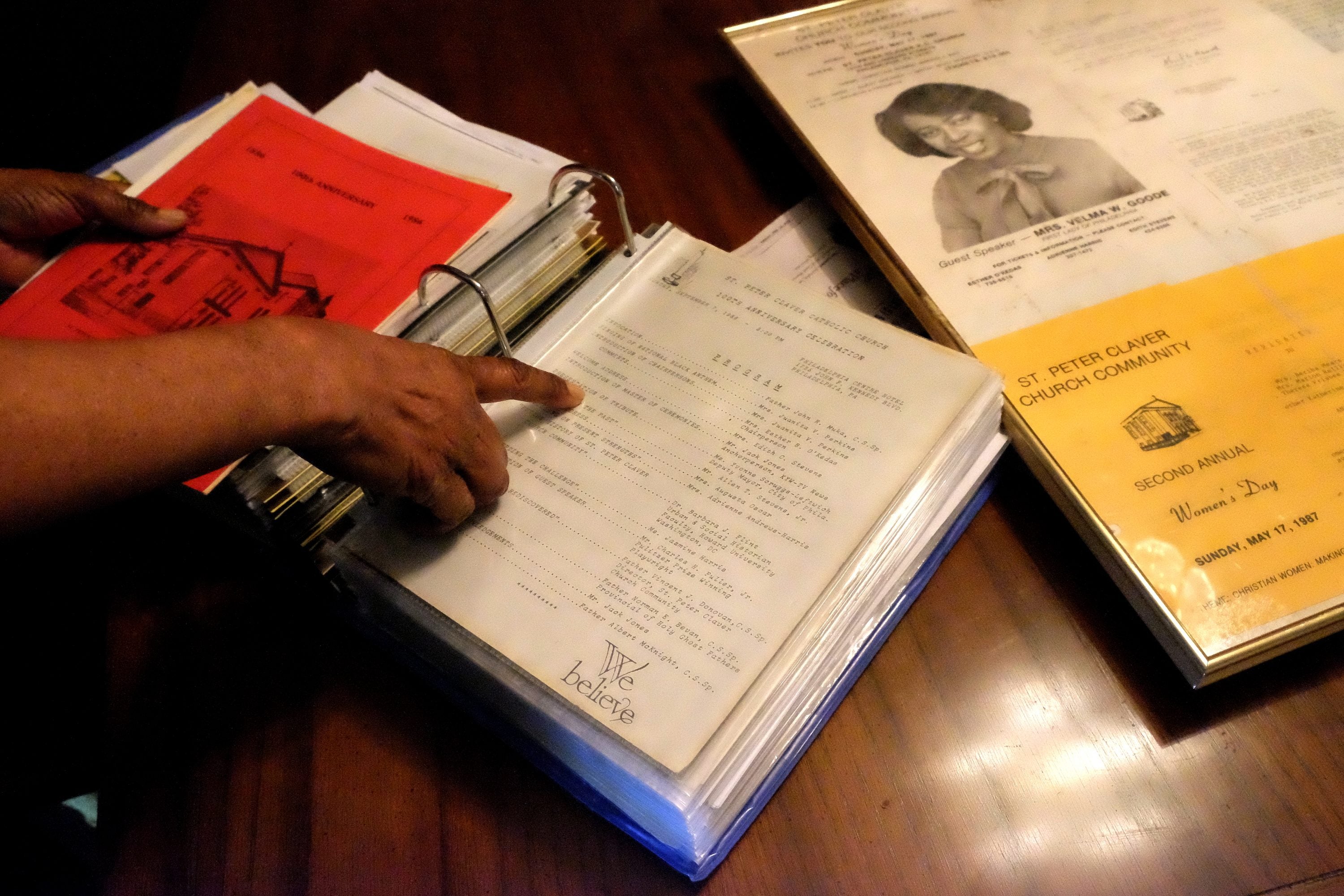 Juanita O'Kedas Perkins-Qui grew up in a big family that belonged to St. Peter Claver for generations. "People from different denominations used to come and have banquets [in the school auditorium] because people of color couldn't go to the Bellevue-Stratford. We couldn't go to any of those places," she said. "We were truly a church family."
"And you should have seen our church on Easter Sunday. Oh my God. It was like flowers in the meadow," Perkins-Qui said. "There wasn't a child that didn't have an Easter bonnet, or a hat and gloves. Dressed from the skin out and hair was done to the nines." After lingering long outside after church, everyone would head home to change, and return that evening for dinner and a dance in the auditorium, she recalled.
A gregarious cantor (and crossing guard), Perkins-Qui, 69, lives in the house where she grew up in nearby Hawthorne. She has watched the old neighborhood change, but this is different. "All of my childhood landmarks are gone but St. Peter Claver was the rock. The rock." She says that loss feels like having a fire destroy your house. "It hurts my heart to see."
These days the neighborhood around St. Peter Claver is decidedly whiter and higher-income than it was in her youth. According to a 2016 study by the Pew Charitable Trusts, Washington Square West's median income is around $66,000, and its inhabitants are 81 percent white. Six houses recently built across 12th Street from the church each sold for around $1.5 million. And for the Archdiocese, the neighborhood's high real estate values provide an incentive to sell.
"The plan all along has been to utilize proceeds from the eventual sale of this Archdiocesan property to provide financial support for ministerial outreach efforts to the black Catholic community," said Ken Gavin, spokesman for the Archdiocese.
That plan is backed by an order from the Orphans' Court Division of the Court of Common Pleas. In a ruling delivered in December 2017, Philadelphia Judge Matthew Carrafiello mandated that one-third of the proceeds from the sale be used to benefit the community that was once served by St. Peter Claver. The Archdiocese says it will create an endowment from the sale to support ministry by its Office for Black Catholics. Today, four percent of Philadelphia Catholics are black.
"African Americans have been so incredibly marginalized in the Catholic Church and in the broader society, and to have a place where they knew they would be welcome is incredibly important," said Dr. Tia Noelle Pratt, who teaches at Saint Joseph's University and studies systemic racism in the Catholic Church with an emphasis on African-Americans. The story of black Catholics worshipping in their own spaces is complex, she notes, mixing a history that was exclusionary as well as empowering. But seeing St. Peter Claver close, she said, is a big deal – particularly for those whose major life events, family history, and community are so intertwined with the place.
Girls first communion class, St. Peter Claver Roman Catholic Church, c. 1910-1920. / Historical Society of Pennsylvania.

1926 St. Peter Claver First Communion Class / Historical Society of Pennsylvania

St. Peter Claver students, c. 1910-1920. / Historical Society of Pennsylvania.

St. Peter Claver students, c. 1910-1920. / Historical Society of Pennsylvania.

St. Peter Claver interior c. 1910. / Historical Society of Pennsylvania
That's true for Harris, 73, who also grew up nearby. Her grandparents settled at 1111 Rodman Street, just around the corner from St. Peter Claver. She showed me pictures of her maternal grandparents, Blanche and "Big Jim" Simmons – an accountant and 700-pound "fat man" with a black circus, who died far too young. Like her mother, Harris was born into St. Peter Claver, went to school there, and married there. She has a photograph from 1933 showing her mother and her mother's twin sister among the seven black girls graduating from St. Peter Claver's eighth grade that year, poised in crisp white dresses alongside two white priests.
Harris said her teachers there, Sisters of the Blessed Sacrament, encouraged students to strive for nothing short of excellence. "We learned not to settle." That sense of drive is partly where she thinks the fight stems from among former parishioners.
Though black Catholics created a vibrant community of faith at the church, Harris said the Archdiocese never really supported St. Peter Claver. From the start, diocesan priests didn't staff it. Katharine Drexel drew the Holy Ghost Fathers to administer the parish, a missionary tradition whose work overlapped with Mother Drexel's in serving Black Catholics in the urban North.
The Archdiocese "suppressed" the parish in 1985, meaning sacraments like baptisms and weddings couldn't be offered there any longer, and members were encouraged to join other congregations. Some parishioners were so upset they threatened to hold funerals in the middle of the intersection at 12th and Lombard  – and won a short reprieve for the benefit of parish elders. This was just a year before St. Peter Claver's centennial, and a group of parishioners set out to research and archive its history, moved by the feeling that the very existence of something that once felt so fixed and central was jeopardized.
In 1984, the city recognized the property as worthy of historic designation and added it to the Philadelphia Register of Historic Places. Listing on the local register means that the building can't be demolished or the exterior significantly altered without approval by the Philadelphia Historical Commission.
Despite the suppression of the church, masses were still celebrated there for several years, and the community rallied around it. But the Archdiocese had its own plans, which played out slowly over decades. It established the St. Peter Claver Center for Evangelization at the church in 1986 and in 1994 the congregation was informed, from the pulpit, that the church would close and only be used as the center. The doors finally closed in October 2014. At the time, a statement from the Archdiocese noted diminished programs and attendance at services. But the news also came in a period of financial distress for the Archdiocese, straining from issues like pension obligations and abuse scandals.
"Certainly, we wish it had been possible to continue operations there, but demographic shifts within the community made it necessary to change the mode of ministry based on where people are," said Gavin, the diocesan spokesman.
St. Peter Claver School closed in 1984, and since 1985 it has been used by Women of Hope, a Catholic Social Services residential program for women struggling with addiction, poverty, and homelessness. Because of the sensitivity of that population, the property is not yet for sale.
"We hope to market the property as soon as practicable, but there is no firm timeline," Gavin said. "Making sure that appropriate care is provided for those served by Women of Hope is of paramount importance. We are in the process of determining where and how that will happen without interruption of service."
These social services will probably move. The buildings will sell. Congregations serving black Catholics should benefit through new support from the proceeds. But what will become the place that was St. Peter Claver and its legacy?
Dr. Stephanie Clintonia Boddie, a professor at Baylor University who has studied historic black congregations in Philadelphia and co-led a research initiative on the Seventh Ward, describes the church campus as an important vessel of community history and pride. It is a "a national treasure and historic marker reminding us to stay on the path for racial healing, reconciliation and justice," she said.
For Harris, the fight has come to an end. She doesn't go to church anymore. And she has donated most of her St. Peter Claver archive to the Blockson Collection at Temple University. She says caring about St. Peter Claver these days feels like sitting bedside with a dying parent. "I will sit with it and hold its hand until it exists no more. My history is gone. I've done the best that I could to preserve it."
WHYY is your source for fact-based, in-depth journalism and information. As a nonprofit organization, we rely on financial support from readers like you. Please give today.