Robert Indiana's complicated relationship with LOVE
Listen
2:41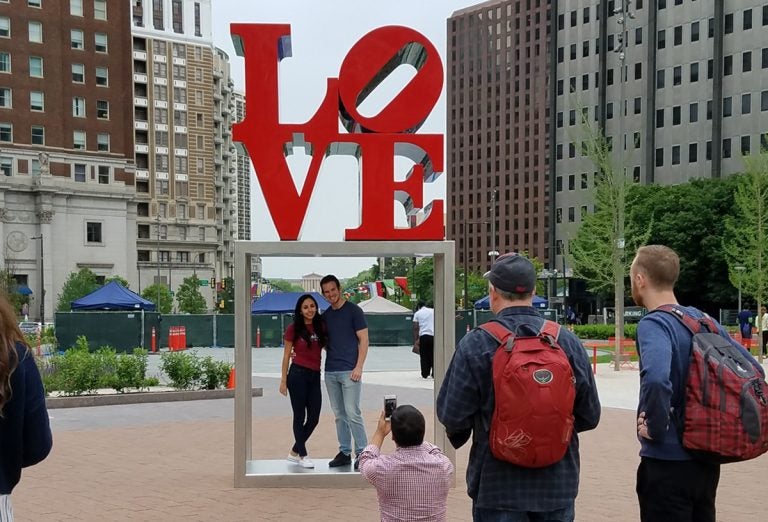 The artist behind the iconic Philadelphia LOVE sculpture has died. Robert Indiana, 89, passed away at his home in Maine. In declining health for a few years, he died of respiratory failure on Saturday.
Indiana was, like love itself, complicated.
Most people identify him as a pop artist, but Indiana never saw himself that way. He saw himself more aligned with the "hard edge" school, like his friend Ellsworth Kelly.
He didn't like things to be soft. For example, by putting the elongated "O" of LOVE at a tilt, it makes the sculpture a perfect square.
Indiana also didn't like things simple, although he strove for graphic simplicity.
"What have I learned about love? It's a dangerous commodity, fraught with peril," he said during an interview for an unfinished documentary film by American Insight productions.
Indiana was a reclusive artist who rarely visited Philadelphia. His last known visit was about 25 years ago, according the city's Office of Arts, Culture, and the Creative Economy. The office maintains the LOVE sculpture and recently acquired its companion AMOR, but it has never had direct communication with the artist, always going through a mediator.
In his seclusion, Indiana kept tabs on his works. Recently his representatives filed a lawsuit against retailers of LOVE souvenirs for using his copyrighted imagery.
The day before he died, the organization representing Indiana — Morgan Art Foundation — filed a lawsuit against an art publisher and Indiana's caretaker accusing them of exploiting the aging artist by producing unauthorized work in his name.
In Philadelphia, the LOVE sculpture has been a social magnet for four decades, attracting tourists, locals, and more than its fair share of graffiti.
"Unfortunately, it had been the victim of a lot of vandalism, more so when skateboarding was a big part of LOVE Park culture," said Margot Berg, the city's director of public art. "Their way of showing love — not that I'm blaming them — was to vandalize it."
And, also like a magnet, the iconic sculpture repels other art.
"It's got a big personality. It has a big presence. It is our LOVE," said Berg. " It holds its own in the park and nothing else can co-exist in the space with it."
Indiana made several dozen LOVE sculptures, including versions translated into Spanish, Chinese, and Hebrew. But Philadelphia's is unique — it's the only one featuring purple.
During a conservation job in the 1990s, the purple background was — erroneously — painted blue to match other versions of the sculpture as well as the 1973 U.S. postage stamp. During preparations for installation in the newly renovated park, the color was restored to purple.
"Part of what makes the sculpture so iconic for Philadelphia is not just the meaning behind it, but the way it's sited," said Penny Balkin-Bach, president of the Association for Public Art. "There are many, many other sculptures of LOVE around the world, but none of them has the presence that Philadelphia's LOVE sculpture has because it's elevated, it sits at one end of the Parkway, and you can see the landscape of the city behind it. "
Philadelphia has three LOVE sculptures: one in LOVE Park near City Hall, one on the campus of the University of Pennsylvania, and a Spanish-language version, AMOR, on the Ben Franklin Parkway.
The LOVE sculpture was far from the only thing Robert Indiana did. He was also a prolific painter, who liked to use words and letters in his work. He had mixed feelings about the LOVE sculptures: their global popularity eclipsed all his other work, hampering his reputation as an artist. That was one of the reasons he secluded himself on an island an hour off the coast of Maine.
WHYY is your source for fact-based, in-depth journalism and information. As a nonprofit organization, we rely on financial support from readers like you. Please give today.