Rethinking life inside 'A Doll's House'
Ibsen's characters, warring again in another version of the play.
Listen
2:47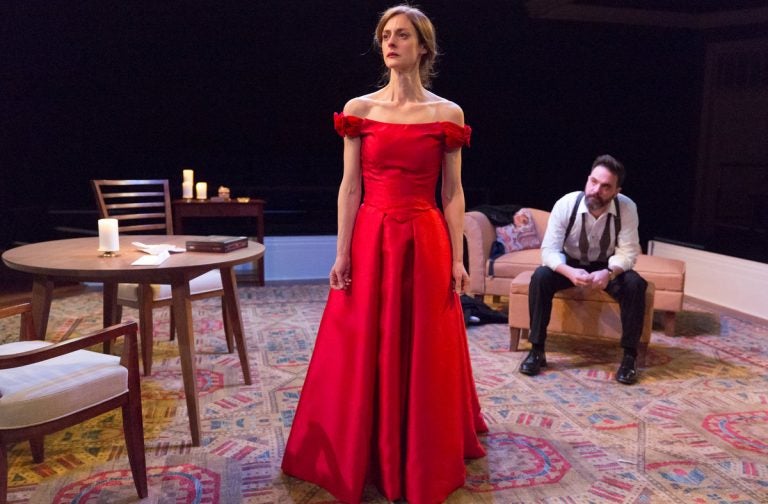 'A Doll's House,' Arden Theatre Company
Second Street, north of Market Street
Runs through Feb. 25
215-922-1122
ardentheatre.org
—
It's been almost 140 years since Henrik Ibsen wrote "A Doll's House," his forward-looking play and one of the theater's most compelling emblems of feminism. In a version by Simon Stephens that Arden Theatre Company opened on Wednesday, the play still traces a woman's unsure route to liberation. But it's less compelling.
Does billing it as a "version" and not a translation from the original Danish give Stevens more room to move with the play? That's probably the intent. (Ibsen was  Norwegian, but Danish was still Norway's standard written language at the time.) If you've seen "A Doll's House" in the past couple decades, the play was likely translated by Christopher Hampton, the prolific writer who has adapted work for films ("Dangerous Liaisons," "Atonement") and theater (the musical "Sunset Boulevard," "God of Carnage"), and holds both an Oscar and a Tony. I have no idea how closely his translation of "A Doll's House" sticks to Ibsen's original – my Danish, probably like yours, doesn't exist. But I do know that what Hampton wrote makes for a compelling play.
Simon Stephens is also prolific and a Tony winner, too, for adapting "The Curious Incident of the Dog in the Night-Time" a few years back. He wrote his version of "A Doll's House" around the same time, and at the Arden you can immediately hear a difference in the way the play's ill-fated husband and wife – Torvald and Nora – address each other. The English is more modern without being so current that it takes the characters out of their time. Torvald still patronizes Nora with names like "little hamster" (ugh) and "sky lark" and "bluebird." She still responds with a smile. But things seem lighter in their household.
This works for the first half, in which the Arden's leader, Terrence J. Nolen, stages the play with a pleasantly swift cadence and an indisputably talented cast. (The production is played in the round and co-conceived by Nolen and designer Jorge Cousineau, whose living-room setting is topped by handsome wooden framing that suggests a ceiling.) Katharine Powell's portrayal tells us that she uses a subtle childlike quality to please Torvald, played with an amiable yet patronizing attitude by Cody Nickell.
In short order, we meet all the play's major characters: their gloomy good friend Dr. Rank (Scott Greer), their accommodating nanny (Joilet F. Harris), an old friend of Nora's who seeks a job at the bank Torvald newly manages (Becky Chong) and a down-and-out man (Akeem Davis) from whom Nora – not so childlike, after all – has secretly borrowed money she's still paying off. She used it to take her ailing husband to Italy, where the climate helped heal him.
Why Torvald never really questioned how they could afford that trip – the story she told him is her family paid for it – well, that's a lapse in a play that's transparently contrived in any case. But the big question in "A Doll's House" – is it OK to do something you know is wrong in order to achieve something you believe is right? – overrides any of the play's weaknesses and makes it always relevant. The play's feminist side comes toward the end and involves that question as well.
In the second half of Stephens' version, when everything comes to a head, the play begins to fall apart. He, aided by Nolen's direction, turns Nora into a little siren. She slinks around, oozing charm yet repelling any reaction to it. For his part, Torvald seems to turn on a dime – once he learns what Nora's done, he's suddenly fierce and furious. We haven't been prepped for this in the character-building so far. The production also slows its pace, to the point of being belabored.
Stephens' script doesn't help. His rewrite clouds the motives in the couple's major argument at the end. Spoiler alert here: As a result, Nora's decision to leave him feels anything but organic. I've seen two productions of "A Doll's House" that drove some members of the audience to applaud when Nora picked up a suitcase and walked out the door. In this one, it's more an anti-climax – you want to yell "do it already!"
Stephens omits a piece of the play's puzzling last line, delivered by Torvald, possibly because it's always been so open to interpretation. But like much of his version, it's hard to see how that strengthens the play. Sometimes, things get lost in translation. Here, they just get weaker.
Note: The original Web posting of this review had an inaccurate age for "A Doll's House." The play premiered 139 years ago.
WHYY is your source for fact-based, in-depth journalism and information. As a nonprofit organization, we rely on financial support from readers like you. Please give today.