Marjory Stoneman Douglas alumni in Philly create comedy show to benefit Parkland students
Listen
2:20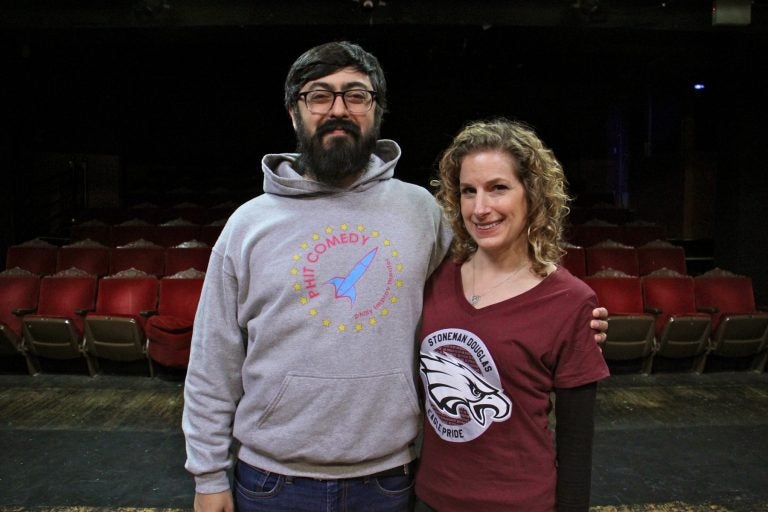 In the wake of the Parkland, Florida, shooting, graduates of the Marjory Stoneman Douglas High School scattered around the country immediately sought one another out to help their alma mater.
Using Facebook, about 11,000 formed regional groups to organize events for the benefit of the school and its students.
This weekend, alumni have organized the first benefit in Philadelphia — a comedy show.
"Eagles Fly Together: Philly Comedy Stands with Marjory Stoneman Douglas" is set for Philly Improv Theater Sunday evening. (Both Philadelphia and the high school have eagle mascots.)
There's nothing funny about school shootings; the jokes onstage will not refer to the tragedy in Florida. Improv performers — who invent a scene on the spot and wring it for humor — can often reach for extremes in search of a joke. But Philly Improv Theater will set parameters to avoid offensive or painful material, and performers promise an evening of healing and laughter.
"That's what's exciting about improv for a lot of people. Anything can happen!" said company member Neil Bardhan. "Sometimes anything can happen, and it's a beautiful opportunity. Other times, anything can happen, and it's a dangerous opportunity. A big part of being on a good team is figuring out how you want to narrow that space."
Rebecca Salus graduated from Stoneman Douglas in 1996. Last year, she landed a job in the Philadelphia area doing social work. An experienced improv comedian, she sought out the local comedy scene before she secured an apartment.
"I did not know one single human being before I moved here," said Salus. "Improv is a very social outlet because it's a team sport. Everyone has to work really closely together."
When fellow alumni began mobilizing online, Salus discovered at least 30 people in the area from her old high school. As a point person to rally Philadelphia support for Stoneman Douglas, she asked her new comedy home, Philly Improv Theater, to host a benefit performance. The company readily agreed.
The shooting hit Salus hard. All of her family still lives in Parkland. Her nephew attends a nearby middle school that was locked down the afternoon of the shooting.
Being so far away made Salus feel disconnected and helpless. Improv comedy — often used as a corporate team-building exercise — could be just the antidote she and the other alumni need. Many are expected to be in the audience on Sunday.
"I have lovely friends up here that are trying hard to be supportive, but there's some comfort in connecting with people who feel the same way," she said. "All of the alumni are feeling very much that this is personal, that this happened to us, and we share the responsibility for being supportive and promoting change."
All proceeds from the comedy show will go to help pay for current students of Stoneman Douglas to attend the March 24 "Marching for Our Lives" event in Washington, D.C. Other Stoneman Douglas alumni in Philadelphia are planning a similar march in Center City on the same day. It's one of more than 700 events planned worldwide.
WHYY is your source for fact-based, in-depth journalism and information. As a nonprofit organization, we rely on financial support from readers like you. Please give today.