Philadelphia's new spot for fresh fish is … in a school?
Fishadelphia links fish harvesters in New Jersey with consumers in South Philadelphia. It's the city's first "fish-share" program, and it's run by South Philly students.
Listen
2:16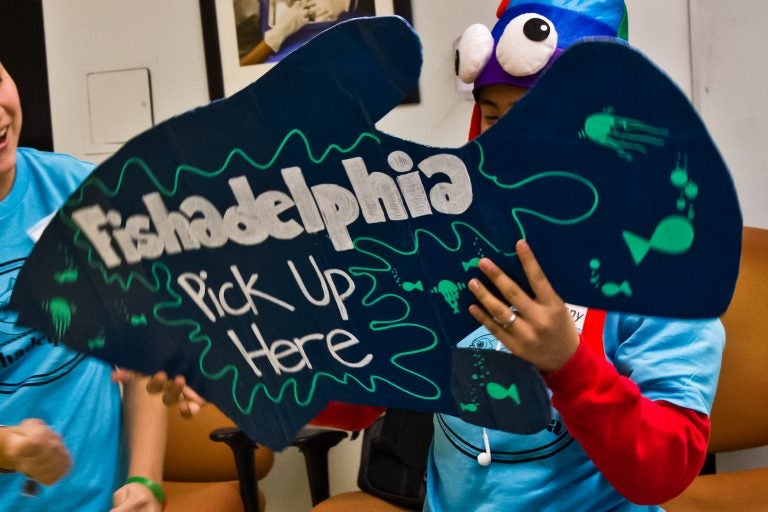 Between old favorites like Ippolito's and Darigo's Fish Market, South Philadelphia has long been a mecca for the city's seafood lovers.
But the neighborhood's latest fishmonger may be its most novel — and not simply because it's operated out of a high school classroom.
Meet Fishadelphia, the city's first CSF, or community supported fishery.
Perhaps you've heard the acronym CSA (community supported agriculture) or signed up for one of the area's many farm-share programs. If you haven't, the concept is pretty simple: Subscribers pay a flat fee and receive weekly shipments of vegetables, meat, or other products from local farms.
A CSF is like a CSA except — you guessed it — clients get a weekly shipment of fish.
There are only between 75 and 100 CSFs in North America and no pre-existing ones in Pennsylvania, according to the website LocalCatch.org. Fishadelphia, which dished its first weekly shipment last Friday, also stands out because it's co-run by students at Mastery Thomas, a K-12 charter school in South Philadelphia.
The connection here is Talia Young, a former biology teacher at Mastery Thomas who went on to earn her Ph.D. and now studies fish supply chains as a postdoctoral fellow at Princeton University. The project combines two of her passions: working with young people and studying fishing communities.
"All of my interests come together in one project, which is really fun," Young said.
Young's protegees at Mastery Thomas have their hands in every part of the nascent business. They helped design the logo, built the website, set prices, recruited customers, and established customer policies.
For 10th-grader and seafood lover Charlisse Johnson, joining a school club about fish was an easy call.
"I'm like: I love seafood. Why not be the one giving it to other people, so they can feel what I feel when I get it?" she said.
All of Fishadelphia's product comes directly from New Jersey. Students recently took a field trip to Cape May to see the processing plant where their product first comes ashore. Kensington native Tasha Palacio, who is co-facilitating the project with Young, expected to meet fishermen who resembled the happy, yellow-coated chap on the Gorton's fish stick boxes.
Instead, she learned about the grind and gruel of a job that can take fishermen out to sea for weeks.
"How hard these people work is amazing to me," Palacio said. "This is something people need to see."
Young hopes Fishadelphia can create a cultural bridge between their suppliers down the Jersey Shore and their customers in deep South Philadelphia, many of whom are Asian and Caribbean immigrants. Later this year, she's planning to take Fishadelphia's roughly 25 customers to the shore for a production tour and host an end-of-year party for the fishermen in South Philadelphia.
"A lot of the goal is to connect these two communities," Young said.
There's a wide gulf between the Americans who eat fish and the Americans who catch fish for a living. That's partly because the two parties don't interact as much as you'd assume.
About 90 percent of the seafood Americans consume comes from abroad, according to author Paul Greenberg. Yet, much of the fish caught off U.S. coastlines is shipped to other countries.
This fish-passing-in-the-night phenomenon stems mostly from the fact that the seafood Americans prefer can be produced most cheaply in other countries. Meanwhile, much of the local catch winds up in Asia because consumers in Japan, China, and elsewhere like the type of fish Americans reel in.
Fishadelphia hopes to hook local eaters on the clams, oysters, and other species that live off local beaches.
Week one brought shipments of squid to Mastery Thomas' doorstep. Why? Because that's what local harvesters have been hauling in recently.
Squid, apparently, is a common winter catch in the chilly waters off New Jersey's Atlantic coast. As the seasons change, so too will the crates of seafood available for pickup at the school's classroom-turned-distribution center.
"People have started to think about the seasonality of vegetables, but it's fun to start thinking about the seasonality of fish," said Young.
If you're looking for pricing details or information on how to join Fishadelphia, check out their website.
WHYY is your source for fact-based, in-depth journalism and information. As a nonprofit organization, we rely on financial support from readers like you. Please give today.