Musician visits Pa. school to help kids find their way beyond trauma
Listen
1:50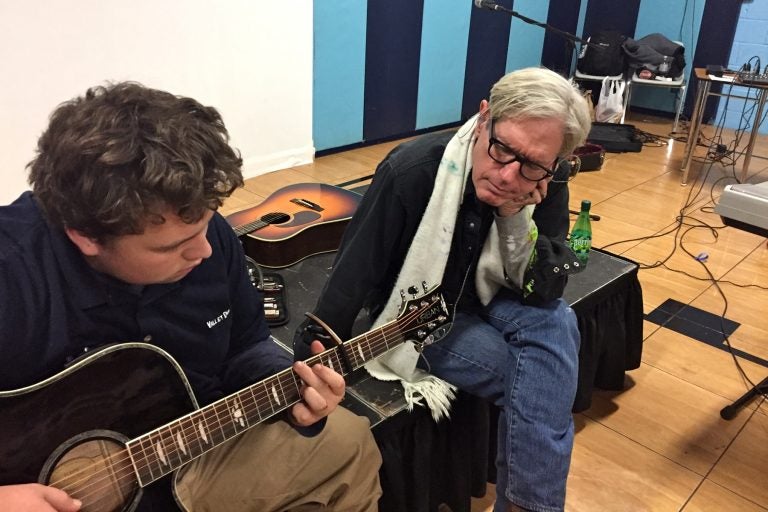 Years before he became a successful musician, Sam Baker and some friends were traveling by train to Machu Picchu in Peru when the unthinkable happened — a bomb planted by the Shining Path terrorist group exploded in the train car.
Many of his friends were killed — along with the family seated next to him.
Baker barely survived. He endured internal bleeding, brain damage, hearing loss and gangrene, as well as the anger, guilt and depression that came with surviving the attack when others didn't.
Music was a huge part of his recovery.
"When the bomb went off, it flattened my lungs and I was like. 'How do I describe that.' " he said. "I would write obsessively — pages and pages, basically the same thing over and over. And melody would come to me."
At first, the Texan tried to ignore the impulse to write songs.
"I kept pushing it back — melody is not what I want — it won't help me describe what flattened lungs are," he said. Eventually, however, he gave into it. "There was something in melody, something in singing that went to a different place."
Baker visited Valley Day School in Morrisville, Pennsylvania, Tuesday to help guide a handful of students to that other place.
Known as an approved private school, Valley Day has students from public schools who have behavioral or emotional needs that prevent them from succeeding in a traditional academic environment.
Because so many of the students, ranging in age from 4 to 21, have experienced trauma in their lives, the Valley Day curriculum takes on a trauma-informed approach that includes arts therapy.
Studies have found that arts therapy helps trauma victims by calming the portions of the brain that have been overworked by difficult incidents. It also can offer the opportunity to express feelings without using language, which is often compromised for trauma victims, especially children.
Music has helped for 16-year-old Andrew Hart, a Valley Day student who taught himself to play guitar as he struggled with depression, abuse, and his family's intermittent homelessness.
"School is rough, and I constantly get made fun of and bullied," Andrew said. "Depression makes you feel alone, and everything's just dark."
Music makes him feel like he's actually accomplished something. It can shine a light on that darkness for him.
"It's like medicine," he said.
Baker was not a musician before the attack. He released his first album, "Mercy," in 2004 and has been touring ever since. After his day with the students, Baker played a benefit show with proceeds going to Valley Day's artist-in-residency program. His tour was next headed to Europe.