Meek Mill joins Pa. officials in calling for changes to criminal justice system
The rapper joined Gov. Tom Wolf at the National Constitution Center to push for changes in everything from probation and parole policies to cash bail.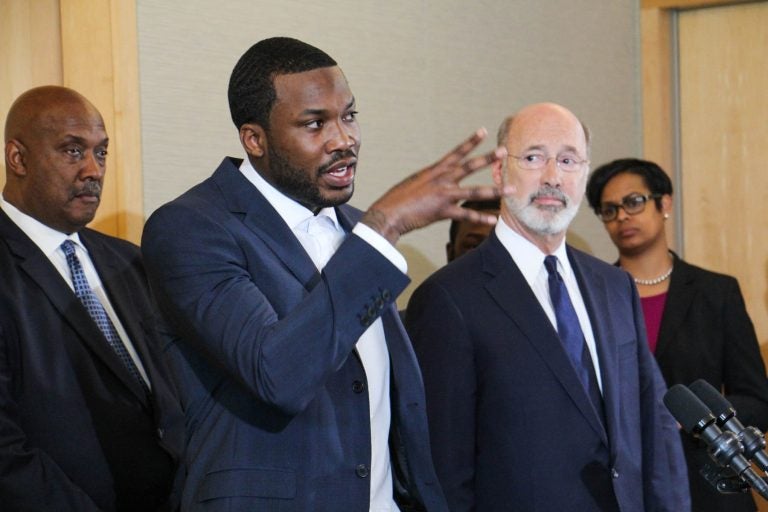 As Philadelphia rapper Meek Mill followed the saga of the two black men who were arrested while waiting in a Rittenhouse Square Starbucks last month, he pictured himself in their shoes.
"What was the crime? Starbucking while black?" Mill joked.
"If that was me in Starbucks on probation, I would have actually been in technical violation and still would have been legally sentenced to 2 to 4 years in prison just because I came in contact with police," he said.
The 30-year-old musician was referencing the sentence he received for breaking probation rules. Last month, the Pennsylvania Supreme Court intervened and ordered Mill released after nearly six months behind bars.
Newly free, Mill is now putting his celebrity status behind criminal justice reforms in Pennsylvania. He joined Gov. Tom Wolf and other top state officials Thursday at the National Constitution Center to push for changes in everything from probation and parole policies to a cash bail system that Wolf said is equivalent to "debtor's prison."
Wolf said he hopes the national attention Mill's case has attracted will translate into real policy change. The governor called on the state House to pass a trio of bills recently approved the state Senate that would release nonviolent offenders more quickly and help move more prisoners into substance abuse programs, while also pumping more dollars into probation and parole programs across the state.
The raft of legislation, Wolf said, is not just about offender rehabilitation, but also victim protection.
"But we can do that while also ending the cycle of incarceration that has left so many people, so many families feeling trapped, helpless, without an opportunity to return to society after they've been released," he said, adding that the state needs to "stop using jails as mental health facilities."
Mill, who was raised in North Philadelphia's Strawberry Mansion neighborhood, described the community where he grew up as "ruthless" and "drug-plagued."
As a product of the tough streets, he said, he witnessed the death of many friends from gun violence. Some other men he knew growing up, Mill said, were sent away for long prison sentences for their violent crimes.
"I was trained to think this was normal. I was trained to think going to prison was normal," Mill said.
Even now, signed to Jay-Z's Roc Nation management company and having sold millions of albums, Mill said he still feels like he is vulnerable.
"I always feel like my freedom can be taken. I can walk outside, somebody can accuse me of something and I can end up right back in prison in the blink of an eye," Mill said.
Still on probation after a 2007 arrest on drug and gun charges that will likely be dismissed, Mill said said his probation officer helped steer him into a treatment program after he told her he was addicted to opioids.
"It changed my life," he said Thursday.
It is the type of problem, Mill said, that those on court supervision should not be afraid to admit to officers tasked with keeping probationers on the straight and narrow.
"I don't think any human being should be locked, shackled from top to bottom, ankle to hand, because they use marijuana or was addicted to opioids," he said.
Mill's public appearance came the same day he announced a six-part documentary series with Amazon chronicling his experience with Philadelphia's criminal justice system.
WHYY is your source for fact-based, in-depth journalism and information. As a nonprofit organization, we rely on financial support from readers like you. Please give today.