Wolf, lawmakers push a raft of criminal justice overhauls
On the agenda are eight initiatives.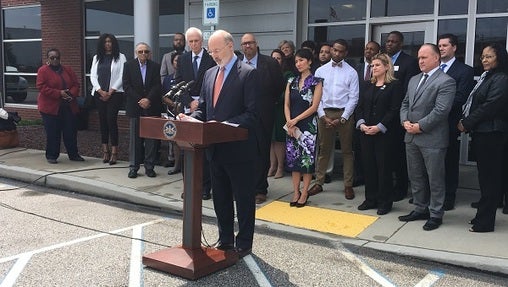 Governor Tom Wolf and a number of legislators are advocating for a slew of changes to the state's criminal justice system.
The call comes in the wake of a few victories for reform advocates, but in the face of opposition from a significant portion of the legislature's GOP majority.
On the agenda are eight initiatives, including standardizing bail across counties, pumping more money into public defense, providing a clean slate for old misdemeanors, and a second phase of Justice Reinvestment initiatives aimed at reducing recidivism. Some of those, like the clean slate bill, are already moving through the legislature and have garnered bipartisan support.
"These reforms would save us precious time and money spent incarcerating people who are better-served through programs and services — people who simply don't belong in prison," Wolf said at a press conference outside the Dauphin County Judicial Center.
But while some Republicans have become amenable to certain changes in the commonwealth's criminal justice model, others still favor a "tough on crime" approach and view softening penalties as unfair to victims.
Corrections Secretary John Wetzel — who was appointed by former GOP Governor Tom Corbett — argued the two don't have to be mutually exclusive.
"When the focus is less crime … by people coming out of our system, we all win," he said. "When we put lower-risk individuals incarcerated at a higher level than they need to, guess what? They come out worse. And at the state level, they come out worse for $42,000 a year."
For most of his lengthy career, Montgomery County Senator Stewart Greenleaf was one of the Republicans who agreed "tough on crime" was the answer. But, he said, he had a change of heart when he realized people were being wrongfully convicted and the prison system was getting costlier and more crowded.
"Here I am passing tough-on-crime legislation, and it wasn't working," he recalled.
Greenleaf, who chairs the Senate Judiciary Committee, said he's trying to push through more than a dozen justice reform bills before his retirement at the end of the year. He noted, however, getting enough votes to even dislodge the measures from his own committee has been "an issue."
WHYY is your source for fact-based, in-depth journalism and information. As a nonprofit organization, we rely on financial support from readers like you. Please give today.