Looking for a black doctor for my kids
A millennial mom wants a black pediatrician for her girls and wrestles with why the search was so hard — and why finding a black doctor matters.
Listen
7:19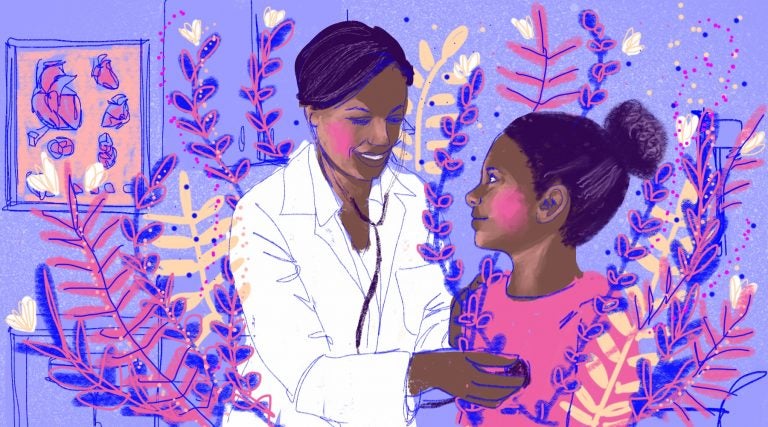 Last year, while searching through my health provider's website for a pediatrician for my two young daughters, I had trouble finding exactly what I was looking for. Our family had lived in the Washington, D.C. area for a few weeks, and it was almost time for the girls' annual check-ups.
"Why is this so difficult?" I thought.
As a black woman, I felt it was important to search specifically for a black doctor to treat my children. Bonus points if that doctor had a Caribbean background, like me. I wasn't sure of the science behind it, but I felt certain that my daughters' sense of belonging at the doctor's office would have benefits.
You can never know for sure, just by looking at a bunch of headshots online, but after combing through the list of names, I didn't find a black pediatrician at the medical center nearest to our home. No luck at the second closest location, either.
Cultural competence
Cultural competence in healthcare refers to the ability of providers and organizations to effectively deliver services that meet the social, cultural, and linguistic needs of patients.
My fiancé Matthew Phifer is a mental health counselor. He's spent years working with people battling addictions. At the last agency where he worked, he was the only male staffer and the only person of color.
"If someone knew there was a black man there, or a male there, they would specifically request me," Matthew says.
He recalls one former client, an African American man who had been arrested for criminal possession of marijuana. The man had been involved in an altercation in his neighborhood, and a police officer searched him. The court ordered him into counseling to kick the habit. For nearly three years, the client had trouble connecting. He bounced from counselor to counselor. He was deemed rebellious and too difficult to treat.
When Matthew became that man's counselor, it wasn't long before he began to share information he hadn't revealed to the other mental health professionals.
"There's an ease that they have, that they know that this person's going to get me," Matthew says. "[They] don't have to backtrack and explain their culture, and explain their heritage."
Doctor's orders
Across many areas of medicine, black patients as a group fare worse than their white counterparts. Researchers are still trying to understand what's behind those health disparities. It's not yet clear how much of those differences in care can be explained by bias, either from the healthcare system itself or the people who give care.
But some studies show that, when the race or ethnicity of physician and patient are matched, the patient's overall satisfaction and sense of trust are higher.
Mary Olufunmilayo Adekson is an author and retired counselor educator. While teaching a multiculturalism class years ago, she often shared this message with her students: "To treat everybody the same is discrimination, and to look at everybody with the same lens is discrimination."
Adekson says she's seen that sense of trust translate to better follow-through on doctor's orders. The mental health counselor, who was born in Nigeria, has lived in the Washington area for five years, and has worked with students, battered women, and prisoners. During a short stint at a correctional facility, she says the mostly African American inmates saw her as a mother figure.
"I am a very stern lady. When I say I want something done, I want it done," Adekson says. "I'm very authentic, and they knew that."
Understanding another person's culture is about more than just building rapport. Adekson says it can protect clients from being misdiagnosed with more severe mental health problems. One consistent research finding related to race and diagnosis is the disproportionately high rate of psychotic disorder diagnoses among African Americans.
According to Adekson, depression with psychotic episodes can be mistaken as schizophrenia if a therapist is unfamiliar with a patient's cultural background. A study in the World Journal of Psychiatry found that African Americans are three times as likely to be diagnosed with schizophrenia compared with Euro-Americans admitted to state psychiatric hospitals.
Howard health advantage
In 1862, Howard University Hospital in Washington, D.C. was founded as "Freedmen's Hospital." It predominantly provided medical services to African Americans recently released from slavery.
The medical center is affiliated with Howard University, a historically black college. Today, the hospital remains focused on underserved groups — including the area's large African American community.
In 2017, Howard University Hospital reported $12.8 million in profits. It was the second year the hospital posted a surplus after several years in the red. Chief Medical Officer Shelly McDonald-Pinkett says it's a milestone for the hospital, which has faced financial challenges as it seeks to treat an underinsured patient population with complex medical issues.
McDonald-Pinkett says the hospital is increasingly recognized for its inclusive environment.
"This is not a hospital for the black and poor. It's a hospital for people," says McDonald-Pinkett. "People who need and seek our care, and that's our promise here."
McDonald-Pinkett says the nearly 350 medical staff at Howard are mostly black but come from all different countries and backgrounds. But, even with diversity among the medical staff, providing culturally competent care can be a challenge.
Pediatrician Kijana Knicks works in the hospital's newborn nursery. She says that, to give the best care she can, there are many considerations; race and ethnicity play a role, but understanding someone's religious beliefs, for instance, can also be very influential.
"When patients do not understand what is going on, I re-evaluate myself, and I wonder, Am I getting across in the right way?" Knicks says.
McDonald-Pinkett says continuous training allows for the hospital's culturally competent care to flourish.
"The future is not about living separately, but about living in a conjoined fashion, fully integrated into a population that has the best healthcare possible," she says.
WHYY is your source for fact-based, in-depth journalism and information. As a nonprofit organization, we rely on financial support from readers like you. Please give today.