How a Broadway superhero faced a life-threatening diagnosis
When Jake Odmark was diagnosed with Crohn's disease, his career took a back seat. But accepting the diagnosis led to a more stable future.
Listen
8:55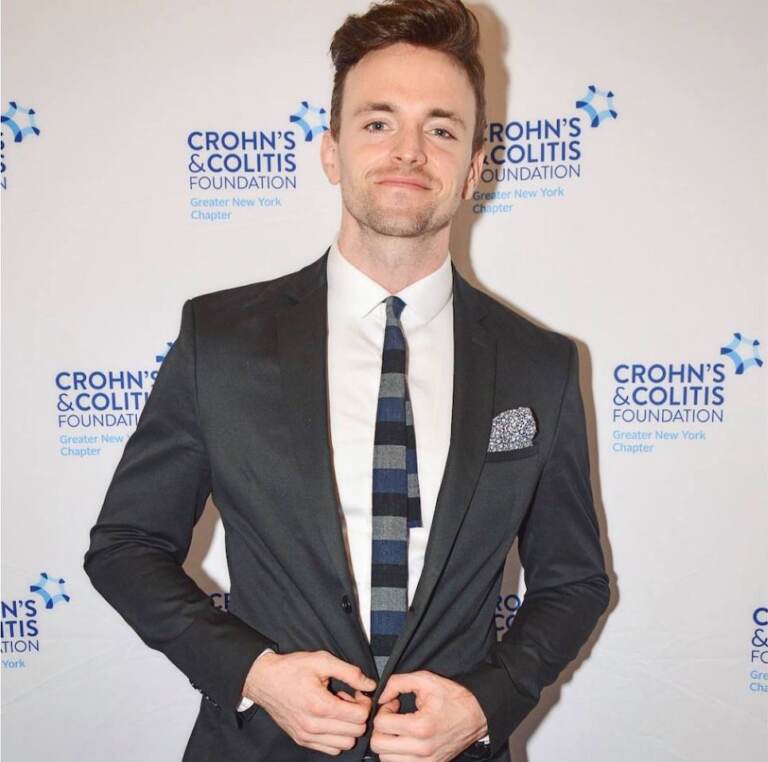 This story is from The Pulse, a weekly health and science podcast.
Find it on Apple Podcasts, Spotify, or wherever you get your podcasts.
---
Transforming a life-threatening diagnosis into a triumph of your past is a challenge, but one Jake Odmark deemed possible.
"I went from feeling like a victim to feeling like I'm in control," Odmark said. "And that was a huge turning point for me."
It all began in 2012, when Odmark was a 20-year-old aspiring actor waiting for his big break in New York City. He was 18 when he moved there, and he worked odd jobs for two years, hoping an audition would lead him to an acting career. He shared a one-bedroom apartment with a friend, and most of his groceries amounted to that classic struggle meal, rice and beans.
But one day, while standing in his small kitchen, Odmark received a call that would change his life. It was his agent, telling him that he had been cast in a Broadway musical, "Spider-Man: Turn off the Dark."
"It was a three-week contract, and I didn't care," Odmark said. "I was like, 'It's my big break.'"
The contract quickly grew into his landing permanent roles. Odmark played Flash, Peter Parker's bully, and eventually, he suited up to play Spider-Man.
That starring role meant some pretty intense training.
"They were training us to strengthen our ankles and wrists and backs because all of us flew and had to land like Spider-Man," Odmark said.  "He had to land in the spidey pose, and it took a lot of training to get to do that eight shows a week and not hurt yourself."
Odmark worked hard and he became stronger than he had imagined. He was succeeding in this break-out role and even sang the show's opening number.  His bills were paid, and he could afford to purchase more than rice and beans.
But just when Odmark was flying high, he noticed something alarming.
"Suddenly, one day, there was blood in my stool," he said.
Odmark was diagnosed with Crohn's disease, a type of inflammatory bowel disease in the digestive tract. It comes with chronic symptoms such as weight loss, fatigue, malnutrition, pain, and blood loss.
Odmark's road to a Crohn's diagnosis was a slow burn: First, he learned that he had inflammation in his digestive tract and was prescribed simple anti-inflammatories by a gastroenterologist. But after finishing the medication, the blood in his stool returned. Odmark then went without medication for three months. Eventually, he got the official Crohn's diagnosis, and the disease's chronic symptoms quickly overwhelmed him.
"It was almost overnight that I was a very sick Crohn's patient," he said.
Odmark lost more than 40 pounds. He experienced significant blood loss —  "I had less than half of the blood in my body at one point." — and his skin began to look green and gray as a result.
Performing in rigorous Broadway musicals wasn't helping. The former "Spider-Man" cast member had begun performing in "Kinky Boots," a show that required actors to dance in high heels most of the time.
And it wasn't just his health and performing that were taking a hit. Odmark was embarrassed. He remembers constantly hiding from directors on set, and he'd opt out of conversations about new shows, hoping that no one would question the drastic change in his appearance.
"In a world of show business, you can't show weakness," he said. "Actors take headshots every three months trying to make themselves look as good as possible, and here I was looking like a patient, walking around doing Broadway shows."
There seemed to be no end in sight, until one day changed his course.
In 2016, Odmark faced a dilemma — his health or his career. He received a call from his doctor. His blood count was so low that the doctor insisted he have a double blood transfusion that same afternoon. But  Odmark had two shows that day he couldn't afford to miss. At that moment in his career, his condition, living in New York, and having to take breaks from the job for his health were costing him financially.
"So, I thought maybe I could get a blood transfusion and go to do my shows," Odmark said. "That's how desperate I was."
He completed the two blood transfusions, and still made it to both of his shows—but because he arrived 45 minutes late, he had to pay a fine. Odmark realized he couldn't live this double life, one as a Broadway actor and the other as a sick Crohn's patient.
"I was tired of being sick," he said. "I was tired of feeling weak and sick, and I thought I could maybe push it the other way and go even harder and get in the best shape of my life." 
Odmark hired a trainer and former colleague from the 2012 "Spider-Man" show and informed him of his plan to counteract his symptoms with fitness.
The trainer created a 15-week exercise and nutrition program. Odmark worked out seven days a week and drank a smoothie concoction that included raw ingredients or supplements like creatine, beta hydroxy acids, and bone broth.
Things started to look up at the end of the training program. Odmark gained 15 pounds of lean muscle, and his Crohn's-related blood loss became a thing of the past. Aside from his physical gains, he said his mindset is what pushed him over the finish line. That's because Odmark's medication often negatively affected his mental health before he started training. But after incorporating the 15-week program into his routine, his medication had fewer side effects on his mind and emotions.
"When I was on all those drugs, they caused my emotional and mental state to be so foggy and down and gray," he said. "But the endorphins in the workout and just seeing the results was the motivation, and the feeling that I could take control of myself as opposed to just being at the will of the diagnosis."
Odmark's Crohn's disease has been in remission since 2018, and he continues to act on Broadway.
WHYY is your source for fact-based, in-depth journalism and information. As a nonprofit organization, we rely on financial support from readers like you. Please give today.