How a brain injury turned a teenager from shy to sociable 
Listen
6:42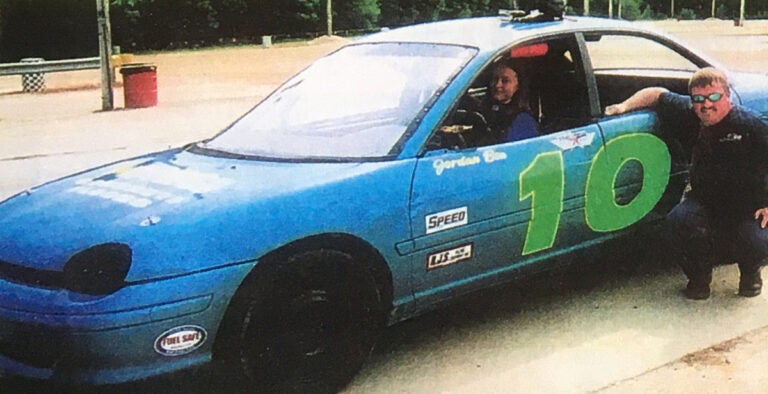 This story is from The Pulse, a weekly health and science podcast.
Subscribe on Apple Podcasts, Stitcher or wherever you get your podcasts.
---
When Jordan Emerson was 13, she was a member of the Whiz Kidz race team. They raced 4-cylinder compact cars on a small NASCAR racetrack in Scarborough, Maine.
During a race in 2007, Emerson's car spun off the track and slammed into the outside wall. On impact, she hit her head, cracked her left hip, broke her left shoulder and immediately fell into a coma.
At the hospital, the doctors discovered that she also had a traumatic brain injury. At best, they predicted, she would live on in a vegetative state, never to walk or speak again.
For about three months, Emerson's life was on pause. Her friends and family held their breath, waiting for her to come out of the coma.
Then one afternoon, her dad and her uncle came to visit her. They were hanging out in the hospital room and having a loud conversation.
"And then I was like, 'Shut the hell up,'" Emerson said. "And they looked at each other and they were like, 'Did you hear that?' And a week later, I came out of my coma."
When she fully awoke, she noticed there were some changes in her personality.
"I would flip people off," Emerson said. "I would bite them. I would hit them."
Her world had completely changed. Her entire left side, stomach and vocal cords were paralyzed. She had to relearn basic skills like eating, walking, talking, even crying. Adjusting to that new reality was not easy.
"Oh, I was very angry with the world," Emerson said. "Like I knew this was gonna be a long road."
But her personality changed in some more endearing ways, as well.
"Now, I'm like, fun-loving, random, quirky, silly, like wanting to meet new people," she said.
Very different from how she was before the accident — Emerson used to be extremely shy. She hated talking to strangers and meeting new people.
"If someone talked to me I didn't know, I'd start crying," she said.
Personality change following a brain injury isn't uncommon. But what exactly caused these shifts?
"You can't discount the fact that traumatic brain injury creates such significant shift in the world," said Ashley Moore, a clinician and visiting assistant lecturer at the University of New England who often works with people who have suffered traumatic brain injuries.
"The question becomes: Is this an inherent change in an individual, or is this a shift that this individual has taken on to adapt because they've had to?" Moore said.
The doctors said Emerson's brain was shaken like a baby rattle during the accident. The parts that were most damaged were her frontal lobes and cerebellum. The frontal lobes are the emotional control center of the brain, where personality lives.
"Before the accident, my emotions, I felt them, but I could put them aside. And after the accident, now they like, consumed my whole body," Emerson said.
She was left with a lack of empathy and motivation.
"It's still a constant battle," Emerson said. "It's just been my parents hounding me. Like, you have to do this, you have to do that."
She also lost her filter.
"Now, it doesn't matter who you are," Emerson said. "Whatever I'm thinking is coming out of my mouth."
She embraced this change. The shy 13-year-old she was before the accident turned into an outgoing, sociable person. "And having the freedom to be someone new and be like, 'Hey, I'm here. Wanna hang out?'"
Emerson is now 26 years old, and for the most part, the changes are still with her about a dozen years after the accident. She is still largely uninhibited and outgoing.
But some other personality traits continued to change over the years. As she focused on recovery, her condition improved and her anger faded. And something else happened, too.
"As my brain developed, rewired, I grew empathy," Emerson said. "Like me saying something and seeing people's emotions and seeing their reaction, I was like, oh I didn't mean to make them feel that way."
It's possible some of those changes may not have been related to her traumatic brain injury. They could have just been part of what happens to our personalities as we get older.
"Right around ages 10 to 15, right in that transition into adolescence, you actually see some dips in some positive traits, in agreeableness and conscientiousness," said Christopher Soto, director of the Colby Personality Lab in Waterville, Maine. "But then things rebound after that, in the high school years."
It turns out that the majority of us will experience personality changes throughout our lives. Soto has found that over the course of adulthood, people generally tend to become more agreeable, conscientious and emotionally stable.
Today, Emerson lives alone in an apartment with her dog, Maisy. They recently started going on daily walks, just the two of them.
"She's my emotional support animal," Emerson said. "She helps me when I get, like, really sad or isolated."
Emerson has had lots of support throughout her recovery, especially from her parents. It's still a long road, but she's light years beyond where doctors thought she'd be.
"I've created this person that I would want to be friends with if I met them somewhere," she said.