Guitarist Nels Cline plays a love song to Philly
Listen
6:38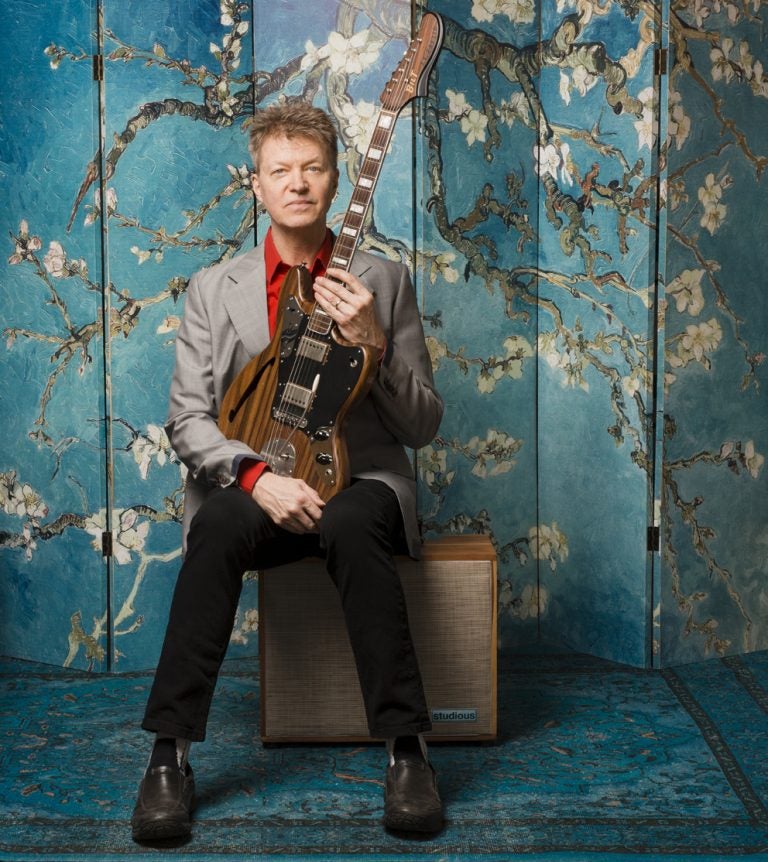 Many cities tout their importance in the pantheon of American music, but it's hard to dispute the depth and range of Philadelphia's.
On Saturday at Union Transfer, guitarist Nels Cline will offer his homage to Philly's storied music history with "Lovers (for Philadelphia)," a suite of music written by almost a century of Philadelphia jazz musicians. It's a new addition to "Lovers," his sprawling two-CD set of jazz standards and Great American Songbook tunes, interpreted for his guitar and 21 musicians.
"It's something I started thinking about in the late '80s," said the guitarist, who plays in a wide range of jazz and new-music settings — and is also known to many as a member of the band Wilco. "I wanted to do my own updated, darker version of an atmospheric, romance type record in the jazz idiom. One that contained some pretty or lush songs but also some darker, edgier content.
"It was never intended to be a double album," he said with a laugh. "But 20-some years went by, and the song list expanded over time. I put off working on it because I was convinced I wasn't going to be able to pull off a masterful arrangement of these songs." Cline credits musician, arranger and conductor Michael Leonhart with helping him make the dream a reality.
Another friend, David Breskin, came on board to secure funding for the expensive project, and the album was released in 2016. After managing only a handful of live performances of some of the material, Cline thought he wouldn't be doing much more with "Lovers."
"It's a very unwieldy, costly project, working with this number of musicians," he said.
That was until Mark Christman of Ars Nova Workshop called.
"He asked me if I'd consider adding some Philadelphia music to the Lovers lineup for a concert in Philly," said Cline. "I had no intention of adding to the repertoire of this already rather hefty Lovers book. At first, I thought it was a rather odd idea, but I like a challenge."
After several visits to iconic Philadelphia sites — such as the Curtis Institute and the Sigma Sound archives — and lots of online research, Cline produced a list of Philadelphia-based songs that also met the project's criterion of relating to romance. It includes jazz icon pianist McCoy Tyner, who recorded his composition "Aisha" with John Coltrane.
"I covered two Philadelphia giants with that one," said Cline.
The tunes go as far back as the 1920s, with pieces by guitarist Eddie Lang and singer Ethel Waters, and right up to the present, with a subtle orchestration of Uri Caine's solo piano piece, "The Magic of Her Nearness."
There are no plans to record the "Lovers (for Philadelphia)" material, or to create versions for other cities, so Saturday's concert presents a rare opportunity.
"This is only the eighth live performance of any 'Lovers' material," said Cline. "That's all we've done, so it's a special event."
Nels Cline and company will perform "Lovers (for Philadelphia)" Saturday at 8:30 pm. at Union Transfer.
WHYY is your source for fact-based, in-depth journalism and information. As a nonprofit organization, we rely on financial support from readers like you. Please give today.