Flowers and 'a lot of eye-rolling': How this Philly area political odd couple keeps the peace
He's a resolute Republican. She's a lifelong liberal Democrat. How does this Elkins Park couple ensure household harmony in these politically polarizing times?
Listen
4:51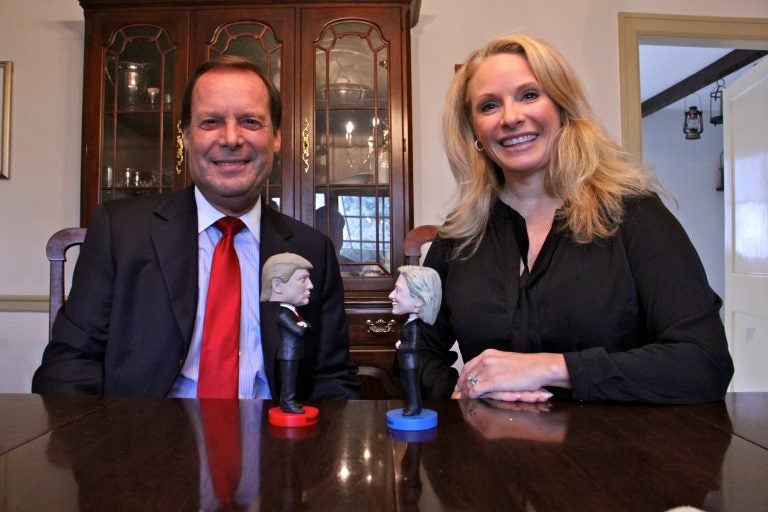 Couples heading for the altar can get cold feet for all sorts of reasons, from money worries to meddling in-laws to amorous exes who resurface at the wrong time.
For Gretchen Wisehart of Elkins Park, it was Hillary Clinton's unexpected loss in last year's presidential race.
Her betrothed, a resolute Republican, was a Pennsylvania delegate who backed Donald Trump. Wisehart, a lifelong liberal, wanted to see Clinton in the White House so badly that she canvassed for her, worked phone banks, distributed lawn signs, and attended fundraisers and rallies galore.
"At 4 a.m. [the morning after the election], my daughter and I were just in tears with each other," she said of Clinton's upset. "We couldn't sleep, it was so devastating."
Wisehart found she was furious with her fiancé, Tom Ellis, a government relations attorney who has served as Montgomery County commissioner, county treasurer, and Cheltenham Township commissioner.
"All I could think was: He's just enabling it, and he's part of the problem," said Wisehart, a corporate finance and tax attorney. "He supported this candidate who I believe allowed this blatant racism and sexism to rear its ugly head. I didn't think I could [marry him]. If I believed in my core that these are the values I hold dear, then I can't be with someone who holds these [other] values."
Her cold feet eventually warmed up, and the couple married last February.
But they remain so politically adverse that dinner chatter can turn into debates, and they've set household rules — she's vetoed Fox News, while he has forbidden MSNBC — to ensure marital peace.
"There's a lot of eye-rolling, I think, on both our parts," Wisehart said, laughing.
Ellis joked: "Normally she holds her temper better than I do. And finally I say, 'No! You're wrong!' No, we discuss it out. She keeps me grounded, and I give her some new ideas."
Their efforts to transcend their differences to ensure household harmony are a familiar, if delicate, dance for more and more families in these politically polarizing times.
Discourse has become so divisive when it comes to American politics that just about everyone has experience with Facebook-unfriending, Twitter tantrums, or fights over the dinner table with relatives who can't quit insisting that their viewpoints trounce yours.
And when it comes to Trump, talk can turn so combative that it even occasionally ends in bloodshed.
When the leader of the free world calls countries "shitholes" and insults so many people that reporters keep lists, critics can be quick to blame him for the divisiveness of discourse among everyday Americans. And in fact, most Americans believe Trump, with just one year in office, has done more to divide the nation than unite it, according to a new Quinnipiac poll.
Still, Ellis insisted it's too easy to target Trump as the reason for the rancor.
"I don't think politics is any nastier than it's been before. If you look back, Burr and Hamilton had a duel!" he said, referring to the 1804 duel in Weehawken, New Jersey, where Aaron Burr, then vice president, killed his longtime rival Alexander Hamilton, a former Treasury secretary.
Experts agree that political vitriol is as old as politics itself.
"We can go back to the first presidential elections," said Joseph Zompetti, a communications professor at Illinois State University and author of "Divisive Discourse: The Extreme Rhetoric of Contemporary American Politics." "[Candidates] would have proxies talk about each other in local newspapers, call each other names, and make things up: 'So-and-so slept with a slave,' and all these kinds of crazy things."
But a few things have changed in the past two centuries that make the venom seem more vivid than ever, Zompetti said.
"We have a 24-7 news cycle. We have social media. We have echo chambers, which are the partisan media sources, where consumers of information self-select which news outlets that they choose to expose themselves to, because we want to be confirmed and we don't like to be told we're wrong," Zompetti said, explaining a phenomenon known as "confirmation bias."
TV news programs tend to simplify stories and feature people with extreme views, he added.
"The people who get the media spotlight are often those extremists who are hijacking our political conversations and engaging in this vitriol," Zompetti said.
That can influence how people talk to each other in everyday conversation, he said.
"We're not listening to one another, and we're not treating each other as human beings," Zompetti said. "We engage in conversations as if it's some kind of competition, like: 'I need to win my argument!' as opposed to: 'Hey, let's just have a conversation because I genuinely want to learn something' or 'I really want to know what your point of view is so we can find common ground.'
"If I listen to you and I treat you with respect," Zompetti added, "then you're likely to reciprocate that. But if I come out guns ablazin', you're going to reciprocate that too — or you're just going to tune me out, and we won't have a conversation at all."
Zompetti tries to remain nonpartisan when he teaches his students about divisive discourse, using examples from both Democrats and Republicans.
But he admitted he's finding it tougher lately to ignore Trump's role in rancorous rhetoric, as each day brings fresh outrage over the president's untempered remarks.
"Donald Trump is a major factor in our current venomous, polarizing climate," Zompetti said. "Unlike any other position or office in the world, the presidency commands a visibility and attention, where every word the president says is scrutinized and receives media attention. When you have someone that doesn't treat that with respect and decency, it's natural for people to blame that person for creating the conditions for a divisive culture."
Ellis can't argue with that.
"I'm not comfortable with a lot of the things he says — you can't defend the indefensible," said Ellis, who nonetheless remains a steadfastly loyal Republican.
But divisive discourse is far more than just noise, Zompetti warned.
It's dangerous for democracy, he said.
"A democracy, unlike other forms of governance, requires citizen participation — not just knowledge, but actual engagement and participation," Zompetti said. "What we're seeing in the United States is a lot of people just checking out, being apathetic, being completely turned off by our political system. It's extremely unfortunate, as well as potentially perilous for the future of our country."
So what's a person to do to bridge the political divide?
Zompetti is an educator, so it's probably unsurprising that he recommends education. Classes on current events, politics, and citizenship would erase the ignorance that fuels some fights, he said.But more, people need to learn how to talk — and how to listen, Zompetti said.
"We're never taught how to have a conversation about politics. If you think about it, have you ever had a class, K through 12 or in college, that teaches you the fundamentals of how to have a conversation in a respectful and meaningful way? I haven't, and I'm a communications professor."
Zompetti also recommends that people diversify their news diets and read or listen to media coverage from outlets they'd normally shun, so that they can understand other viewpoints.
Wisehart and Ellis have plenty of hard-earned suggestions, too.
For starters, people should be open to others' outlooks, even if they disagree.
Wisehart and Ellis go to partisan fundraisers and rallies together. Wisehart went with her husband to the Republican National Convention in Cleveland in 2016 — and Ellis got his wife a ticket to the Democratic National Convention in Philadelphia that year.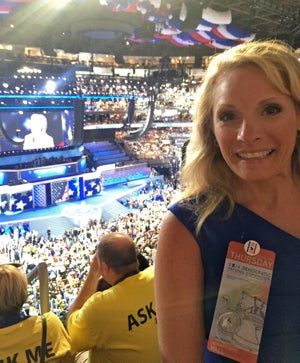 They also dedicate time to hash out their differences. While politics permeate their week, Sundays are their big day.
"It's like the Super Bowl every for us every Sunday. We get so excited to wake up and watch 'Face the Nation,' " Wisehart said.
Hearing each other out afterward is key to that tradition, both agreed.
"When you come into a conversation, it's easy to say, 'I know what I believe, and I'm firm in my convictions.' It's fine to be firm in your convictions, but it's not fine to not listen to somebody else and not try to understand their point of view, even if you don't agree with it," Wisehart said.
She added: "I know I'm not going to turn him into Joe Biden overnight, but I'm gradually pulling him more and more to my side. He wouldn't agree, but …"
And finding common ground helps restore harmony.
For Wisehart and Ellis, politics isn't the only thing that divides them. They have different diets ("I eat quinoa and chia-seed shakes and super-green food, and Tom for breakfast likes to drink Coca-Cola and eat Fritos," Wisehart said), habits ("he's much tidier than I am," she said), and upbringings ("like Ozzie and Harriet versus Dharma and Greg," she said).
She even rejected his first marriage proposal.
"It was in my office in Harrisburg! I told him he could do better than that!" she said. And he did, taking her to London, where he surprised her with a behind-the-scenes tour of the House of Commons and a proposal on the House floor.
But their core values coincide, Ellis said.
"We may differ in politics, but we both love this country, there's no doubt about that," he said. "The ends is where we want to get to. The means is what we might disagree on."
And if all that doesn't work?
Ellis suggests his sure-fire cure to ending political standoffs with his wife.
"Send flowers," he says with a chuckle. "Usually that works."
WHYY is your source for fact-based, in-depth journalism and information. As a nonprofit organization, we rely on financial support from readers like you. Please give today.