Family demands answers after Philly man addicted to heroin dies hours after incarceration
Listen
4:42
On Halloween, Ed Zaleski found himself behind bars again.
He had a few arrests on his record, crimes committed to support his addiction to heroin. But this one would be his last.
Just hours after police took him to Curran-Fromhold Correctional Facility, guards found him dead in his cell.
Philadelphia's medical examiner has yet to rule on the cause and manner of Zaleski's death, and toxicology results are still pending. But the mystery of what happened during his last hours torments his grieving family. They learned from the medical examiner's office that Zaleski, 53, told intake staff he had done four bags of heroin shortly before his arrest and was suffering symptoms of withdrawal.
"He must have been pretty acutely ill to die in four hours. You can't ignore that. You can't just not see that — someone who is that acutely ill that he's going to die in four hours," said his former girlfriend Holly, who asked that her last name be withheld to protect the two teenage sons she and Zaleski share.
"There was no reason that Ed — who had no chronic medical conditions, who took no medication, who had no heart disease or vascular disease, or anything — would just die in prison after he had been in prison enough to know the ropes. And he was a very intelligent, articulate guy who could speak up for himself if he needed assistance, which I understand he did. Why he would just be dead?"
The hours and days after an inmate with a history of addiction leaves prison can be so deadly, because of a heightened risk of relapse, that many jails — including those in Philly — send them home with the overdose-reversing drug naloxone or prescriptions for it.
But what about on the way in?
As the opioid crisis continues, prisons nationally are seeing a spike in the number of prisoners struggling with addiction issues. In Philadelphia, for example, at least three-quarters of the 28,000 people who spend some time in the city's six prisons in 2017 had a history of substance abuse, according to Bruce Herdman, the prison system's chief of medical operations. Nationally, two-thirds of jail inmates ages 18 to 24 use drugs, according to a recent federal study.
That has forced many corrections authorities to beef up screening, treatment, and prevention efforts.
But one prison health expert says a bigger question looms.
"Why are we locking all these people up for addiction?" asked Josiah D. "Jody" Rich, director and co-founder of The Center for Prisoner Health and Human Rights at The Miriam Hospital in Rhode Island and a professor of medicine and epidemiology at Brown University. "The thinking goes: You do the crime, so do the time. And that's the end of the thinking.
"It's not a matter of, like, OK, what was the crime? What was the cause of the crime? What do we want to happen?"  he said. "We don't want that crime to happen, so how can we prevent that crime? … At the first touch of the criminal justice system, we should be shunting people over into treatment — not jail."
Decades of addiction
Zaleski had struggled for three decades to overcome an on-again, off-again, addiction that started in his 20s with a Percocet prescription for back pain.
Holly met him about 20 years ago. Her family owned a small marina in South Jersey. She was working the dock one day and helped him bring his boat in safely.
He'd been off drugs for years and was open about his addiction history.
They fell in love and had two sons. He worked in the landfill business, and later as a tow-truck driver, landscaper, and snow plower.
But he relapsed again and again. Each time, he'd land back in jail for crimes he'd committed to support his addiction. He'd get sober again and again, too — even mentoring others with addictions as they sought sobriety.
The ping-ponging pain of life with someone addicted to heroin proved too much for Holly, though, and the pair split up. Still, Zaleski remained a committed father and friend.
"Every time that it snowed last winter, he would plow our street and put the boys in the truck with him and go snow plowing," she said, adding that he typically took his sons four-wheeling over holiday breaks.
He diligently visited weekends to help Holly as she fought cancer. And he brought her wine and stuffed animals for her most recent birthday, as well as a birthday cake he fashioned out of Tastykakes.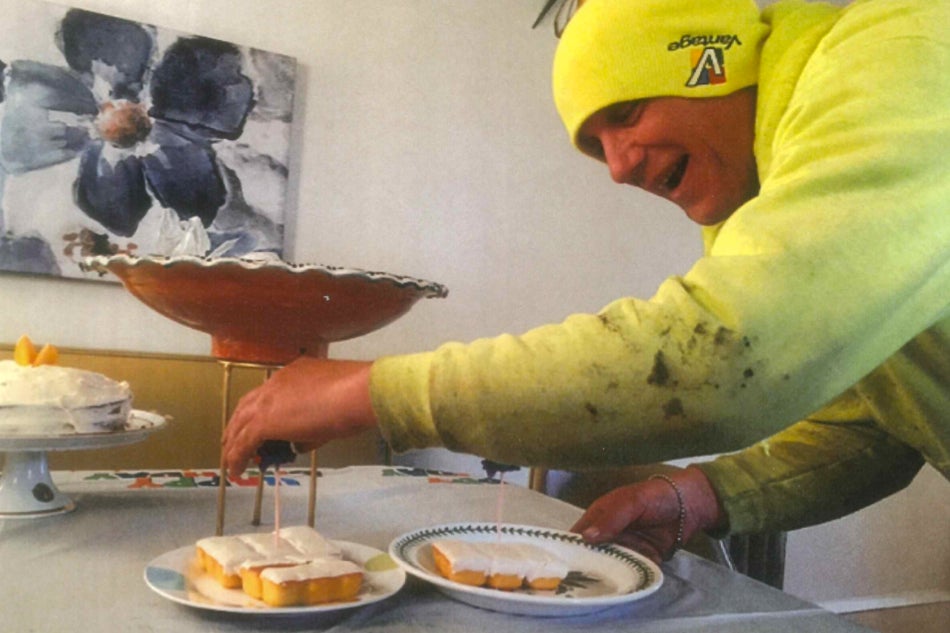 "As long as he was clean, he was welcome at my home," Holly said.
Zaleski also had two younger children, now ages 3 and 6, with another woman.
The year before he died, his addiction had gotten so bad, he was homeless — sometimes staying with friends and other times living on the street.
Last January, West Norriton police picked him up for shoplifting nine video games worth $179 from WalMart. Retail theft typically is a misdemeanor or summary offense, depending on the value of the stolen items. But it was his third arrest for retail theft, making it a third-degree felony.
He posted $1,000 bail in May, but a judge in September issued a bench warrant for his arrest after he failed to show up for a scheduled court appearance, court records show. Philly police picked him up on the open warrant the night before Halloween.
When a man enters the Philly prison system, his first stop is Curran-Fromhold Correctional Facility, which serves as a 24-hour intake center. (Women go through Riverside Correctional Facility.) There, new prisoners are classified, go through orientation and a social service assessment, and get a medical screening.
The medical staff does not test whether an inmate is on drugs, Herdman said. But they would ask about the inmate's drug history and have his medical history on hand, if he were previously incarcerated, he added. For inmates addicted to opioids, staff should also perform a clinical opiate withdrawal scale (or COWS), which helps a clinician determine the stage and severity of withdrawal. About 6,000 inmates undergo the COWS evaluation annually, Herdman said, with 4,000 of them being placed on medication to alleviate withdrawal symptoms.
An inmate who alerts intake staff that he had taken drugs or was suffering withdrawal symptoms — as Zaleski reportedly did — typically would flagged for observation or taken to the hospital, depending on the severity of the symptoms, Herdman said.
And withdrawal symptoms can be quite severe — and even occasionally deadly, experts agree.
"Almost everybody who is withdrawing from opioids feels like they're dying. It is a horrible, horrible feeling," Rich said, adding that symptoms include sniffling, yawning, goosebumps, fidgeting, body and head aches, nausea, vomiting and diarrhea. "Imagine the worst flu you ever had, and then imagine the worst stomach bug you ever had, with nausea and vomiting and diarrhea. Add those two things together and multiply it by between 100 and 1,000, and that's starting to get at what it feels like."
It's unclear what screening or decisions the intake staff made regarding Zaleski. Prisons spokeswoman Shawn Hawes said a new inmate typically begins the screening process within four to eight hours after arriving at prison. She said she couldn't comment on Zaleski's case, nor confirm the time he got to prison, because his death remains under investigation.
Holly said she called the prison twice a day for a week after learning Zaleski had died, and when she finally reached a shift commander, he had no answers.
And Holly had more questions than the average grieving relative: She's a physician's assistant who specializes in internal medicine and addiction. She saw some red flags in what little she was able to learn about Zaleski's death, including how he got the gash on his nose and the bruised lip that she saw on morgue photos.
So she hired an attorney. She plans to sue the city and the prison system's longtime medical provider, Corizon Health, for wrongful death.
"When someone comes in and you have a legal obligation to provide medical care, and they tell you they're either going through opioid withdrawal or have recently taken unknown pills or shot four bags of heroin, the answer is not to put them in a holding cell by themselves," her attorney Robert Lynch said. "The answer is to get them immediate medical care to save their lives. It's their legal obligation. It's an obligation they're paid well, Corizon Health, to do. And they failed in that regard."
Corizon spokeswoman Martha Harbin defended the company's medical staff in Philly's prisons as "one of the most stable and experienced correctional health care programs of any in the United States."
"With a turnover rate in the low single digits, our doctors, nurses and administrators are committed to serving this population and are deeply troubled by the loss of any patient in their care," Harbin said. "However, we are unable to provide any information specific to this patient due to HIPAA (federal law protecting patient privacy) protections and — although we have not been served — what we understand to be active litigation."
Ongoing changes at Philly prisons
Zaleski wasn't the first Philly inmate with addiction issues to die in a city prison.
When detoxing inmate Mike Brady died after struggling with guards in 2011, his family sued, and the city paid $300,000 to settle the complaint. Inmates Jamella Parks and Mary Colella died in prison in 2015 and 2014. While chronic illnesses caused their deaths, both had longtime addictions and were jailed for nonviolent misdemeanors — the sort of inmates reformers say don't belong in jail. (Colella's family sued Corizon and won a confidential settlement.)
Meeting the needs of addicted inmates has been a losing battle in plenty of other places too. Studies show that even though more inmates than ever grapple with addiction, many prisons aren't doing enough to help them — despite evidence showing that treatment decreases future drug use and criminal behavior.
Herdman maintains that Philly's prisons have made strides in recent years to better care for addicted inmates, including:
Putting about 8,000 inmates a year on detoxification treatment for opioids, alcohol, or benzodiazepines.
Participating in a three-year, federally funded study involving 200 Philly inmates to see whether giving them naltrexone, to block opioids' effects and prevent relapse, earlier in prison — instead of at discharge — is more effective.
Placing pregnant inmates with a history of addiction on methadone until they deliver or are discharged.
Placing inmates on behavioral counseling and other programs that link them with housing, education, and employment to ease re-entry and cut recidivism and relapse risks.
Instituting a new program to give about 5,000 naloxone kits to inmates on their way out of prison.
Airing a daily public service announcement in inmate housing units and visiting rooms on everything from how to recognize when someone is overdosing to where to get naloxone and how to use it.
Authorities also have worked to reduce the prison population by one-third as part of a three-year, $3.5 million grant from the MacArthur Foundation. Diverting low-level offenders from jail into treatment and alternative placements has helped shrink the prison population to under 6,600 — down from about 7,500 when the effort launched early last year and 2008's record high of more than 9,300, Herdman said.
Such efforts are overdue but welcome strides U.S. prisons must make to catch up with European countries, where corrections officials typically have treated inmates' addiction as seriously as any other medical malady, experts agree.
"The U.S. is unique in Western societies, where we traditionally have not addressed addiction (in a criminal justice context), and I think that's because there's been this ambivalence about whether it's a health problem or criminal behavior," said Dr. George E. Woody, a psychiatry professor at the University of Pennsylvania's Center for Studies of Addiction, who's overseeing the naltrexone study in Philly's jails. "I see that changing. But there's a long way to go."
Rich agreed, "We should be treating this disease as a disease, as the Europeans do. They look at us thinking we are absolutely insane: 'Why are they locking all these people up for addiction? You give them some treatment, and they're fine!' "
Even Corizon agrees.
"We at Corizon Health believe our country needs a better solution to the opiate crisis than locking up those with substance-abuse disorders," Harbin said. "We support drug treatment courts, increasing access to community-based programs, and access to medicine-assisted treatment."
Still, lax oversight allows many prisons to continue ignoring the needs of inmates with addictions, Rich added.
"We have 2.2 million people in prisons in the U.S., and not a one of them has received health care under a system that has adequate oversight," he said.
Hospitals, for example, won't get paid for Medicaid and Medicare patients without accreditation, which requires regular inspections and proof of performance. Yet most prisons don't bother to get their health care programs accredited — and such accreditation, anyway, is voluntary, and there are no penalties should prisons break accreditation standards, Rich said. (Philly's six prisons, it should be noted, are accredited by the National Commission on Correctional Health Care, a commission spokeswoman said. The commission accredits fewer that 500 prisons, jails and juvenile facilities — not even a tenth of all such facilities in the U.S.)
"The only oversight we have with any kind of teeth," Rich said, "is litigation — and the press, maybe."
'Treated worse than a dog'
Two months after Zaleski's death, Holly still talks about him with tears and chuckles, in equal measure.
She remembers how he had such unorthodox ways of fixing things that she joked he was MacGyver. Take the time her car broke down on Interstate 295 in New Jersey. She called him, and he came right away. He had no tools, but found some dental floss in her glove box and strung it from under the hood into the car through the window.
"He says: 'Move over!' And he sits in the driver's seat and goes vroom vroom, and just drove the car right home with a piece of dental floss" fixing whatever was wrong with it, she said. "It was pretty funny. That was him."
She always figured he'd overcome his addiction and someday return to their family for good.
She hopes her crusade for answers now will help other families avoid the pain that now plagues hers.
"They need to be held accountable for allowing someone who has an addiction to die in a heartless way in their prison," she said. "How could you neglect another human being in such an inhumane way like that? I watch people put booties on their dogs! Ed was treated worse than a dog. They have to be held accountable for it, and this needs to be changed."
WHYY is your source for fact-based, in-depth journalism and information. As a nonprofit organization, we rely on financial support from readers like you. Please give today.