To prevent OD deaths, Philly to give out naloxone as people leave jail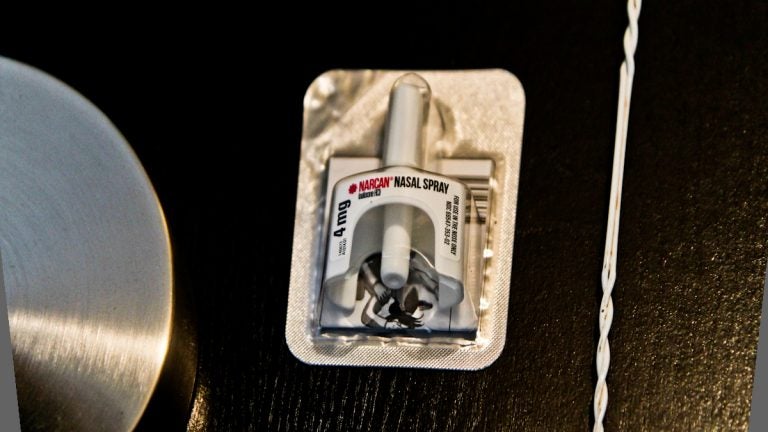 Of the more than 930 people who died of an overdose in Philadelphia last year, a third had been through jail. This heightened overdose risk has prompted the city to launch a new prevention effort: arming those leaving the county jail system with the overdose-reversing drug naloxone.
"There's a big overlap between IV drug use and incarceration," said Dr. Bruce Herdman, chief of medical operations for the Philadelphia Department of Prisons. "So, doing this, we have an opportunity to help a lot of people through the distribution of Narcan."
Narcan is the brand name for a device that delivers naloxone.
Beginning Oct. 2, the Philadelphia jails will distribute kits to people with a history of IV drug use as they exit. In addition, facilities will also show overdose rescue-training videos throughout all of the housing units and visitor centers.
"This is a really groundbreaking, innovative intervention to bring to the jail population here," said Megan Reed, a researcher and doctoral candidate at Drexel University's School of Public Health.
Reed is involved with the effort and another overdose-prevention pilot targeting individuals in jail who have HIV. Giving people naloxone as they leave jail is a big deal because studies have found their risk of dying from a drug overdose is more than 100 times greater than the general population, she said.
"This is mostly due to a loss of tolerance, that people might have when they're incarcerated," Reed said. "When they get out, if they use again, it might be a different source and supply, but also that lack of tolerance. So they're more likely to die of an overdose death."
In any given year, 31,000 people go through the Philadelphia Dept. of Prisons. About a quarter of them engage in some sort of detox protocol while inside, according to Herdman. Of the 6,610 people currently incarcerated, an estimated 70 to 75 percent of them have some sort of substance use disorder. A 2014 survey found that 14 percent of those entering jail had tested positive for opiates, but Herdman suspects that percentage has gone up a lot.
"I think that everybody is aware now that there's an overdose epidemic in the United States and I think we're doing a good job at knowing where people are being impacted. But we haven't been doing such a good job at knowing who's being impacted.
"And people who use drugs are incarcerated at pretty high rates," Reed said. "It makes sense to go to where this risk is being generated and where it's being collectively pooled, and to reach people there. If people leave and they overdose [fatally], they can't be saved to go on and do other things with their lives."
Prisons and jails in a handful of states, from Rhode Island to New Mexico to California, have similar naloxone initiatives in place, said Reed. The main hurdle is finding money to keep them going.
City also helps with Medicaid enrollment
Philadelphia's naloxone effort gained traction as part of recent recommendations from the mayor's opioid task force. The initiative is funded through the health department at a cost of about $157,500 for some 2,300 kits, each of which include two doses of the nasal spray. The program will last at least one year.
In addition, the Philadelphia Dept. of Prisons also recently started enrolling those eligible and interested in Medicaid, which then becomes active upon their release. The hope is to ease access to critical health care services and medications once in the community, said Herdman.
Without such coverage, a prescription from a prison doctor may be useless because of the cost. Naloxone, for example, is fully covered through Medicaid, and a prescription is no longer required.
As part of the task force recommendations, the jail system also plans to start offering buprenorphine, a medication used to treat opioid addiction, to inmates. Currently, only those already on medication-assisted therapy when they enter jail are able to get the medication.
"This is a big step for us," Herdman said of the efforts.