Jury selected in Cosby retrial after defense team accuses prosecutors of racial bias
The 12 people who will decide whether Bill Cosby should be convicted of sexual assault have been selected.
Listen
2:27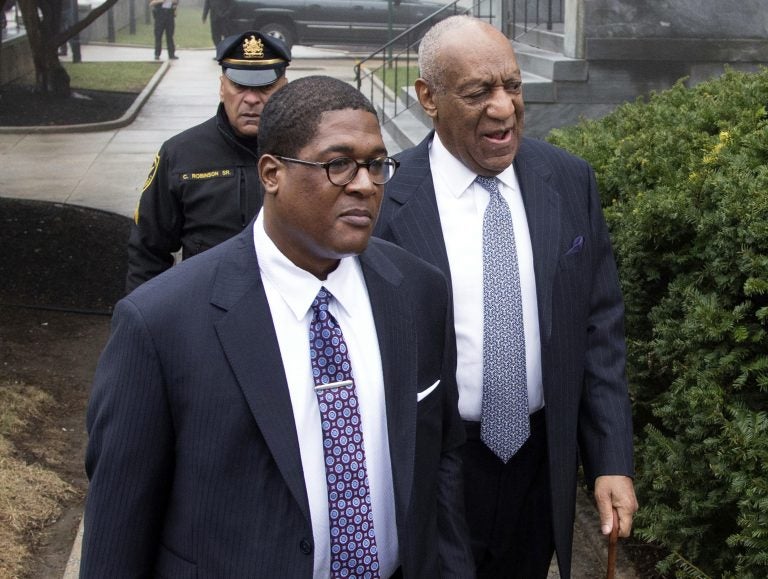 Updated: 7:47 p.m.
The 12 people who will decide whether Bill Cosby should be convicted of sexual assault have been selected.
Seven men and five women made the cut. One man and one woman are African-American, and the others are white.
It is the same gender and racial breakdown as the last panel that failed to reach a unanimous verdict last year on the case against Cosby, who has again pleaded not guilty to charges that could send him to prison for a decade.
Six alternate jurors still have to be chosen before opening statements in the trial can begin. Right now, lawyers are prepared to deliver their opening remarks on Monday.
Lawyers for the defense revealed that only 10 of the more than 200 people who have been screened as potential jurors were black. In Montgomery County, from which the jury is being selected, about 9.6 of the population is black, according to U.S. Census figures.
That scarcity of potential African-American jurors set the scene for what morphed into a grueling day of accusations by Cosby's defense team that prosecutors aimed to systematically boot an African-American woman from the panel based on her race.
Much of jury selection on Wednesday, in fact, became consumed with the fight.
"By all appearances, she was a perfectly qualified juror who stated that she can be fair and impartial after screening through all of the questions," Cosby defense lawyer Kathleen Bliss said. "But for her race. There is an exclusion."
The juror in question, an unnamed young African-American woman who told the judge she has been the victim of domestic violence, was opposed by prosecutors with a so-called peremptory challenge, or striking a juror without having to state a justification.
Over the last two days, of the eight jurors who have been selected, two are African-Americans.
"This is quite frankly ludicrous," prosecutor Kevin Steele told the judge, responding to the charge that his team rejected the potential juror because she was black. "There is not a racial component to this case, and there should not be."
The defense team told the judge that out of the first pool of 120 prospective jurors, six were African-American. In the second batch, four were black.
Judge Steven O'Neill asked prosecutors if those numbers were accurate, and prosecutor Kristen Feden shot back: "We don't know, because we don't strike based on race."
Bliss replied: "Please, please."
During jury selection, if a lawyer strikes a potential juror seemingly on the basis of race, the opposing side can launch challenge of that dismissal if it seems to be part of a pattern of race-based exclusion.
Here, since it is the first African-American prosecutors have moved to strike, O'Neill indicated that it did appear to present a pattern.
"There does not seem to be a discriminatory intent," O'Neill said.
Still, Bliss pressed on, handing prosecutors a case that she said proved that the dismissal of the juror was depriving Cosby of his Constitutional rights.
"This man, as an African-American, could spend the rest of his life in jail," Bliss said, then adding that prosecutors seem to be driven by a "racial animus."
Bliss backed up her claim by saying a "witness" who is aligned with Cosby's defense team overheard a member of the prosecution team.
"We also have evidence that there may have been an intolerance to race that was stated after the peremptory challenge was made by the prosecution, based on a witness hearing something," Bliss said, calling the alleged overheard-comment, "discriminatory" and "repulsive."
O'Neill proposed holding a hearing on the dispute. Lead defense lawyer Tom Mesereau said though he maintains the objection was made "in good faith," the defense is going to set it aside and continue on with jury selection.
On Tuesday, Cosby's defense lawyers took a starkly differently path of attack when prosecutors struck a middle-aged white man as a potential juror. Bliss argued then that "white males between 56 and 68" were being systematically barred by prosecutors.
The argument was overruled by the judge.
Even though the gender and racial makeup of the jury mirrors the first trial, several major factors will set the retrial apart from the first.
For one, the rise of the #MeToo movement has pushed the plight of women at the hands of male abusers to the forefront. And it was felt in the courtroom. A number of potential jurors, when asked, said they could not be fair and impartial to Cosby in the wake of #MeToo. They were not selected to be on the jury panel.
And the evidence is considerably different this time around, including five additional accusers who plan to confront Cosby in court. A previously barred witness will be allowed to take the stand in an attempt to discredit accuser Andrea Constand by labeling her as a money-hungry liar.
On Wednesday, Cosby sat expressionless and still at the end of a long table filled with lawyers and the judge. But the legendary comic took some in the courtroom aback by abruptly leaving his chair, getting on his hands and knees and rummaging around with his wooden cane.
"Is everything OK, Mr. Cosby?" Judge Steven O'Neill said.
"I'm fine," Cosby replied. "I was just looking for something, but I couldn't see."
A spokesman later said Cosby was apparently attempting to locate the glasses of one of the lawyers under the table.
When Cosby got back in his chair, he turned to the rows of journalists, put his finger to his lips and said, "Shhh."
WHYY is your source for fact-based, in-depth journalism and information. As a nonprofit organization, we rely on financial support from readers like you. Please give today.