Producer: Monica Rogozinski
COOK is Philadelphia's state-of-the-art, fully equipped, sixteen-seat kitchen-classroom where guests come to enjoy chef tastings, culinary demonstrations and cooking classes in a beautiful, intimate setting. Friday Arts visits COOK for their October's cookbook author series featuring teacher and cookbook author Leticia Moreinos Schwartz. Leticia shares her passion for her native Brazilian cuisine while preparing some traditional Brazilian fare including: Pão de Queijo (Brazil's iconic cheese bread); Moqueca de Peixe (Brazilian fish stew) with Arroz Branco (rice) and Farofa (traditional side dish made with manioc flour); plus a molten Dulce de Leche Cake with Sour Cream Sorbet for dessert. We also learn some new cocktails made with the popular sugar cane liquor "Cachaça" and discover some hidden Brazilian spots in the Northeast region of Philadelphia.
---
Brazilian Fish Stew
Moqueca de Peixe (Pronounced Moh-ke-kah)
Serves 4
1 ¼ pound sea bass (or red snapper, or tilapia, or halibut, or grouper, or stripped bass)
1 scallion (white and green parts) chopped (about ¼ cup)
1 small onion, sliced (about 1/3 cup)
1 small piece fresh ginger, peeled and finely chopped (about 1/8 cup)
4 large cloves of garlic, minced (about 2 tablespoons)
5 tablespoons palm oil (dendê oil)
2 tablespoons extra virgin olive oil
4 tablespoons freshly chopped cilantro
½ cup sliced green bell pepper, about half a pepper
1/3 cup sliced yellow bell pepper, about one third of a pepper
1 ¼ cups fish stock
1 cup coconut milk
2 tablespoons tomato paste
1 tablespoon lemon juice
Kosher salt and freshly ground pepper
3 small stalks of canned or jarred hearts of palm, drained and diced, about 1/3 cup
2 plum tomatoes, peeled, seeded, and sliced, about ½ cup
Cut the fish into big chunks, about 2 inches wide and place in a zip-lock bag.
Prepare the marinade for the fish: in a bowl, mix together half of the scallion, half of the onion, half of the ginger, and half of the garlic. Add 2 tablespoons of the dendê oil, all the olive oil, and half of the cilantro. Pour this marinade into the zip-lock bag and massage it around the fish until it is well covered. Remove all air from the plastic bag and seal it well. Chill in the refrigerator for at least 3 hours.
Take the fish out of the refrigerator at least 30 minutes before using. Pre-heat the oven to 350˚F.
Place 3 tablespoons of dendê oil in a large sauté pan over medium heat. Add the remaining scallion, onion, and green and yellow peppers, and cook until soft, about 3 minutes.
Add the remaining ginger and garlic and mix well. Cook for another minute or until is hot.
Add the fish stock and let it come to a full boil.
Add the coconut milk and tomato paste, and let it come to a full boil again, then lower the heat to simmer the sauce nice and gently.
In the meantime, roast the fish in the oven by spreading the fish with the marinade, in a gratin dish. Pour the lemon juice on top and season lightly with salt and pepper.
Roast in the oven until it's almost done, about 10 to 12 minutes. You will finish cooking the fish by braising in the sauce.
Carefully transfer each chunk of fish into the pan with the sauce. Pour in any remaining juices. Braise the fish in the sauce over low heat with the pan covered, until the fish is soft and tender, about 5 to 8 minutes.
Uncover the pan, add the hearts of palm and tomatoes, and let get hot.
Taste the sauce then season with salt and pepper; sprinkle with the remaining fresh cilantro. Serve it over rice or farofa.
Toasted Manioc Flour with Eggs and Scallions
Farofa de Ovo e Cebolinha
Farofa is the term for a side dish using toasted farinha de mandioca—in English, manioc flour, which is a dried flour similar in looks and texture to breadcrumbs, made from yucca. The making of farofa as a dish couldn't be easier. It is plain manioc flour toasted in butter. If you add any other ingredient, just call it farofa of that ingredient. A few of the classic farofa dishes are eggs and scallions, eggs and bacon, banana, bell peppers and dende oil, green beans and carrots, peas and corn, and so on and so forth. Farofa can be extremely dry, since the manioc flour immediately sucks up all the juices from anything it encounters, especially when it's served plain. The trick to making a moist farofa is to use a small amount of manioc flour in proportion to the other components, turning a side dish into a savory accompaniment so tempting, you may even forget there is a main course.

Serves 4 to 6
2 tablespoons unsalted butter
1 ½ cup manioc flour (farinha de mandioca)
2 tablespoons extra virgin olive oil
4 scallions (white and green parts), thinly sliced on a bias
5 large eggs
Kosher salt and freshly ground pepper
Melt the butter in a medium saucepan over low heat. Add the manioc flour and toast it to a light color, stirring often, about 8 to 10 minutes. Make sure to stir constantly, otherwise the flour will burn. Set aside.
Save a few slices of scallion for garnish. In a nonstick skillet, warm the olive oil over medium heat, and cook the scallions until they just starts to soften.
Whisk the eggs in a small bowl and season with salt and pepper. Pour the eggs into the scallions and scramble them lightly being careful not to overcook them.
Add the toasted manioc flour and stir everything together.
Season with salt and pepper. Pour into a serving dish and garnish with the reserved scallions.
---
Molton Dulce de Leche Cake with Sour Cream Sorbet
Bolinho Quente de Doce de Leite com Sorbet de Coalhada
You can prepare the batter up to five days ahead of time and leave the bake in the oven the day of serving. When coating the foil cups with butter, instead of melting the butter completely, try using the microwave oven, 8 seconds at a time, mixing after each time. This way, if you gradually heat the butter to a mayonnaise consistency, it will lend a much thicker coating than would a totally melted butter.

Serves 4
8 tablespoons (1 stick, 115g) butter, plus extra for foil cups
1 cup dulce de leche, at room temperature (I used Nestle)
2 egg yolks
2 whole eggs
2 tablespoons (24g) sugar
1/8 teaspoon salt
¼ teaspoon ground cinnamon
1 teaspoon vanilla extract
¼ cup (40g) all-purpose flour, sifted, plus extra for foil cups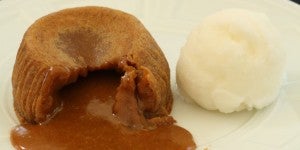 Equipment:
4 six-ounces foil cups or ramekins
Pre-heat the oven to 350˚F. Using a pastry brush, butter and flour 4 foil cups. Shake off the excess flour.
Melt the butter in a medium saucepan over very low heat.
When the butter is just melted, remove the pan from the heat and add the dulce de leche. Whisk well until blended. At first the mixture will look totally curdle — don't be dismayed — keep whisking slowly and constantly, until the mixture comes together, about 3 to 5 minutes.
In another bowl, whisk the yolks and whole eggs together.
Add the sugar and salt to the eggs.
Pour the dulce de leche mixture into the eggs and whisk well.
Add the cinnamon and vanilla.
Add the flour and mix gently, making sure there are no lumps.
Carefully pour the batter into the foil cups, filling each one almost to the top (this can be done up to 5 days ahead and left in the refrigerator).
Bake the cakes until the edges are set but the center is still soft, about 6 to 8 minutes. Be aware that the cake will not change much of its color during the baking time, nor it will rise. Remove the cakes from the oven; invert each foil cup onto a plate and serve with Sour cream sorbet.
Sour Cream Sorbet
Sorbet de Coalhada
A fresh departure from plain vanilla, sour cream sorbet offers a familiar flavor in a new context. Know that crème fraiche makes an excellent substitute.
Makes 1 quart of ice cream
¾ cup water
1 cup (230g) sugar
2 tablespoons light corn syrup
1 tablespoon lemon zest
1 tablespoon orange zest
1 vanilla bean, scraped
1 lb sour cream
1 to 2 tablespoons lemon juice
Pour the water into a heavy-bottomed saucepan. Add the sugar, corn syrup, lemon zest, orange zest, and scraped vanilla bean with the pod and bring the syrup to a boil over high heat. Cook until the sugar is completely dissolved, about 3 to 5 minutes. Strain the syrup into a bowl and place it over an ice bath. Discard the solids. You can prepare this syrup up to 5 days ahead of time and store it in a plastic container covered with a tight-fitting lid in the refrigerator.
In a large bowl, whisk the sour cream and lemon juice with the cold syrup. The mixture should look bright white. Taste it. Depending on the brand of sour cream, you might need a few more drops of lemon juice to balance the acidity.
Run the mixture through an ice cream machine according to the manufacturer's instructions until it becomes creamy.
Stop the machine and use a rubber spatula to scrape the ice cream into a plastic container, cover it with a tight-fitting lid and reserve it in the freezer. (Take the time to enjoy some now, freshly out of the machine is my favorite time to eat ice cream.)
WHYY is your source for fact-based, in-depth journalism and information. As a nonprofit organization, we rely on financial support from readers like you. Please give today.