At hospitals in India, waiting family become health care helpers
Visitors line the hallways — even sleep on the floor — anxious for loved ones to recover. Noora Health trains overflow family to care for patients once they return home.
Listen
5:58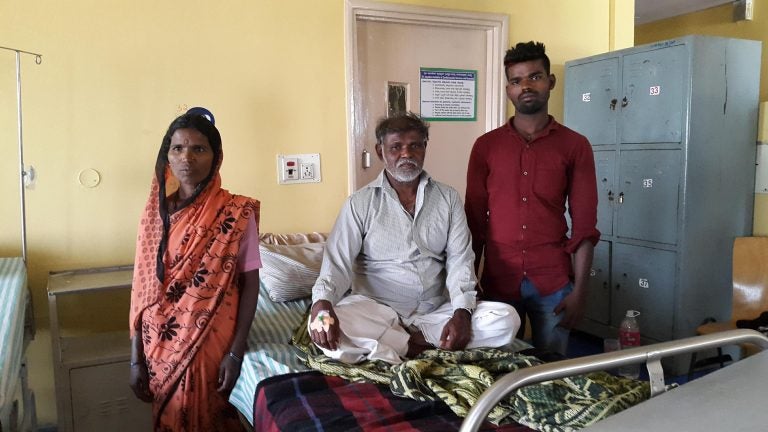 Sidlappa, who goes by one name, is waiting to get an angiogram. He is a patient at Sri Jayadeva, a public hospital in Bangalore in South India.
The 58-year-old is in an unusually good mood for someone waiting for a cardiac procedure.
"This happens to everyone," Sidlappa says through a translator.
"All of us are not going to be healthy all the time. As long as you live, you should be happy and enjoy life and then move on."
In fact, along with his medical procedure, he sees this as a chance to see Bangalore for the first time. Sidlappa's hometown, Hubballi, is an eight-hour drive north of the city. He's here with his wife, Ramlingamma, and two of his seven children.
For an Indian hospital, that's actually a rather small entourage. It is not unusual for a patient to bring their entire extended family along when someone is sick. The family is the social unit of Indian society, so it's a given they will be around at the most crucial times.
This hospital turns that cultural idiosyncrasy into better health care for patients.
Sri Jayadeva Institute of Cardiovascular Sciences and Research is one of India's largest heart care centers and has 1,150 beds. In the main lobby and outside the wards, every seat is taken. There are even visitors sleeping in the hallways.
In 2012, American students from Stanford University's design school made a visit to Indian hospitals and noticed the overflow.
"That's the first and foremost thing they observed in the Indian health care system. There's just one patient, but there's like 10 relatives who are behind him.""says Anand Kumar HG, a nurse who has worked with the students almost from the start. (It's often convention in South India to use your father's initials at the beginning or end of your name, to further distinguish yourself.)
The Stanford students saw this not as a problem but a solution. What if those waiting family members could play a more active role in the patient's care? Their class project turned into Noora Health. The social non-profit now works with hospitals to educate family members who often know little about what's going on with their loved one.
"When you talk to them — okay what happened to the patient, how is he doing — they are still unclear about the patient's situation," Kumar says. "They don't even know what procedure the patient has gone through, how to take care of him back in the home."
The Care Companion Program turns waiting family into active health care helpers. There is specialized training about patients' medical needs.
In the men's cardiology ward of Sri Jayadeva, Naveen Kumar LP, a nurse and instructor in the program, gathers patients and their family members during late-afternoon visiting hours. The hallway turns into a classroom as Kumar begins his 45-minute presentation with an instructional video. He teaches the group about warning signs for a heart attack, healthy eating and avoiding smoking and alcohol.
"When a patient comes to the hospital, it's totally [up to] a nurse and doctor to take care of the patient," he says. "Same things need to be done at home. So when they get discharged and they go to the house, it's the responsibility of the family members, wife, husband, son, daughter, to take care of the patients. So it's our duty to train them."
Sidlappa, the man waiting for an angiogram, attended the presentation with his wife. He doesn't read or write but said he learned a lot just by watching.
"I have to eat less food and be careful about my diet," he explains. "I should wash my hands before eating, and I should be very careful about the weight that I lift, and I should not lift anything that's very heavy. I also learned not to smoke, not to drink, not to chew tobacco."
Noora Health said it has collected data to show nearly a quarter fewer readmissions for cardiac patients, and a more than 70 percent reduction in complications after hospital discharge.
"So if they are trained well, they are empowered, definitely the outcome of patient care, it improves a lot," says Anand Kumar. "Automatically it reduces the burden on the health care economy."
Noora Health has partnered with hospitals in three Indian states and has trained nearly 220,000 family members in the last four years. That includes education for new parents.
Jyothiamma Ulligeshya's son Ramesh is 8 months old. He has a heart defect.
"They have conducted an operation, and they're saying the baby is fine now," Ulligeshya says through a translator. "Two days back the baby developed some breathing difficulty, so they put a pipe. But now the baby is okay."
Ulligeshya traveled with her husband and uncle from their home 270 miles away. They want to stay close to the baby, so at night they sleep in the hallway outside the pediatric recovery. It has been nearly a month.
She is not quite sure, but she thinks she is about 15 years old — although she looks to be closer to 18.
She's never attended school, but yesterday she went to a care training session.
"I learned how not to hold the baby from the underarms because that would increase pressure on the wound," she says. "And to hold the baby by giving support to the head and the body. If the baby starts to crawl, you can allow the baby to do so, provided you make sure the floor is really clean."
These basic guidelines can be life changing.
"If we don't give any information, interaction or any classes, or any education for the parents, the patient may die because of improper care of the baby, improper feeding, improper hygiene," says Vasantha Kumari, the nurse supervisor for pediatric recovery. "Education is important for the parents"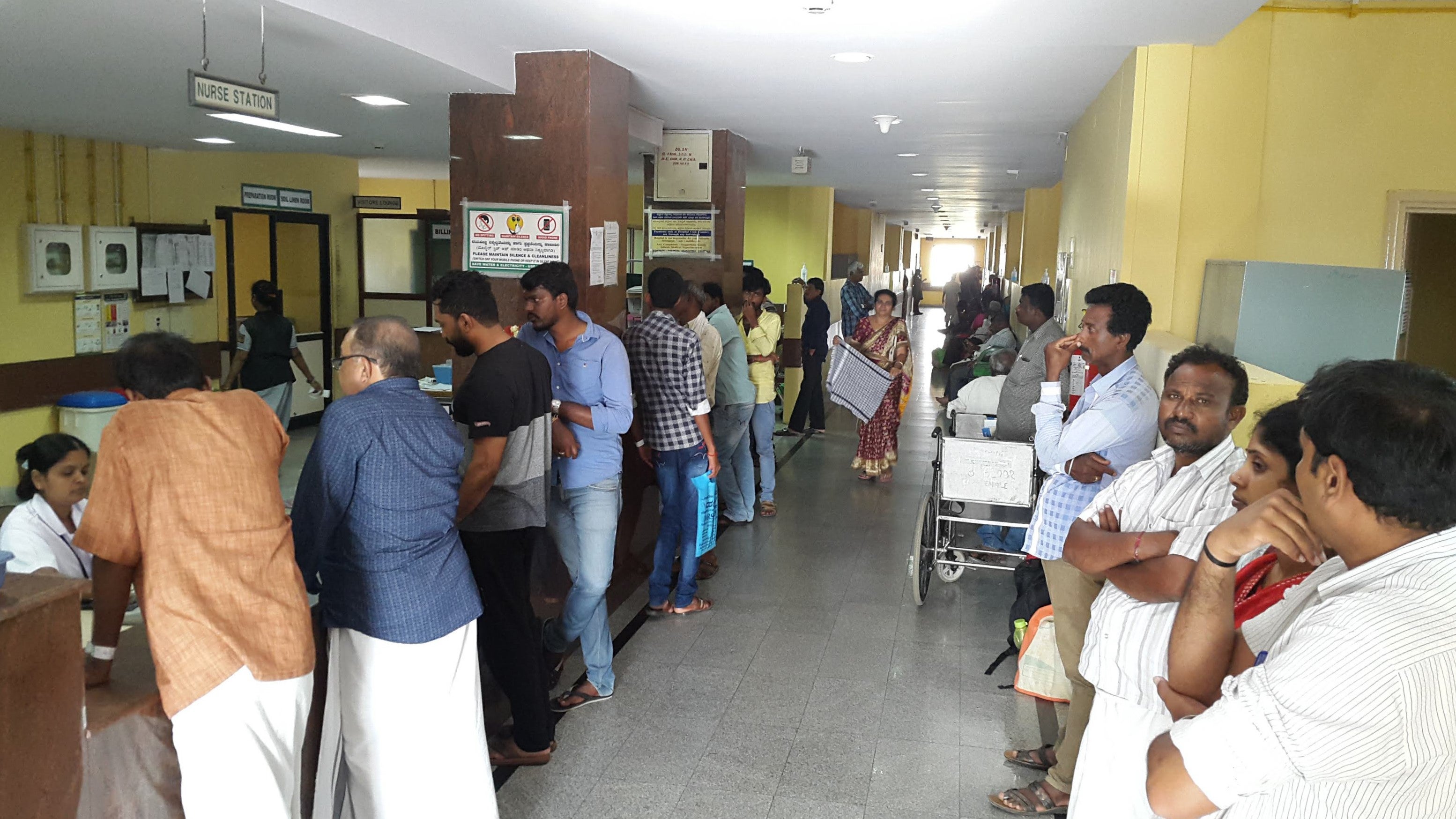 The hospitals fund the Care Companion Program themselves. But, even with that support, training sessions don't always run regularly because of staff shortages in India's overburdened health care system.
Another big challenge is that patients and family members often want more than generic information on heart disease or diabetes. They want personalized information, which Noora Health tries to provide by calling them after they return home.
Ulligeshya, the young mother, is hoping to bring her son home soon.
"I will be happy when I see my baby playing the way he did when he was younger," she says. "I just want him to get back to how he was."
WHYY is your source for fact-based, in-depth journalism and information. As a nonprofit organization, we rely on financial support from readers like you. Please give today.