As Costello bows out, newcomers vie for Pa.'s redrawn 6th Congressional District
The 6th district has a longer history of electing both Democrats and Republican representatives, but it has gone Republican since 2002.
Listen
5:41
Pennsylvania's recently redrawn 6th Congressional District is attracting two political newcomers, with Republican Greg McCauley and Democrat Chrissy Houlahan expected to secure their parties' nominations in the primary.
The candidates face no primary opposition after incumbent Republican Ryan Costello decided not to run for re-election. In March, Costello surprised MSNBC's Kasie Hunt — and his constituents — when he announced on TV that he wouldn't run for re-election.
The Republican lawmaker, elected in 2014, cited his two young children and disagreements with President Donald Trump and Trump supporters among the reasons he decided to retire. Costello also fumed over the Pennsylvania Supreme Court's decision to get an outside expert to redraw the state's districts after it ruled that Pennsylvania is "an unconstitutional partisan gerrymander."
"It got rid of 50 percent of my district and took a district which Hillary Clinton had won by 1 point, but which I had won, (and turned it into) a district Hillary Clinton won by 10 points," Costello said on MSNBC.
The 6th district has a longer history of electing both Democrats and Republican representatives, but it has gone Republican since 2002. In 2011, the GOP-majority in the state legislature, with support from some Democrats, redrew the 6th to include parts of Berks, Chester, Montgomery, and Lebanon Counties.
In court filings challenging the districts, Democrats have described the 6th during that era as shaped like "a dragon" swooping around west of Philadelphia. After the state Supreme Court ruled the congressional map was unconstitutional in February, the court changed the 6th to include the city of Reading in Berks County and all of Chester County. Those changes make the district more competitive for Democrats, according to multiple analysts.
Devon-based Democrat Chrissy Houlahan was already campaigning for the seat when Costello decided to retire.
"I really was compelled to run as a result of the 2016 presidential election," Houlahan said. "I'm really worried about the trajectory of our community and our country."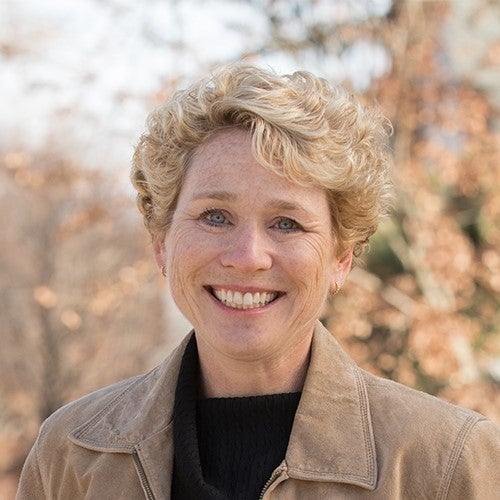 Houlahan said the district is full of moderate voters who care less about party and more about getting things done.
"We're sort of purple people in terms of our sensibilities," she said. "We're pragmatic, problem solving people. We care about business and our community … but we also care about people."
On the campaign trail, Houlahan has touted her experience as a business executive and an Air Force Captain, experience she said will help her to reach across the aisle and represent her community.
Changing the way Republicans and Democrats work together, along with campaign finance reform, are among her top priorities, Houlahan said. She's part of a political action committee called "With Honor" that works to elect military veterans who pledge to sponsor major legislation across party lines at least once a year.
Her potential opponent in November, Republican candidate Greg McCauley, also is emphasizing the need for bipartisanship.
The Chadds Ford-based tax attorney and business investor said the two parties need to spend less time treating pressing issues like a game of "political football" and more time looking at the numbers.
"And that's why I want to go to Washington, because I will review the numbers, I'm a hard worker, I'm going to get in there and read that two-foot budget and figure out exactly how we can make these programs work for everybody," McCauley said.
Too often, Democrats and Republicans get stuck repeating the same old party lines on issues, McCauley said, and that stops things from ever improving. For example, on immigration, McCauley has his own solution that he thinks would find common ground between the two sides.
"We would have a self-sustaining work visa program for the visitors," he said. "And then they would be able to earn an honest dollar and pay their fair share to the economy. That would be a compassionate response."
On his website, McCauley gives a brief mention to his National Rifle Association membership, but in an interview he said he's less interested in debating hot-button issues and more interested in averting what he says is a looming fiscal catastrophe.
"All the issues are important, but I'm really on the economic side of the equation," McCauley said. "I want to keep the focus on jobs, the economy and our children's future."
He said high interest student loan debt has become a 'crisis' that affects both Millennials and the parents who are helping them shoulder that debt. "We're not going to kick the can down the road anymore. We need to solve these problems, and the voters want us to."
For both candidates, this is their first foray into the world of politics. While they face little pressure in the primary, their competition for the redrawn district in the suburbs west of Philadelphia will be a bellwether not only for their parties' engagement, but also for how much the state's redrawn districts will shape its political future.
WHYY is your source for fact-based, in-depth journalism and information. As a nonprofit organization, we rely on financial support from readers like you. Please give today.